Demoscene News




Latest news

Back to the roots, the Amiga Culture Directory Project, now offers interviews with the legendary scene-musicians Oddjobb/100% Prophets (aka Jester/Sanity) and Clawz/Bomb.

New Diskmags to come soon. Pain 12/00 is scheduled for x-mas 2000. Also Devotion 2 (Amiga) has been announced to be released very soon; the articles deadline was on December 20, 2000. Finally, a new issue of D.I.S.C. (Amiga) is scheduled for the end of 2000.

Share and Enjoy have released their second musicdisk.

Sound Encoding documents. Alex Y. Radzishevsky has published two fine documents on the performance of various sound encoding algorithms.

Statix has released a Black and White Dance plug-in for WinAMP.

The Havok is going to be the scene's first Net-radio that does not play music but real information. It is going to deal with topics such as coding, hacking, security, networking, and technology. This ambitious project is surely worth checking out. They of course need contributions to the station, so if you want to get involved & broadcast your views & information, then email them here right away!

The Party Bus-trip. If you want to go to TP and are still looking for an organized bus-trip, then hurry up and check out thebus.de, if you live close to Southern Germany, or get.to/theparty2k, if you prefer taking off from Basel, Switzerland!

TRSI is going to release a PC demo around x-mas. It is a co-op by CoaXCable and AmuQ from Sweden.




What has happened since Hugi 20

Academic World. A full-fledged university paper on the demoscene (focusing on the Amiga) has been published by George Borzyskowski of the Curtin University of Technology, located in Perth, Australia, called "The Hacker Demo Scene and its Cultural Artifacts". Highly interesting!

Acumen got his own domain. Thus not only the URL of his website but also his email address has changed.

Amiga Diskmag sites. There is are two new independent sites dedicated to Amiga diskmags. One is called MAGsite; it is bilingual (English and Polish), features news and a rather small but fine download area. The other, diskmags.net, has been registered by former Seenpoint main-editor Fishwave and is still under construction.

Amiga Music Preservation is the name of a web-based database on Amiga-based tracking musicians maintained by Crown & Curt Cool and hosted by Scenet. It consists of loads of handles, groups, countries and real names. Unfortunately there are no links to sites from which you can obtain their tunes.

Area51. The website of this originally Amiga-based group now features an online magazine called Beyond The Frontier.

C64 sites. Pixelmaster now runs a C64 scene site. He would like you to check it out and contact him if you consider yourself an active C64 scener. Also, a C64-remix site has been launched, where you can find high-quality remixes of C64 classics in MP3-format.

CFXweb. The demo and game development center now offers free email addresses and is holding a Java coding compo (deadline: January 21, 2001).

ChipCompo Resurrection is online again, after 5 months of downtime. Check it out and participate with your own chip-tune.

Chiptune.com offers a special x-mas gift: a cute chiptune jukebox which allows you to listen to all the chiptunes from this site on-line. Enjoy it.

Console compo. A video-game console demo-coding compo is currently being held at y2kode.com. The entry submission deadline is February 2001. Your entries can be written for a whole lot of different platform, ranging from Master System to Dreamcast.

CPC Scene page. There is a new page for all CPC sceners. It offers free services such as URL redirection and email forwarding.

Demoscene Radio. On the first Wednesday of every month, the Swedish radio-channel P3's program M-P3 features demoscene music. Morph says, "To be able to continue doing this they need your help as they've been lacking feedback - no one seem to care. They also want to hear from the artists and they take requests." If you want to support broadcasting the demoscene on M-P3, enter your name in this list.

Different Life, a Net-based 32k music competition, is over. You can now download the entries.

dolOps. According to scene-hu.com, dolOps released "dolOps' hobby disc jockey suite", a software suite for Linux to mix tracked music the way DJs mix records. The player library used is a modified version of libmikmod-3.1.9 to which preliminary filter support was added.

EliteGroup. Herr Weltschaft (also known as Ronny) is now father of Luke, born on November 16, 2000, around 4:00 pm CET.

Eternal Dreams. Cloaked Alien writes: "Eternal Dreams is an old BBS with a SysOp (me) who just doesn't know when to quit. Instead of doing like everyone else and putting the whole thing to sleep I rather made my own system that would suit both mine and the users' needs. This new system is web-based (coded in PHP and using MySQL as the underlying database) and has the look and feel of an "oldschool" board to make the old dogs feel right at home. The board carries scene-oriented material but is not supposed to be just another repository but a source of inspiration, the inspiration that gave birth to it, and a community for sceners. It's currently only available through dialup but will be accessible via the web as soon as I get my ADSL (512kbit) connection (in a few months, hopefully faster)." The interface resembles ANSI BBS systems; you can exchange emails with the other users, post articles, upload or download stuff (there are a lot of coding tutorials) and write oneliners.

Eurochart. Issue 41 has been released for Amiga, available at the Iris website. The second issue for PC has still not been released. Issue 1 can be read at eurochart.org.

Female demosceners. After writing his article on Female Computer Entities for this Hugi issue, Optimus opened a website dedicated to them.

Graphics site. A new website located at rulaz.de contains graphics all around the demoscene and graffities, especially old c64-diskcovers.

Greek demoscene. Optimus reports: "It seems that something is going to be reborn in our country. First, the Gardening parties have started again! Secondly, a Greek hacking Conference called Houmf organizes a democompo and there will be probably a release from Deus there! And finally, I have started a mailing list about the Greek Demoscene (we are 15 members right now, oldies and newbies...). For more info look at my site."

Hackerland. The authors of Hackerland, a paperback book mainly dealing with the cracker scene (but also mentioning the demoscene and diskmags), Denis Moschitto and Evrim Sen, have published their second book: Hackertales. This one focuses on anecdotes about phreaking and hacking. Besides, they are already working on the third(!), revised edition of Hackerland. Both books have been published by Tropen Verlag, located in Cologne, Germany.

Haujobb.

A final version of the intro Disclone that won LTP3 is now available for Win98/2000. Check Haujobb's website.

Hellbenders Group released their 5th artpack, called Limbo.

Hornet. Several ex-members of the ex-group Hornet are planning to put together a demo DVD, covering the PC classics from the beginning to current. Other DVDs covering other platforms (e.g. Amiga) are under consideration. The project will be done with a professional video editing system and a multitude of PC setups (e.g. 386, 486, Pentium). If you are interested, contact the project lead, Trixter.

Hugi. The complete source code of Hugi 11 and a preliminary Russian edition of Hugi 20 were released. Virtual/Scene joined Hugi as a translator. TAD unfortunately left Hugi Core & Royal Family (read more here and in the diary). Chris Dragan finished the BeOS port of "Panorama 2", the Hugi interface. Hugi 18 and 19 have been upgraded so that they can be used with this BeOS engine, too. Furthermore, two Hugi Size Coding Competitions were held (see the results).

International Demogroups. SexyMF has founded a website that is supposed to help international demogroups to be founded and organized.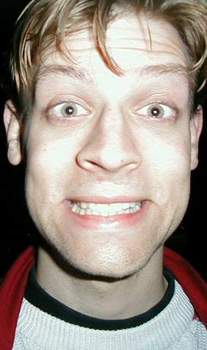 JavaJim, a German netzine on "pop, culture and lifestyle", has published an article about diskmags and the demoscene. Jerome Couture-Gagnon, a student of computer science, has made a "programming-only demo". The demo has a tutorial side that explains and shows what's 3D Level-Of-Detail engines are all about. It runs for Glide and OpenGL. According to its author, "the demo features a lot of algorithms / techniques that are possibly new. It is a 3D landscape with texture/geometric level of details." Judge it yourself.
Kojote has opened a new site with 60 mb of (mostly scene-related) stuff.
Merregnon. The Merregnon soundtrack is officially available now; you can order the CD at the related website. The German games magazine "PC Joker" writes: "A musical fairy-tale for gamers. Composers of well-known game soundtracks came together for a fantastic music project ... as first conceptional album of this field Merregnon is unique ... despite itís worldwide scattered artists the result is of one piece ... 74 minutes of great acoustic enjoyment".
Mind Sports Contests. The Mind Sports Organisation (located in London, UK) is hosting a programming contest. The deadline for all submissions is January 7, 2001.
Misperception. DjS announced that he would be starting a BeOS diskzine with software reviews.
Nah-kolor released Speed issue 56. This is described as a "great packmag". Made for the Amiga. Available at Nah-kolor's site.
NoName. The Polish diskmag now offers some articles in English on the Net as well. "You can find here the most interesting articles and poems from polish version along with software and artwork sent to the Bonus section of our magazine."
Orange Juice v3 has been launched. Completely redesigned, completely restructured internally. A major change. As a consequence Orange Juice was awarded the CoolSTOP Best of the Cool Award.
Outlaw Triad. Mali reports: "Outlaw Triad is no more! After five years of existence the group decided to stop all its activities. Greets go out to all the loving people who were helped by us or helped us with our productions."
Reboot 2k. From August until the end of Setptember 2000, Reboot 2k, a Portuguese (.pt) demo competition, was held on the Net. According to the organizers, "it has been the greatest .pt event of the kind, with a total of 52 entries, including 4 entries from an international guest. These 52 entries have a total of 120 megabytes." Reboot will be back next year.
Romka. Roman Podobedov posted two new source codes. The first demonstrates objects loading and moving a man's parts. The second demonstrates drawing animated clocks and "cuckoos"; it has been written for Windows, based on OpenGL. Get them here.
Scene.org is now hosted by the Dutch ISP Freeler, "with great interconnectivity (1 Gb)". The main site of the PC demoscene is running stable and fast. News.scene.org is also back, featuring the scene.* groups and a feed of the "real" Usenet covering all demoscene-related newsgroups.
Scenery is probably the most complete and comprehensive text-based guide to the Amiga demoscene there is. 2.5 mbytes of text, including the history of the scene from 1986-2000 and descriptions of tons of individual groups and their releases. A really awesome document - a must-read!!
Scene Spot is the name of a new community site for the demoscene initiated by Ranger Rick and Coplan, the main editor of Static Line. Currently this site contains a dynamic group database and online-issues of Static Line. New features are planned to be introduced.
Scenester will be for the scene what Napster is for MP3 freaks. Read Gaffer's announcement in this Hugi issue and check out the Scenester website.
Scenet has not only been redesigned but also enhanced. For instance, now there is an articles section featuring more than 110 interviews and essays. Definitely worth visiting!
Scienide got a new homepage - very well-designed and informative. Their first DirectX intro has also been finished.
Shine. Replay released Shine 8, featuring articles written for Fleur 5 and Demojournal. Thanks to the interface being open-source, all known bugs have been removed meanwhile. A bugfix is available at the same location as the complete magazine, the Shine website.
Showtime has now got a fine website where you can get information on the individual issues and download them. The latest issue is #15, released in early December 2000. PC users can read it using WinUAE or another emulator.
Siggraph is one of the largest annual international computer graphics fairs attended by 40,000 representatives of the international industry & academic world. The demo scene is not represented there, but you are encouraged to change that! Read Aancsiid's Call for Participation and his additional article in this Hugi issue to learn more.
Skid Row. A memorial page has been opened. Nice Flash.
Storm Studios finally released the second issue of Cooler e-mag. FatCrazer further says: "We are preparing Cooler #3. It will feature a new interface by Warhawk/T-rex. The mag is only in Russian, sorry to internatonal sceners. But I will translate the best articles and send them to Hugi. :] Also we are coding some new demos for future parties. And I am willing to attend any foreign party."
TAP released the fourth issue of their German-language diskmag TAP.MAG, subtitled "Leben in Echtzeit" ("life in real-time"). It features an entirely new engine for Win32 with a plug-in technology that allows the displaying of fine graphics effects in the background of the article window.
TPOLM. A demo called "The day the earth was born" was (or will be?) released on "September 5th, 7000". Now at the TPOLM website.
Trauma. Sol's homepage (lots of coding tutorials, source code and also short stories) has been vastly updated and re-designed.
T-rex. New demo: Broadband. Win9x/2k, 96mb RAM, OpenGL. Originally it was planned to compete at Dreamhack 2000, but none of the group members managed to get there, so it is a "just for fun" release.
Trinity. Morph: "Just write we split up or something. The rest is secret ;)"
TUM. After 4 years in the demo-scene, several important members of TUM quit the group. The remaining members decided to declare that TUM is dead.
Vivid got off the ground. Soon it will have its website and also some releases. Paradox founded Vivid and Mali joined Vivid as a graphician. Also Morpheus joined as a coder - "he's an old fart ;-)".
Web4096. The second round of minimalistic web-competitions has started. There are three categories: web-art, Flash art and Java coding art. The size limit for all entries is 4096 bytes. You can submit entries until the end of December 2000.
WildMag. The German-language diskmag is now 'three issues old'. WildMag 3 features almost 500 kbytes of high-quality articles on technology, short stories, demo parties and tracking.
Zwischenablage is the name of an e-mag created by students of art at the University of Braunschweig, Germany. It has been inspired by diskmags such as Zine and Hugi. Based on HTML, JavaScript and Flash, it offers a very interesting design. The texts are mostly in German language. Two issues have been released so far. Read them online or download them.
And like always, a lot of parties were held, at which a lot of cool productions were released. :) Check the party calender for a list of dates & URLs.
Errata
Nah-kolor. Spark did not join Nah-kolor recently; he has already been a member for a long time. However, it was him who lately got Performer to join Nah-kolor. Besides, Devotion is not the first diskmag Magic/Nah-kolor is the main editor of: he also main-edited Thing by Applause in 1994/95.
No time. The 4k intro "No time" (placed 7th in the charts in Hugi 20) was not coded by Ritz/Revolution, but by Jam/Korozone. It won the Gravity '99 intro compo.
Satori. Their demo "Different Engine" was not a "just-for-fun" release, but it took part in DemoBit 2000.
New Utils for Demomakers
DemoGL. Otis patched some bugs in the current version of DemoGL, v1.2, and added support for all the currently known OpenGL extensions. The new SDK is now available. If you are using DemoGL in an upcoming production or are planning to do so, it is recommended that you will use this new release to avoid possible crashes.
Demopaja. Memon of Moppi (the demo group) has released Demopaja, a demo authoring tool based on OpenGL. It has a interface similar to the popular 2D animation tools such as Macromedia Flash. Plugins can be created by everyone using MSVC; an SDK with examples is also available. Download it.
FastTracker 3. It is true: A group of Spanish sceners including Awesome is working on FastTracker 3. At fast3.org you can already download a fully functional beta-version. The tracker has also been ported to Linux, and ports to MacOS and BeOS are planned as well.
FMOD. MINI-FMOD 1.3, a module player especially useful for 64k intros, is out. Featuring zero-latency playback. Firelight has also released FMOD 3.3; it now supports Linux. Catch it!
NoRecess decided to make all his sources public domain. This includes his LightWave 5.x 3D scenes replayer (used in the Bame demo), his compression library, his Glut & PTC clone, etc. All of this is now available on his homepage.
Psycle. Originally called FastFucker, this is a free, Windows-based tracker with VST 2 instruments and effects, coded by Arguru. Grab it from the Noisetrekker homepage.
Open Cubic Player 2.6.0 pre 4 has been released. It supports "all major module formats", WAV, MP3 and C64 SID. It features enhanced filter routines, 14 different screens for viewing music data, and it is compatible with Windows 95. Get it from cubic.org.
QNX. MRI/Doomsday reports in csipd: "QSSL has now finally released a public beta of their new OS (free for non-commercial use) based on their Neutrino real-time microkernel. It is a self-hosted development system with all the typical GNU tools: g++, gcc, gdb, etc. XWindow, networking, etc. It is very POSIX compatible, making Linux developers feel right at home. From the user perspective the GUI also looks very cool. A nice little toy to play with but also a powerful real-time OS for industrial applications." Download it at get.qnx.com.
URARFileLib allows reading files from RAR archives created with RAR or WinRAR v2.0. "This file library is designed for easy but powerful usage in demos and intros." It has been created by Unique of Vantage and currently supports Linux, SunOS and Win32. You can get more info on the product homepage.
Watcom goes Open Source. Sybase's Watcom C/c++ and Fortran compilers are about to become open-source projects. According to a press release, SciTech Software was selected as the official maintainer for the Open Watcom Project. "We've had tremendous interest from our customers in Open Source versions of our Watcom complier products," said Rob Veitch, director of Business Development, Sybase, Inc. "Sybase feels that leveraging the tremendous talent pool in the Open Source community is the best way to enable customers to continue to support and evolve these products into the future."
zt 0.70, a MIDI tracker that resembles Impulse Tracker, is out and available here. "Huge enchantments" are said to have been added, for example you can now import IT modules. Win32, DX6+, no NT4.
Wanted: People and Groups!
Artists. The Razor 1911 demo division is looking for new talented and especially active artists to join the team. Coders, musicians and gfxians are welcome. Anyone who is interested in joining email Parasight or IZM.
Coder. Dman/RamJam and CoaXCable/TRSI are looking for a 2d coder as they are planning to co-operate on a demo project.
Graphic artist. Dr. Pitch of Savage posted to Orange Juice: "A group of people is developing a freeware game. It's quite advanced but some graphic artists are required in order to finish the game in few months." Visit the project site to obtain screenshots and more specific information.
Musician. Vivid is in "dire" need of a musician, preferably someone who is capable of producing chiptunes for their 64kb intros. Of course he/she can also release his/her normal music under their label. Contact Paradox.
Scene Experts. Quoting from Melwyn's posting to Orange Juice: "A new form of entertainment for all you scene people is born - Demoscene trivia game! Do you think you're the master of demoscene knowledge and you could beat up just about anybody in a thrilling contest? Then you're just the person we're looking for, for writing and choosing the best questions for the game." If interested, do not hesistate to contact Melwyn.
Vote collector. The demoscene group Addict is looking for a vote collector for their international chartsmag Planet. For more information contact Neurop.
Web designer. Icarus is going to return as a portal-site for starting sceners. If you are interested in joining the team as a web designer, contact Dante.
Writers. After a year, United Trackers is back to provide the tracking scene with support and information. They are still looking for people to write articles.
Writers. "LEM" is a new scene music E-Mag that is designed to give help, news and tips with making music for artists within the tracked & MP3 music scene. The second issue is going to be released in February 2001. As this is only the second issue of LEM the staff is in need of some more articles to do with any of the following topics: 1. tips on how to do certain effects within specific tracker software (IT, FT, MPT etc.), 2. sample creating/editing/post production within "Sound Editors" i.e. Sound Forge, Cool Edit etc., 3. tracker related problems/answer, 4. sound card configuration problems/answers, 5. tracking help on certain music styles, i.e. showing how different styles of music are created, 6. WAV to MP3 compressors, i.e. which are the best and quickest, or 7. any other articles that you think that would help other artists. If you have any articles you want to submit, send them to SoLoRiZe (main editor/programmer).

Tout le monde