Riverwash 2009 Report
by Lazarus / Nah-Kolor
The third edition of Riverwash party took place on 4th - 6th September 2009, and this time it was organised in Warsaw, Poland. As it turned out, relocation to a more accessible place (in contrast to small villages chosen in the previous years) was a very good decision. The event took place in the "No Mercy" club, just a few bus stops away from Warsaw West railway station.
Registration of the participants took place at the entrance. For the amount of 100 PLN (about 25 EUR) IDs with a bar code (entitling the holder to vote) were handed out, together with poker chips that could have been exchanged for food and beer at the club's bar (10 chips for a total sum of 50 PLN). There was also an option of lower fee covering only one day of the visit (15 PLN) or admission to a concert (10 PLN).
Although competitions for the first day of the event (Friday) were planned, they were postponed to Saturday. The main attractions of the day were a barbecue and two concerts. First the band "Wiekszy Obciach" appeared on a stage, but most people remained outside for the grill and beer. Later TmDag / Nah-Kolor presented his live D'n'B set. At the end of the day there was an option to stay for the night in sleeping room on the party place or lodge in nearby hotels (about 4 of them, with different accommodation standards).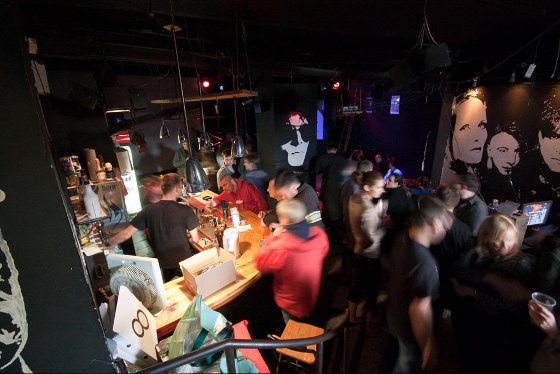 Saturday was the main day of the party. From the morning various PC and C64 demos were shown on the big screen. The organisers announced a few fun compos. You could try your luck in reading random text in Hungarian (Gargaj was the judge) or try to make a given demo from a clay, which gave a lot of fun at a later guessing what production it was. After the fun compos it was possible to exchange two chips (10 PLN) for a dinner. It was surprising how good meal you can get for a relatively small amount of money. After the break there was the music competition, divided into ST-02, Chip and Newschool categories. More than 20 entries were submitted. During the compo some participants started to dance, trying to visualise the music - an interesting addition to the compo. Too bad, that one of these guys later became too aggressive. Fortunately, the security with the police dealt with him.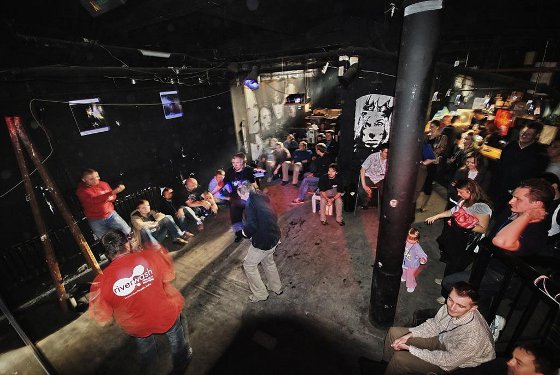 More people started to appear at the party, including some famous sceners like Scorpik / Pulse and Dreamer / Nah-Kolor (who also contributed one of his photos to the photo compo). There was also a TV crew conducting interviews with organizers and participants.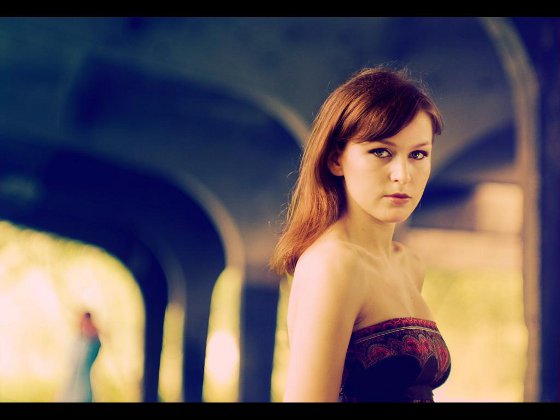 There were over 30 entries shown in the graphics compo; 5 in the "Oldschool", 8 in the "Newschool" and 18 in the "Photo" category. After the compo Gargaj appeared on the scene, presenting a highly energetic mix of break beat, D'n'B and even hardcore! Gargaj managed to transfer the energy of the music to all people in the club, a lot of them were dancing in front of the scene. The set was amazing, and I regret that I recorded only a part of it on my phone. The concert was definitely one of the highlights of the party, well done!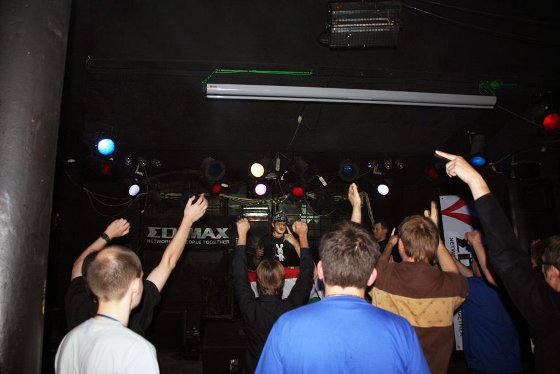 After this great concert, time came for executable compos. Comparing to the previous years, it can be concluded that 14 entries in compos was a very good result. First place in the 4kB category went to "Quantum Flame" by DMA (with some nice fractal flames). A real killer appeared in the next compo, and it will be difficult to beat it in 256 bytes. I'm speaking here about "Pulse" by Rrrola. Absolutely groundbreaking intro and, in my opinion, the real winner of the whole party. Congratulations!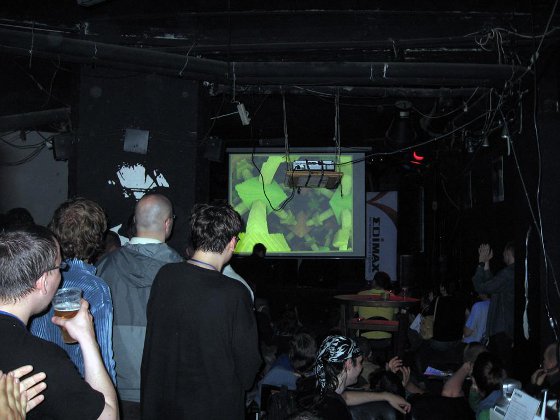 The demo compo also featured some interesting productions. "Megademo 1" by Hard Coders has 3 different soundtracks created by three different musicians. At each run a different soundtrack is chosen. Too bad it requires CUDA-capable graphics card. The debut demo of Dimness group was ranked second. It's also worth to mention that Amnesty group supported the party with 2 demos.
Another concert had been scheduled after the main compos. This time group called "In Dark We Trust" appeared on the scene. You could hear 3 sets presented by three DJs. Unfortunately, most people were clearly tired after a whole day of the event and the concert did not attract too much audience, the sets didn't stand out by anything special too. Most people returned to the hotels, and the ones who wanted to sleep on the place had to bear massive amount of decibels in the air during the night. You could vote by using a system called "5stars" (by Ubik), and the results were available immediately after the voting. To mobilize participants to vote, organisers announced prize draw (100 PLN) among those who voted. The prize giving and closing ceremony was held on Sunday.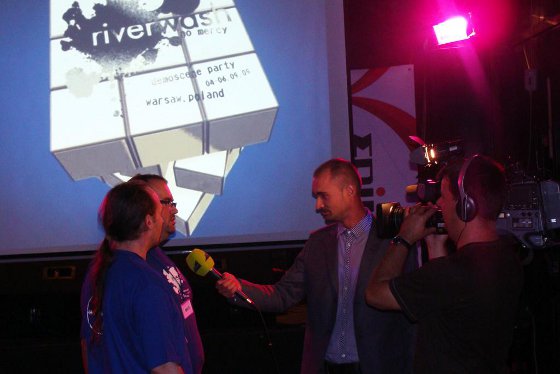 Summary
This edition of Riverwash party was a success, the key was to move the event to an easily accessible place like Warsaw. Congratulations and thanks to the organisers: Voyager, Fei, Gorzyga and their supporters. Everything was well organised (maybe except that the Sunday night concert was not really necessary). Other thing to think about is, that if there will be more people willing to visit Riverwash 2010 than in 2009 (about 140 people), a bigger party hall will be needed. Let's hope the next one will be even bigger and better, especially that it will be the year of 25th anniversary of Amiga.
---
Links related to this article
---
Lazarus / Nah-Kolor
---
Riverwash 2010 - Let's Go
written by V0yager/Nah-Kolor
Welcome to Riverwash, again! You may have some kind of deja vu feeling (yep, it's a glitch in the Matrix), as the party will be held at the same place and almost the same time as last year, that is from 3rd to 5th September, 2010 (Friday - Sunday), at No Mercy club, Bema 65, Warsaw, Poland. If you visited the previous edition, you'll feel like at home. If not... Don't hesitate and come this year!
As we have the same location, most information from the last year (like how to get there) won't change. We hope to keep the entrance fee and other rules the same. That also applies to general compo rules, accommodation, etc. Please visit our site frequently to get the latest updates.
This year we have one rule: non stop partying from Friday till Sunday from 3 till 5 september 2010. Even better! Do you want to win a statuette? Of course you can try in many traditional competitions: 4-channel music based on samples from ST-03 disk, mp3 compo, synthetic music compo (real synths only), wide set of graphics art competitions: 256 colors oldschool graphics and true color newschool ones, we have also compos for photographers and of course party reporters (infamous Kwit compo - show us some funny evidence for your demoscene friends). Demos? Yep of course: we are waiting for the best of the best of the BEST PC demos, Amiga demos, Atari XL/XE and ST and Falcon demos, ZX Spectrum Demos... and every demo which is working on some kind of oldschool and newschool demoscene approved machine! (We have plenty of machines but not all ever existed, so contact us if you have invented an super-mega-zoom-rotated-scroll on Vertex, Pong, Jaguar II and C65 and other extra rare machines, maybe we have one in Poland or, in worst case, you have to get it with you on the party.) More and more comos: intros (256b, 4k, 64k), wild and anim and of course set of funny crazy compos. We will fill your time with concerts, events and DJ sets (five or more). Everything played on a concert quality loud speakers, visible on 5000 ANSI lumens screen.
More info at: www.riverwash.info