NVscene 2008 Party Report
Polaris / Northern Dragons
10-28-2008 10:57 PM EST
Dust has settled on my airplane ticket stubs since NVscene and NVision 2008 but the event has not lost its impact on my memory. Ive committed to putting together a party report for Hugi. It has simply been one of the best demo scene events ever hosted. This will also be my last article published under Hugi for the next while. It's been good, but Hugi is changing and I have changes in my life too. Thanks to everyone that was part of the experience.
This article is dedicated to M. A love unexpected, amazing and unique. Simply nodding in our love.
Sunday, August 24th
I depart at 8:50 AM, flying from Winnipeg to Denver and then on to San Jose. The departure from Winnipeg is fine, with the only mishap being teased by a US Customs Guard, letting me know that "San Jose is spelled with a J and not an H". Apologies again to the US Department of Homeland Security for spelling it as "San Hose". My lesson has been learned, which is especially embarrassing considering that I studied Spanish once upon a time!
I spend my time in the Denver airport trying to get a two dimensional image transformation function working. I eventually hit a brick wall and realize that my plan to use texture coordinates to integrate a Droste effect are fundamentally flawed.
It's frustrating and I see my attempt to have something sizable in hand to contribute to the Northern Dragons production "Binary Alchemy" slip past me. I know this is temporary; being new to fatherhood with young (baby fresh!) twin boys has left me with a minimal runway to work on things. I console myself knowing things will get better and that I am at least attending another demo party and helping in the production with small things where I can. Thanks to my wife and family, whom has made it possible to attend this event in addition to the Block Party event earlier in 2008.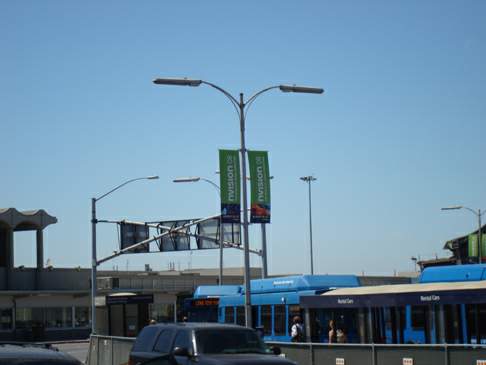 Another North American demo party in the same calendar year? It technically has happened before, but never on a scale this large. Block Party built on its 2007 success with another wonderful event in 2008. Now we have a very different party at NVscene with heavy corporate sponsorship. Big names are behind this event, including HP, Spore (by Maxis), and Nvidia Corporation. Attendants won't just see green because of the Nvidia colours, but because of this sponsorship.
Walking around the Denver Airport, it becomes obvious that the US is in Election fever. News stands in the Denver Airport are compelled to put signs saying they dont favor one candidate over the other. 3M corporation publishes a "Get your limited edition McCain / Obama privacy filter". It looks like an official promotion, but instead is a sneaky advertisement. With the election not held until November, its a surprising amount of discussion.
When I land in San Jose just after 2:00 PM, I'm the first Northern Dragons member to arrive. I've decided to fly directly, to minimize my time away from home. The other Dragons Members (BarZoule, Blacklight and Guybrush) are arriving after a coastal road trip from Seattle. Guybrush and his wife Sandra live in Seattle, so it became a natural staging ground for a fantastic road trip. BarZoule's girlfriend as well as Guybrush's wife Sandra are joining us. I'm not-so-secretly jealous of their adventure. It's wonderful to see the event draw more people than just our core demo group members. San Jose is an attraction in itself.
Looking out from the airport, I'm immediately reminded that "NVision" is going to be a huge event. There are banners on every lamp post outside the airport, with the words Play, Create, Learn and Discover. I have not yet even arrived at the venue and I already feel a tinge of excitement.
I have a bit of time to myself before the others arrive. With only carry on luggage to worry about, I take a taxi cab directly to the Egyptian Museum. Those that know me, know that Egyptology is a great passion of mine. The Rosicrucian Egyptian Museum & Planetarium contains the largest collection of Egyptian artifacts on exhibit in the western United States. Delightfully, the cab driver speaks Arabic himself and we banter a bit about our experiences and travels while heading to the museum.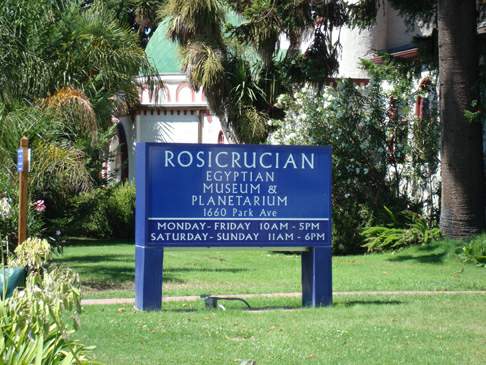 The museum has some Adobe construction touches, but many architectural elements are inspired by Ancient Egyptian temples. Its a odd mix and reminds me a little of the Luxor Casino hotel in Las Vegas. I enter the museum, lock my items (including camera) away in a locker, and start my tour.
The museum is a delightful collection of artifacts and re-creations. There are several castings from items in the Louvre and the British Museum. Some of the re-creations feel a little home made, while others are more professional. There are models of the funerary complex of King Zoser, as well as Abu Simbel. Statues and floor plans are re-created. There are models of ancient rooms. There is even a tomb.
I really enjoyed the tomb recreation, which went down into the basement. It does capture some of the feel of entering an ancient Egyptian tomb, with none of the crowds or humidity of the actual in Egypt experience.
The museum has some unique pieces that I focused on. A ring of Pharaoh Akhenaten, as well as corn mummies are rare things that I enjoyed seeing at this quaint museum. If you enjoy Egyptology and are in the area - this museum is worth attending. Note that there is a museum brochure that has a "dollar off" coupon, that you can take advantage of. (They store the brochure at the front desk). In addition, cameras without flash enabled are permitted (so don't leave it in the locker!).
Walking around the Museum grounds was the most interesting part. Increasingly as I walked around, I began to wonder what this museum was doing in San Jose. There was a large outdoor Senet table. There were other temples and buildings. Fountains that put Ancient Egyptian icons into a traditionally religious context. Once I reached the gardens with an engraved poem titled "Contribution to Peace", I felt there was a much bigger picture underfoot.
I eventually came across an area dedicated to the worship of Akhenaten. Reading more, I learned this was an element of worship for the Rosicrucian order. I found it inspiring, interesting and picked up a brochure about the Order and their beliefs; which did answer "why" San Jose.
The Rosicrucians will have to wait some time before my membership however. Their brochure starts with "Perhaps you have already explored the vast sea of metaphysical and self-help books, programs, lectures and seminars...". With that I don't think this group is quite for me. Not to mention the 400$ / per year fee...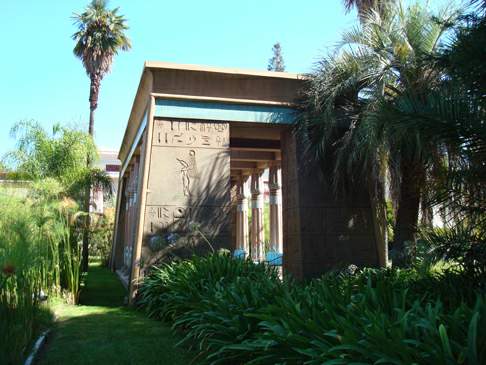 I ended my museum experience by taking dinner at an Italian restaurant near by. It was delicious and the restaurant was setup in a way that allowed for a enclosed balcony. Outside and yet protected.
After my personal time, I take a cab to the San Jose Convention center where I was blown away by the venue. The convention center has already been transformed. The water feature has been dyed green. Other buildings that were part of the venue are interconnected with outdoor green carpeting. The main convention center itself is covered in a piece of digital artwork. All of this screams "huge".
Outside, I was delighted to bump into Trixter. He has flown in from Chicago, personally financed by Radman and Jason Scott. Thank you to these men for helping Trixter attend the event. He would not have been able to attend without their help.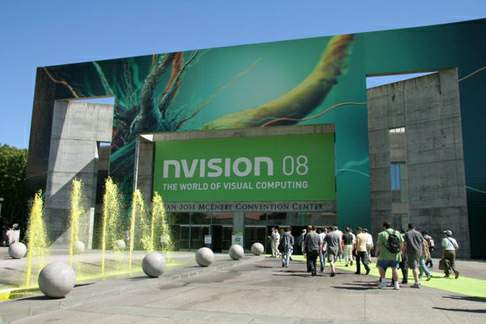 The venue is still undergoing construction, however I am able to pick up my registration materials while "the walls" are being built around us. The demo hall is already finished, with a massive 30 screen, huge sound, tables with Internet cables (coloured green) and power. The registration materials include a beautifully printed booklet, lanyard and custom identification for the event.
We enter the main expo where cranes are constructing the center stage for the event. The event has drawn in several meet and greets - from Tricia Helfer, Eileen Collins, Buz Aldrin, and the guys from the Mythbusters. I have never attended an event before that involved cranes to setup items like this, so the scale is truly beyond compare. It's as if E3 were hosted by a graphics card game company. Or at least, how I imagined E3 to be.
Other halls are dedicated to non stop lan gaming and game competitions. NVscene was located at the opposite corner, with the exhibition kiosks being centered in the middle.
How can I sum up the scale? I simply don't have words.
Trixter and I take dinner at a place near the hall. We catch up on personal items, like fatherhood and he lends me his cell phone so I can let my family back in Canada know that I've arrived safely. I was quite surprised to see that San Jose is devoid of pay phones that accept credit cards. Next year I'll probably avoid this problem by doing skype and using the seemingly ubiquitously free Internet in San Jose to call home.
We toy around with an idea for next years Block Party. Assuming that we both can muster the runway, I hope that a Trixter & Polaris entry might be in the works for the Wild Competition in 2009.
We return to the party place. Im still waiting for the other Dragons Members to arrive as well as K9D whom lives near by. GB isn't getting my cell phone messages; or we aren't getting his responses. In any case, it's obviously taking longer for them to arrive than we thought.
At the party place we meet up with Gloom, Temis Nunez and Gargaj. Its a pleasure to meet them and I think they are delighted to see us too. There are other people as well, including IQ, Preacher and Mentor from overseas. Still however, no other Dragons.
Jason Scott and Radman eventually arrive late in the evening. They have come with "RVScene" the demo party you can drive. A 24 foot long RV; equipped with beer keg, in the tradition of Boozembly. This will prove to be a persistent attraction to the event. Free beer anyone? (More on this later).
I planned to share a hotel room with Guybrush and his wife, but without the Dragons' arrival; I'm stuck without any reservation number or details. Eventually, I booked my own room at the same hotel and left a message for the Dragons to receive when they arrive. The Saint Claire hotel is a beautiful and a classic hotel, and luckily for me it still had a vacancy. Trixter crashed there as well; allowing him to get an early start on the day and film the speeches. It turns out the digital recording equipment hes packed will be useful after all. Trixter has worked it out with NVscene and demoscene.tv to be on hand to record the speeches.
Monday, August 25th
At midnight, there is a rap at the door. I wake up, as Trixter is still sleeping soundly. On the other side are BarZoule and Blacklight. The Dragons have finally arrived. I'm delighted as I was starting to get worried about their well being. I had joked earlier that night with Trixter, saying "Oh my god, so many Dragons in a van - what will happen to the North American demoscene if something goes wrong?".. but was only to hide my growing concern. Apparently, it took a lot longer to get into downtown San Jose than anyone had expected.
It's 1:30 am... or so. Trixter's phone has gone off. It sounds like work. The only two systems at the same site have gone down at the same time. Trixter points out the painfully obvious that someone will have to go to the site to verify networking and power.
Morning comes and Trixter is very apologetic about the phone call from the night before. It wasn't a big deal - I just hope he was making overtime! We take breakfast together at the Bijan Bakery & Cafe. Wonderful coffee combined with freshly baked croissant are an insanely delicious combination. Its also a reasonably priced start to our day. Already, we've noticed the prices in the convention center are outrageous. A bottle of coke costs three dollars.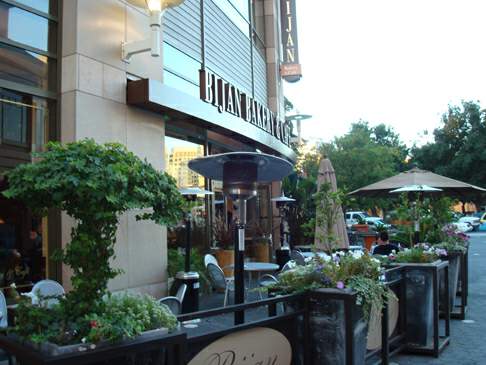 Outside the event, there is a group of people handing out colourful pamphlets. "Find the flawed chip..." it says. The group is from www.recallnvidia.org, and are working to put pressure on Nvidia to disclose a problem with laptops. I don't know the history of this, but each morning I accept their papers and smile ... wishing them luck. Each brochure becomes another souvenir of my time at the event. It is the first time I've seen anyone anywhere protesting in regards a technology issue. I am indeed in "silicon valley".
We meet up with the Dragons at the event. Our laptops and PCs are given stickers that are attached to our identification cards and the equipment. The idea being, that you can leave your equipment in the room knowing no one else will try to leave with it. This was moderately well enforced; at a certain point security knew whom everyone was anyway.
The event was kicked off by Temis. During the presentation, he mentions 24 hour staff that will be in the demo room with us. A permanent network team as well as a presentation group ensuring the presentations are working properly.
With the demo to finish, we get our computer equipment setup. Guybrush has taken our demo machine with us. NVscene did provide the Northern Dragons with two machines, even shipping one to Canada. However, they arrived Wednesday so our window to build something specific to them was limited. Still, it does plant the seeds for new productions and demos.
The organizers - Gargaj and Gloom are especially interested in seeing a North American presence. As people file in, they update the screen with comments to the effect of "We still have more Euro sceners in the room! North America - where are you!?". The truth is, that the event did have more Euro sceners in the room. In the end, the room was evenly split between North Americans and our friends from overseas. This provided a unique feel to the event.
The Dragons members settle in to work on our demo production. Bantering with Guybrush, I confirm that the effect is indeed "flawed", and we decide to focus on other things. K9D joins us, brining our team complete. We take a row, with Blacklight, Guybrush, K9D, BarZoule and myself working together. The ladies escape to Alcatraz for the day. Our window to get the production done - is that evening. The deadline is looming fast.
There is a separate room for presentations, however the main demo hall becomes the center of all the action. The seminar room is barely used in the end, probably because all the demosceners were working on productions. Those general NVision guests without a NVscene ticket; are allowed to watch the content - but are asked to sit "on the sides". The demosceners are in the middle of the room on tables, madly working away on their productions.
There are familiar faces and groups and a few working on productions. Blackpawn and Ryinn of XPLSV are madly working away into the late hours with us. s_tec is again working on another 4kb. Among other groups as well.
NVscene has given away coupons for food from the concession as part of your ticket. The Dragons use this to take lunch in the "NVscene lounge" - which is an outdoor area just past the NVscene hall. It's a relaxed outdoor barbecue. While none of us are technically paying for the food, we can't help but to note that the prices are steep as well. Enjoying the warm California air gives us a nice break to what well know will be a long evening to meet deadlines to come.
The afternoon includes a presentation on the history of the demoscene at 3:00 PM, put on by Steeler from http://www.digitalekultur.org/ and the NVscene organizers. I enjoyed seeing it presented, not in so much to learn something about the demoscene but to learn how others choose to present it. What do you say? How to you express these ideas and concepts? Steeler did an excellent job of the task at hand and is obviously well practiced.
There is a Machinima presentation held afterwards as well in the seminar room. With the mad crunch to complete the production under way; we skip it entirely. One of these days, I do hope to enjoy all that an event can offer. Hopefully it has been recorded by Trixter or Demoscene TV.
Eventually, I've done all I can do to help the Northern Dragons production. BarZoule is on Art, Blacklight and GB are working on Effects and Code, and K9D is getting the Music finished. I have completed the ASCII file and a name for the production has been chosen after some deliberation and debate.
With some time available, I decide to experiment with an old 4kb idea I had developed in 2002. For a long time, I've wanted to reveal a technique to the scene which I'll call "HTA dropping". It turns out that windows systems can run code similar to web page HTML, but in a relaxed security context. These are known as Microsoft HTML Applications or as htas.
I used a conventional cab dropping approach, which included a icon file to hide the mouse cursor and showed a "wingdings" font of the world map. It was a challenge to put these features together, including full screen, exit when a key is hit, some graphics and midi music into a single package. Still, it was a fun thing to work on. I decide to complete it, not in so much to impress or even to compete - but to draw people's attention to thinking about these techniques for the purpose of small productions. I'm sure some will love it and others will hate it.
I took breaks from my "512 byte domination" production to work with Ferris of Youth Uprising. I was surprised to learn that he's still in his teens. We've all started like this, but this is a truly significant sighting of "the next generation". Already, he's dripping talent and knows of the in4k website portal. He was surprised to learn that I was one of the co founders of it. I help him a bit with his music synthesis code, while I'm not working on "512 byte domination".
The ladies check back on us after their day trip. Message #1 inquires about dinner. Message #2 says they've given up on us and are eating. Message #3 says they are watching a movie.
Eventually, hunger overtakes us. BarZoule and I take dinner together at a little Chinese food place close by to the convention center. San Jose has a fair number of dining options close to the center; which we are enjoying. Props to the venue for this.
It's nice to have some conversation with BarZoule and talk about his recent adventure in Egypt. He's brought back a Henninger coaster as a little gift for me. This little gesture brings everything into a full circle of personal perspective. I founded the Northern Dragons in 2001, with the limited purpose of participating in Assembly 2001. This was my first ever Demo Party and I added a side trip to Germany at the same time. Henniger was the beverage of choice during my time there and is a fun reminder of my German adventures. Now it's seven years later, with over thirty releases at over a dozen demo parties. Amazing.
I return to the demohall and have a brief conversation with Gloom and others about Hugi. There is a lot of controversy about Hugi as of late and I'm trying to understand all that's happened. Gloom tells me "Don't even get me started". There is a brief conversation about domain name addressing and letters that have gone to the sponsors of scene.org. I don't know all the history of this fight, nor do I care to. It is however, something that the Hugi team needs to take seriously. Perhaps Hugi will in publishing this criticism, earn back some demoscene faith for this demoscene diskmag icon.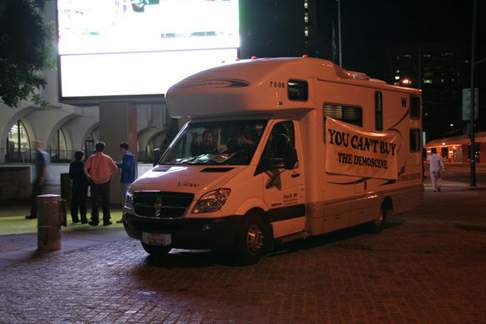 The depth of night falls and Jason and Radman inspire us to take a moment to see "RVScene". We love the spirit of it. Outside a banner is hung saying "You can't buy the demoscene!". Unfortunately, we can't enjoy RV scene just yet. The main hall with its hum of electrical impulses, calls to us. Not to be out done - the RVscene organizers distribute mini toy RV trucks. These become treasured souvenirs as demosceners get people to sign their toy cars etc.
Message #4, arrives from the ladies. "We've given up on you. Were going to sleep now....".
A release candidate is finished and we crawl to bed. It's past 7:00 AM. Blackpawn and Ryinn are still working, as is s_tec as well. I take to my bed and Guybrush craws in next to his wife. The air is suddenly pierced with a "motherf##kr!", and then all was silent. I didn't know what Guybrush did to warrant such an enthusiastic greeting, but didn't give it much thought as my eyes closed. I eventually learned that he had somehow pulled on her hair accidentally.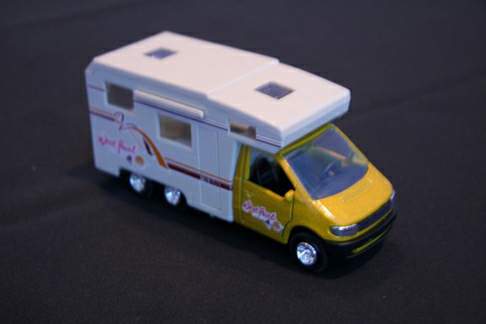 Tuesday, August 26th
I crawl out of bed, only a few hours later. IQ from RGBA is doing a speech on "Rendering Worlds with Two Triangles". I don't want to miss it. Perhaps only this could inspire me to drag myself out of bed.
I skip breakfast at the Bijan. No time. Instead, I use the last of my coupons to get some bagels, coffee and apples. I think the sales clerk gives me a discount on the apple so I don't have to spend more than my coupons allow.
I was confused and it's actually Preacher from Traction's speech first on the agenda. I enjoy the talk he's given titled "The Other Side of Demo Coding - Translating Concepts into Code". It's interesting to hear him discuss his inspirations for productions and how "he's not a coder". Often we focus on the technical aspects of "how to do something", instead of "why are we doing it?". Not even in so much a discussion about about design, but the intermingling of design with technology.
IQ's speech immediately followed and I was not disappointed. I recommend you visit his home page to view the presentation materials. His technical discussion on Distance-aided ray marching was mind blowing and I think I'm still processing all that he said.
Surprisingly, after the presentation we had some discussions where he told me that he didn't feel that he would write any more 4kb productions. He had completed what he felt he wanted in the arena. I'll admit disappointment, so I hope that he might change his mind. We talked a bit about in4k and he gave me a copy of a DVD of content from http://escena.org/. I am delighted with the souvenir!
There was another talk on 4kbs given by Mentor from TBC. Titled "Expanding the Limits of 4K", he discussed the tooling used for Micropolis as well as new productions they were working on. It's always interesting to see tooling used for small productions and how that is integrated into interactive development tools for artists. Truly, 4kbs are the new 64kbs and 64kbs are the new demos, and demos are just not trying hard enough. :-)
We take a brief break for lunch, skipping some content from Mark Snoswell of cgsociety.org. Mark presented twice in regards to the group. I'm not sure that they were actually about different topics, as all I kept hearing was about cgsociety.org. This was at first interesting; to hear about the history of the group and the art books it has published. However, beyond that it was sufficiently disconnected from the demoscene that it lost a touch of its novelty.
I take a few minutes to walk around the Expo area. It is very much feeling "like E3", with a multitude of vendors working to promote their products. I decide to look more later and grab a bit more food before the presentations that follow.
The folks from Demoscene.tv are conducting interviews. Gargaj makes sure they cover some of the North American groups and we have a short conversation with them as members of the Northern Dragons. I suppose we've had our ninety seconds of fame. More interestingly Metapat spoke to us about the Block Party 2007 invitation we wrote. He was delighted to learn that it was through the coverage of Numerica from demoscene.tv that we had learned that the event was accepting remote entries. This led to the Northern Dragons rushing to completing the invitation for the event. Metapat tried to convince us to make something for the next Numerica held in 2009. We didn't want to promise either way; having just gotten out of the "fire" with our production at NVscene with several post party fixes planned. Who knows what 2009 will bring!
Chaos from Farbrausch presents "From Krieger to Debris" and it captures the attention of a lot of people that haven't seen the Farbrausch productions before. I believe anyone following the scene has probably seen much of the content of the speech on video footage, but the feeling is great to be there live and in person. The question and answer period is priceless, as Navis hits on the technical details of the camera shake in Debris. Chaos first says that it is made with simple sinus functions, but then it's seen in the tool that it is also using Perlin noise. "Ooop!" Chaos has a breathless and irreverent presentation style during his talk, which was fully enjoyed by all.
Navis presented shortly afterwards on "Deconstructing Demos - From Conception to Performance". I did not have as much appreciation for ASD productions before the speech as I do now. Navis makes an outstanding point about scalable frame rates and keeping everything "smooth". Having a sudden drop in frame rate, is completely unacceptable to him. While he brings about a certain level of personal passion into the argument, I agree with him. I liked how his productions flow together, with technical excellence and style.
The Dragons members take a break in the agenda to take late lunch / early dinner together. We grab food at Peggy Sues - an old style diner serving milkshakes, fries and burgers. It's great to be together as we don't often get time in person as we are all geographically distributed. The food is good, the service is excellent and the ambiance is outstanding. Conversation included how the Dragons were founded and how members got involved. I had forgotten that Guybrush had learned about us from a party report I wrote in 2003, which had inspired him to contact and join us.
Our final talk of the evening is done by two developers of the game Spore. These are not the marketing people, but actually coders of the game. They provide an interactive romp through the game while focusing and demonstrating how Spore procedurally generates its content. An amazing feature of the game is dragging and dropping creatures directly from a web browser into the game. "The XML is in the PNG!" the developers chanted, with a genuine enthusiasm which rocked the room.
Demonstrations of creature creation were followed with animations of the creatures dancing to music. Not just any creatures either, but randomly selected ones created with the free creature creator available on the Internet. The enthusiasm of the developers made the presentation electric and received a standing ovation afterwards. To top this off - all NVScene participants receive a free electronic download of Spore. So I can take that off my "must buy list" and put it into my "must play, enjoy and convince friends to buy list". Brilliant!
The demo compo started on the heels of the Spore presentation. It was during this completion that I realized that this was not a European demo party or an American demo party. This event is probably the only event that can truly claim to be an International demo party. Geography is irrelevant. The best demos in the world are at NVscene and they are surely amazing. There are people from Hungary, Germany, Finland, Poland, Canada and the world.
I have always been impressed with productions when shown on the big screen for the first time. Few can ever claim to be as big or as loud as the audio visual equipment at NVscene. To top this you would have to rent IMAX.
The demo compo had two productions which blew me away. "Into the Pink - by Plastic" had outstanding effects and shaders. Stargazer was more traditional in its demoscene style, but integrated all the effects in a way which was really pleasing. ASD released a sequel with "Midnight Run" which had a similar style to another one of their productions.
XPLSV released N-505 which was interesting as the production included a Nine Inch Nails song, care of a creative commons license. There is concern from its authors that it might not be popular in judging because it did not include a custom written sound track.
The Northern Dragons production "Binary Alchemy" was well received. It does a significant amount of pre-calculation at load time. For a while I believe people thought the production had crashed. This in itself is not a bad thing. If it had been just a bit shorter it would have captured people's suspension of disbelief and then suddenly transported everyone into its world.
Nothing can ever describe how it feels for your demo to be shown for the first time among your demoscene peers and to hear the audience reaction to your work and effects.
The 4kb productions were also world class. My production "512 byte domination" was the first on the big screen. I suppose it was good to "get it over with". I had mostly want it to be released; perhaps not as a voting production. Hopefully it doesnt get last place!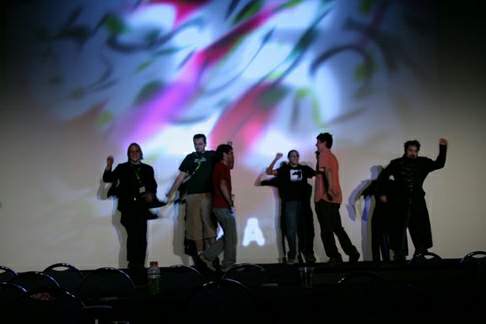 Texas by Keyboarders is a crowd favorite. Most people didn't realize until after the voting that it used a music file from Windows Vista. None the less, it is an outstanding piece of work. Second to that I think I appreciated Photon Race 2 on its technical merits, as well as eco by s_tec from Trailer Park Demos.
The quality of the productions in NVscene is simply amazing. In true tradition after the demo screening we all danced to "Rob is jarig". It's my first time for this demoscene tradition and it was awesome seeing everyone being silly together.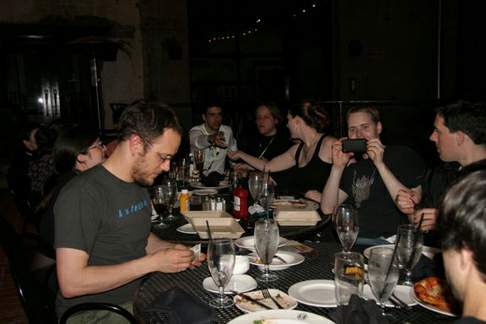 Everyone afterwards spills out into the main area. We enjoy a drink and then genuine hunger takes over. Ryinn organizes us to go to a nearby Steak House and the members of XPLSV, Trailer Park Demos and the Northern Dragons converge at an outdoor table in conversation and fun. Moments later, our table is joined by Bonzaj, Kinga, Navis and Preacher.
We enjoy the outside air, great food and excellent conversation. We talk about our travels, what is like living in our respective geographies, food and life. We take this friendship back with us to the convention center, where we we finally join RVScene in earnest. The NVscene organizers never join us, but they don't shut it down either. The truck with its "You can't buy the demoscene" banner attracts non demoscene people to join in for a drink, conversation and learn about our passionate past time.
Eventually, sleep beckons and we succumb to its call.
Wednesday, August 27th
Today is the final day of the NVscene. Only two days have past. It feels like such a short time, but so much has happened in the past few days it also feels like its been nearly a week. We have our last speeches, then the closing ceremonies and prize distribution.
I end up missing the presentation "Understanding Real time as Design Potential", by Pixtur. I'll admit that I'm a fan of the Mythbusters and decide to attend their meet and greet scheduled at the same time. I get a fair bit of free pens and items while waiting in line and then get a photo opportunity with the hosts of the famous TV program. I email this to my wife, who is also a fan of the program and is Nvidia green with envy when she receives it.
I return to see the presentation by Bonzaj from Plastic, titled "Linger In Shadows". It's a demoscene production that has been picked up by and published by Sony Corporation. It is an amazing piece of artwork and his discussion included several challenges of developing for the PSP3. In true demoscene spirit, it includes several elements that pay tribute to other demoscene groups and content.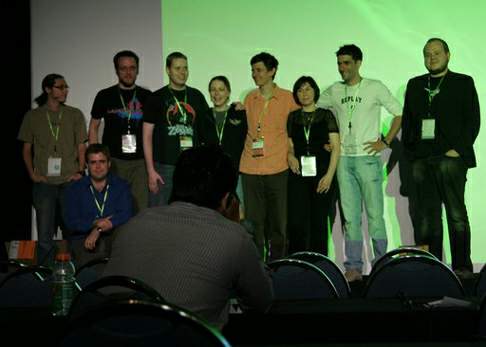 Some technical challenges delayed the closing ceremonies. Eventually however, we have the award ceremony hosted by Steeler and the NVScene organizers. It's organized confusion as no one seems to know what prizes are associated with which events. However, the spirit can't be beat. The North Americans can be proud that XPSLV and the Northern Dragons finished in 3rd and 5th places respectively. I was amazed and delighted that "512 byte domination" did not place last.
It also wasnt clear - what cash prize (if any) was being distributed. This came over email in October, but the truth be told - many of us didn't know we had won any money!
A few people miss the closing ceremonies because of flights and a few more have plans to leave shortly after. Those of us that don't have to leave join the final closing ceremonies for the final NVision closing ceremony.
The closing ceremony brought a summary of the event to the fold. A new world record was set for lan gaming and the stage was filled with each member of that group. Huge prizes of thousands of dollars were awarded to winners of lan gaming competitions. Demosceners could argue that our prizes were not in the same caliber; however I know that NVscene sponsored many of the speakers to attend the event. A note to all organizers - if this is a choice you have to make, make the event a better by bringing the best speakers to your event. The speakers will attract others to your compo, more than a larger prize ever could.
The protesters from www.recallnvidia.org are in the crowd as well. They try to distribute their neon orange and neon green pamphlets to people in the audience. Security quickly escorts a gentleman out the building. Another person gets up from the audience and starts over. Quickly, security escorts this person out too. A final third person gets up and is picked up as quickly as the last. It was dealt with so quickly and effectively, it was as if they were never there at all.
During the entire event, Nvidia did nothing to the protesters in the public areas outside. Regardless as to your interpretation of the chip problem - these people were at that point in a private function. I think Nvidia dealt with this respectfully and effectively. In fairness to the people in from www.recallnvidia.org this was a closed event.
Soon the highlight of the event gets underway. The Mythbusters are rumored to be blowing something up at this event. Live on stage, they tell the story about how they were commissioned by Nvidia to show the difference between a CPU and a GPU. They decide to show massive parallelism to do this. The first robot draws a smiley face, using a single paint gun at the end of articulated arm. This is the demonstration of the CPU... and after that is completed they pull up the curtains and show a massive machine.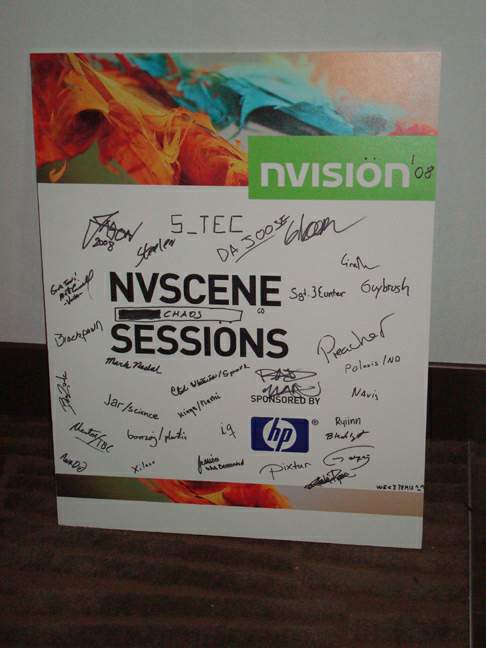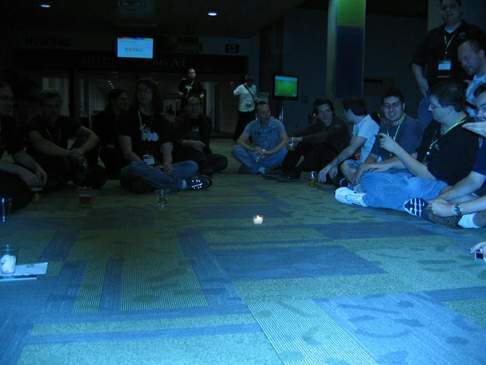 Called "Leonardo 2", it has thousands of paint ball tubes arranged in a matrix. They start to hand out to the audience - not souvenirs; but plastic sheets in case things go wrong. The intensity of the experience heightens, until the moment where the machine is put to the test. In a matter of milliseconds Leonardo 2 blasts a canvas with thousands of paint balls drawing the a pixelated image of the Mona Lisa. Click the Nvidia website for a video clip.
Everyone leaves the ceremonies chatting about what they've seen and what they've enjoyed during the past few days. People stream down the streets to their hotels and the convention centers. We come back to find things being quickly packed up. Again, the sense of what was once "permanent" is being quickly dismantled.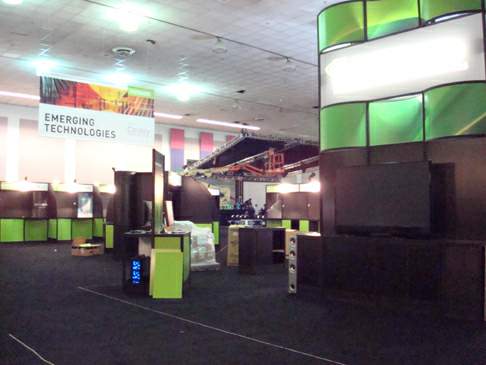 The sceners converge at the Hilton for a while and enjoy some last few moments together. We all sign a NVscene poster with our group names as a memento for the organizers. Northern Dragons also give the organizers a personal thank you with our logo printed on rice paper from a wood cut. They put on an amazing event. We walk back to our hotel taking last glimpses in the convention center to the event that was.
The Dragons members decide to do a road trip to the San Francisco bridge that evening. The bridge will be there another time for me. I instead spend the evening with family I don't get to see often enough. I enjoy a great evening at P.F. Chang's Chinese Restaurant. I will say my goodbyes to the Dragons when they return. My wife's cousin meets the Dragons while we wait for other family to arrive.
I have a gap of time before the Dragons return from their tourism after my dinner with family. I take few last moments to walk around the area near the hotel and the convention center. I leave fairly early tomorrow morning, so this is my last chance to see the area. I'm also looking to send some post cards to friends and family. However, the hotels I wander into don't have any international stamps.
As I wander around, I bump into a few sceners. Most people tell me about the tourism they will be doing after the event. It's nice to hear everyone talk enthusiastically about all they'll be seeing and doing shortly. It makes me smile, wondering if in a few years someone will be bringing back a beer coaster from North America. It was a gesture that was far more meaningful than just a piece of printed cardboard.
I'm fully packed and am watching a boring movie when Guybrush and Sandra arrive. They have had a wonderful time. She's gotten a bit of an injury to her knee but overall seems alright. While Guybrush runs around getting ice, I go down a floor to visit with the other Dragons to say good night and good bye.
BlackLight and Guybrush will drive back up the coast. Everyone else are flying back home directly but at different times. It's been a real pleasure and I enjoyed meeting Guybrush's wife and BarZoule's girlfriend. It's a shame to say goodbye so soon.
I come back to the room and eventually we settle in to get some sleep. None of us really want to, but tiredness prevails. It's been a great few days. We turn the lights off to head into bed when Sandra pierces the air with another "motherf##kr!"! She's hit her knee getting into bed. We all laugh when I tell her that I'll have to "write that up in a party report". She tells me that she expects no less than full documentation of the party experience. I smile knowing that I'll pay tribute to her and do exactly that.
Conclusion / After Thoughts
NVScene was a wonderful experience. Many will debate in the months afterwards if it really was "North America's largest demoscene party". To be honest, I think that misses the point. Large doesn't mean better or best. NVscene was the best demoscene competition I have experienced and I think it is a truly international event. This is the strength of the event and its venue.
I believe Block Party will continue to have a draw and a unique audience. It's at Block Party that you will see the North American icons speaking about - on the stage - their groups, their experiences and expertise. Hopefully future NVscene events will draw upon the talent and people of North America as part of their speakers list. The NVscene organizers may say that all you need to do is volunteer - but the organizers at Block Party don't wait for volunteers. They know whom to ask and they do ask.
I expect that both parties will continue to grow and attract productions, discussion and provide a stage to participate in the demoscene. I hope to undertake a production with Trixter for BlockParty in 2009, hatched from discussions we shared at NVscene 2008.
As a father with a young family, I know that I may need to decide to attend one event over the other. Trying to decide this can only leave you feeling conflicted. Each event has a unique feel and scale. If you are looking for an international demoparty, showcasing the latest demos with bleeding edge technology, then NVscene is the right event. If you are looking to participate in the North American demoscene community in a more modest event rooted in the North America, then Block Party is your event. The two are not mutually exclusive. It's all the scene after all.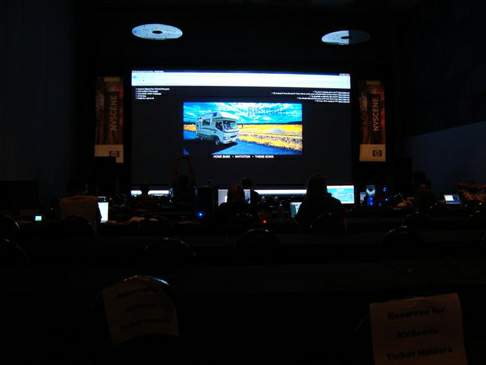 Links related to this article
Polaris / Northern Dragons