Is Jörg Haider an Arab?
From the AFP news agency (see Yahoo):
Thursday February 28, 3:56 AM
Austrian right-winger Haider is an Arab: Kadhafi's son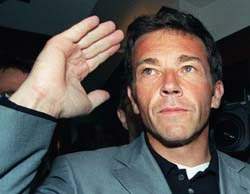 Austrian far-right strongman Joerg Haider claims descent from Arabic immigrants and is considering converting to Islam, Libyan leader Moamer Kadhafi's son claimed.
"He's Arabic, he's of Arabic origin. His family came from Andalucia 400 years ago or more, and then they converted to Christianity. They're Arabs. He told me the story," Seif al-Islam, the Libyan cultural envoy told journalists in Paris.
"He told me he wanted to convert to Islam and asked me for a copy of the Koran in the German language," he said.
"He wants to be Muslim and Arabic that's why we have such good relations."
Seif-al-Islam (literally "Sword of Islam") described Haider as a friend.
Haider is a former leader of the far-right Freedom Party, which has campaigned for a reduction in immigration to Austria and won a place in Austria's governing coalition.
He has courted controversy with recent visits to both Libya and Iraq, and on Wednesday said he was planning a second "humanitarian" trip to Baghdad despite criticism from Vienna and Washington.
He said that on a previous visit he had met Iraqi leader Saddam Hussein to seek the release of Kuwaiti prisoners of war in Baghdad's custody since the 1991 Gulf War.
Seif al-Islam, who is in Paris at the head of a 70-strong Libyan cultural delegation, also said that he was working for the release of the Kuwaiti prisoners, but did not link his mission directly with that of Haider.
Internationally, Seif al-Islam is best known for his work at the head of the Kadhafi Foundation, a high-profile humanitarian group that has taken a role in several recent international crises.
In August 2000 the foundation intervened to secure the release of several foreign hostages, including two French citizens, that were being held by Muslim rebels in the southern Philippines.
Seif al-Islam said Wednesday that his envoys had made contact with Iraqi officials over the prisoners and had brought back a message to the Kuwaitis. They are now awaiting a Kuwait reply, he said, without giving details.
Haider, 52, stepped down as the leader of the Freedom Party after it formed a coalition government with Chancellor Wolfgang Schuessel's conservative People's Party, provoking left-wing street protests.
Already in 1991 Haider had been forced to step down as governor of the conservative, mainly Catholic southern state of Carinthia after he publicly praised Adolf Hitler's Third Reich employment policies.
He has also courted controversy by attending a dinner of former Waffen SS officers. He was re-elected governor of Carinthia in 1999 but this month announced he was quitting national politics.
AFP