The Newscorner
256B.com: 1st Anniversary
After more than a year of existence and 50,000 hits, version 2.0 of 256B.com is online with some improvements and a new design. Check it out if you're interested in the world of absolutely tiny masterpieces.
Alambik Script 4 is out
Alambik Ltd. has released Alambik Script 4 with its authoring tool, Alambik Editor (ALED). "This new technology combines a complete set of text-based programming instructions with text-based audiovisual commands (video, audio, 2D, 3D, etc.). These two conceptual worlds, once distinct, are united synergistically under Alambik within a simple, uniform programming environment that functions in real-time. Alambik brings together in a single package everything you?ve dreamed about in multicontent production: stunning audio capabilities, digital imaging, full-motion video, real time treatments such as filters and special effects, event-handling, synchronization, programming, mathematical calculation, security, compression, multi-environment compatibility, data handling, client/server networking... the list goes on and on!"
Check out the-demo.com for 200 examples of what you can do with Alambik, including all source codes. For a comprehensive introduction to the Alambik technology, visit www.alambik.com. Complete online documentation (nearly 3,500 html pages and 1,500 basic Alambik example scripts) is available at www.web-language.com.
ASD: New page & demos
ASD has got a new homepage at asd.in.irc.gr. ASD (Andromeda Software Development is one of the oldest Greek demogroups. One of their best known productions is Cadence and Cascade. They've recently released a couple of new demos at React 2002 (read the party report in this Hugi issue!), among them Edge Of Forever and Blue Wire. (News submitted by Nina/ASD)
Aspirine: Needed due to loud chiptunes?
Trez and Brioche of Aspirine are playing chiptunes to make you happy at www.redofromstart.com. You can also share your thoughts in the forum and tune in every Wednesday between 1830 and 1930 CET on boups.com, a Brussels-based 24/7 electronic music stream.
Assembly 2002: Superb!
Assembly 2002, or ASM 02, is going to be the party of the superlatives. Never before has the total prize sum at a demo party been as high as at ASM 02: It's supposed to be 40 000 EUR! Hopefully this will stimulate people to make some really excellent pieces of demo scene art.
At the ASM 02 Game Development Seminars, the keynote speech will be delivered by a very special guest, Rob Hubbard aka "Mr. computer game music himself". He will also will be playing live on stage with other scene acts such as Machinae Supremacy, CNCD, Tero (Deetsay) and Crankshaft.
Among the other speakers there are legendary ex-sceners now making their fortunes in the game industry such as Björn Lynne (Dr. Awesome / Crusaders), Paul Endresen (Lone Starr / Spaceballs), Peter Hajba (Skaven / Future Crew), Jonne Valtonen (Purple Motion / Future Crew), Kai-Eerik Komppa (Nitro / Trauma) and Jani Kajala (Jani / Sumea Labs) and industry veterans such as Matti Kakkori (Nokia), Brian Bruning (Fathammer), Petri Nordlund (Bitboys), RJ Mical (Fathammer), Mikko Miettinen (Ninai games), Jouni Mannonen (Hybrid), Pekka Ruusunen (Finnish software entpreneur's association), Carlos Pardo (Made / Bomb), Jani Vaarala (Flame / Pygmy Projects), Paul Bragiel (Pyromaniac / Beyond, CEO of Paragon 5) and Ilari Kuittinen (CEO of Housemarque).
Read more at the Gamedev section of the Assembly website.
Big Chipcompo #3 & #4
The Big Chipcompo #3 (organized by Analogik) is over, and 85 chiptunes are waiting to be reviewed! Check 'em out here. And the Big Chipcompo #4 has just started!
CoolPhaT: Cooks Cool Cookies
CoolPhaT have released a chippack entitled "Alien Chill Farm", featuring 50 brand new chiptunes. Get it here! And while you're at it, you can also download CoolPhaT's first artdisk, featuring ascii and hi-rez gfx by Avalanche, CoaXCable, other CoolPhaT members and special guests. (News submitted by sulphy)

DemoDVD: Definitions
The DemoDVD project is in full swing. The first volume will concentrate on PC demos only and will be called MindCandy Volume 1: PC Demos. The plan is to release it at Assembly 2002, but the official release date will be in September. Check out the website for the huge list of classic demos that will be featured on this disc!
Also, the producer of the upcoming DemoDVD featurette is looking for scene people to respond to the following question: How do you define demos for your non-scene friends? Feel free to record a one-sentence definition of "demos" to 128kbps MP3 and send it to jeremy@blue7media.com. "Be as academic or inventive as you like. Every submission will be included on the DVD featurette. Include your name in the e-mail if you want to be included in the credits", reports Phoenix/Hornet at Orange Juice. (News submitted by Dan/Fusecon)
Demoshows in Berlin
By now, Crest has already organized three public demoshows at the C-Base in Berlin. The shows are open for all interested people, not only for sceners. For more information (in German language), check out Crest's page.
Deus ex Machina: Mag-engine
A "high quality diskmag engine with eight years of history and strong features" has now been released for public use. Deus ex Machina was used in various (not really scene-related) Czech disk magazines such as Vyhen. It's DOS-based, but it works fine on my Win98 system. One of the nicest features of the engine is really smooth vertical scrolling. You can get it from dee.webpark.cz/machina.
Erik Lydén: Colly
Erik Lydén (previously known as Carebear/Orange) has reported to us that he's updated his home page at www.eriklyden.com. There's now a module gallery of over 150 mods with descriptions, everything ("ranging from even the worst shit at 1992 to my old demotunes", he describes it). Also MP3 stuff will be soon online. "That is of interest naturally for scene, so consider putting it to Hugi. It's anyway a fact that not many scene musicians dare to put to wide collection of old works online." Indeed, what a pity!
Excess: First Final
Excess have released their first "final" ever, the final version of their demo Amboeba, which won Underscore 2k2. It's supposed to be more compatible, faster, 3mb smaller and have a better design. The demo supports Win32 and Linux, it requires OpenGL. You can get it from www.scene.org.
Farb-rausch: New superprods
Farb-rausch are back with two new 64k demos. The sequels to the famous ".the .product", which are essentially based on the same intro-engine, were released at Mekka & Symposium 2002, where they made 1st and 2nd places in the 64k competition.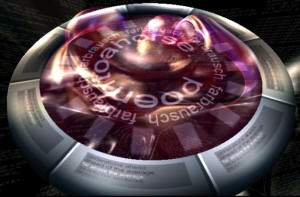 These two intros couldn't be more different from each other as well as from their predecessor. While .the .product primarily was a technical show-off of the farb-rausch intro engine and compression system (more than 1 GByte of audio-visual data had been packed into 64 kbytes!) that featured conventional 3d tours, "poem to a horse" (1st at MS2k2) is an abstract piece of art which slightly reminds of some Haujobb intros. It contains 3d models of artificial flowers, reflexion effects and lots of texts serving as semi-transparent textures on all kinds of surfaces. Once again farb-rausch show that the thing they lack the least is self-confidence ("generations ahead. far above the average. we're the best, fuck the rest" is one of the messages shown). However, I've not been able to find any of the expected poetry. Anyway, it's still a great piece of an intro, good job Chaos & co.
The other intro, "ein.schlag" (2nd at MS2k2), is of a totally different kind; it's an aggressive production focusing on ways to break and destroy things. The music is very monotonous, but it fits the general concept. This intro was coded by ryg at the party place, and although it was obviously not intended to be a quality production, it does serve its purpose as a way to give full expression to one's aggressions without hurting anybody.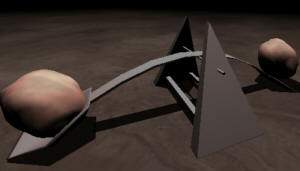 The finals of these intros can be obtained from www.pouet.net.
Fusecon: Audiophonik Price Reduced
Dan updated the scene CD database with a few more CDs. It's mainly C64 audio CDs. Also, he's reduced the price of "audiophonik" by $2. But unfortunately, he doesn't accept orders for people in Europe - they have distributors who set their own prices. Anyway, if you happen to be American, you may want to check out the audiophonik site at fusecon.com. If you want to get an overview of the contents of this audio CD, check out the review in this issue. (News submitted by Dan/Fusecon)
Generative Art: Congress
A news from the generative art scene, which has a few things in common with the demo scene: GA2002, the 5th international conference on generative art, will be held at the Politecnico di Milano University, Italy, 11-13 December 2002. According to Prof. Celestino Soddu, around 30 papers will be presented at the main session of the conference. There will also be an exhibition of artworks and art, music and poetry performances for a larger audience. The topics of the conference are: Art & Science, Architecture, Software Art, Design, Music, Poetry, Artificial Intelligence, Artificial Life, Generative Robotics, Visionary Scenarios, Mechatronic, and Intelligent Production.
Hugi: WWW po russki
The Hugi Core is proud to announce that their website has been translated to Russian. Russian folks can now access it at www.hugi.de/russian. Spasibo, iliks! Another news worth announcing: Adok has opened his personal homepage at www.hugi.de/adok. There you'll find a lot of articles and other stuff created by him.
Industry and the Scene
Lately there have been a couple of initiatives from the IT industry to use demos for their purposes. The most prominent protagonist has definitely been Intel.
According to Bret Bottger of Intel, Intel is going to present real-time animations created for its CPU at Siggraph 2002. Among these, there might also be some demos. Quoting from the original news item submitted for Hugi: "Want to become a centerpiece of the Intel booth at Siggraph, July 22-24, 2002? If you create real-time animation on Intel processor-based systems, it might be shown at the industry's premiere event for animation. The center of Intel's exhibit, the Intel Computer Animation Showcase, will show innovative and exciting content from the demoscene, as well as from movie studios, special effects companies, and art schools." The deadline for submission was Friday, June 14.
Also, Rod/TBL reported at Orange Juice that Nordic Interactive Media Expo (NIME:02) was looking for a talented group to produce a NIME:02 DEMO REEL for the opening ceremony. "The opening ceremony will be presented by a very known person from the gaming industry, soon to be revealed. The demo will also be available for downloading on www.nime.se, which is frequently visited by leading game developers. The people willing to produce the NIME:02 DEMO REEL will receive full access (Platina Pass) to the NIME:02 conference and expo."
Jurassic Pack #10: Jubilee!
Jurassic Pack #10, the jubilee issue of one of the last active Amiga diskmags, is out. "We were simply not able to keep our fingers from the Amiga keyboard. And now you are condemned to watch the result! ;-) Get what you probably didn't expect!" writes Ghandy. JP #10 features 500 kb of articles by Zito, Gone, Sagrael and many others, a ZX-Spectrum style intro (of Russian origin), pics by Prowler, Browallia and Malmis, and oldskool tunes by Dascon and Maze. JP #10 works perfectly using WinUAE so don't hesistate, just grab it from jurassicpack.de.vu.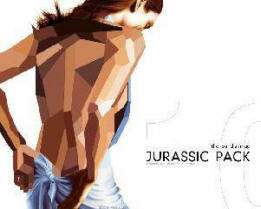 Kahvi: First CD
Kahvi Collective's first CD, "Favorite Things", is now available for pre-order. Featuring classics from Vae, Kenny Beltrey and Luke the Wizard plus new exclusive tracks from Die, Bad Loop and 4T Thieves. "Get your order in now, only limited copies available!" Check www.kahvi.org for more details. (News submitted by some Kahvi member)
Komplex: First .NETmo
Komplex has released the first ever demo for the Microsoft .NET platform. Dozen.net, available at www.komplex.org, is a port from a less famous OpenGL Java demo ("do zen"). It requires two .NET libraries (Microsoft .NET Framework and Microsoft Visual J# .NET), which occupy a total of 26 MB. The demo is supposed to run fine with 128 MB of memory. Dozen.net was coded by Jmagic, Jugi made the music.
Pixelate #9
Issue 9 of the Pixelate magazine, a HTML based mag on (amateur) game programming, is now available from a new website. Apart from a couple of articles, it contains some nice sprites from role-playing games.
Sceners - The Next Generation?
Tomcat reports at Orange Juice: "Edo Uno, the only female pixel artist in the history of Hungarian demoscene has recently gave birth to a new scener. He doesn't have a handle yet, but until then he's called Tamás. Congratulations Edo! See some photos at Edo's website. Maybe drop some e-mail to her and congratulate yourself. :)" We from Hugi also congratulate Edo and wish the best for her son. May he lead a happy and healthy life!
Showtime #17
The 17th issue of Darkage's Amiga chartsmag, Showtime, was released on April 11st, 2002. Grab it at scene.darkage.it and have a nice reading. The mag works correctly on AGA Amigas as well as on WinUAE.
Scene Satellite Network
The mod scene has got a new portal, Scene Satellite Network, or short, SSN. An interesting feature is the news ticker, which everybody can add to their own site. Perhaps it'd be a nice move if demo scene portals such as Orange Juice also implemented such a feature. Check out SSN here.
Secretly: Sad News

"We've just recieved some extremely sad news. Our coder and man behind the www.sulaco.co.za site Jan Horn passed away 06 June 2002, 18:30. Apparently he was involved in a car accident. He will be greatly missed in the Delphi Game/OpenGL development community and in our hearts!! No words can explain our loss, we miss you! Our sympathy goes out to his family and friends. May his memory live on!!!" (News submitted by Mr.Vain)
The GRID: shows a slide
The new slide-show "Histeria - the legend" has been finished. "There's a lot of very good graphics made by the best European graphicians (Made, Lazur, Dzordan, Mime, Nytrik,...)", promises Annis. It can be downoladed from matias.eu.org. (News submitted by Annis of The GRID)
Trauma: DEE 2
Trauma released DEE 2, a musicdisk. Featuring tracks by Nitro, Teque and !Cube, and a complex interface with cool features coded by Sol, it's supposed to be a great artwork. The only little snag to it is its size: 23 MB. But the tracks are also available separately. See Sol's homepage.
Turrican Forever
There's a project with the aim of creating a new game for the PC which is supposed to resemble the old C64/Amiga classic Turrican by Factor 5 (coded by Manfred Trenz aka Luke/TOM, do you remember him?). In order to prove that there's actually some progress in this project, the team has released a level editor, which you can freely download at their website. Apart from the Windows binary, there are now also binaries for Mac OS Classic and OS X. (News submitted by Turrican Forever)
Undercover Magascene #22
A new issue of the Atari disk magazine directed by the infamous Moondog is out. It's now also online so that PC owners can read it without an emulator. Check out tscc.atari.org or read the review in this Hugi issue.
UniquE RAR File Library
The UniquE RAR File Library has a new home, www.unrarlib.org. Soon there'll be new versions of the lib.
Visual HAM: for GB coders
Visual HAM v1.0 beta, "a very cool addon for HAM (= Win32 development kit for the Gameboy Advance), has just been released", reports Rrr/Oxyron at Orange Juice. "This project is a complete IDE for HAM, much like VisualC++. It's flexible, has source code completion, syntax highlightening, project management support and much much more... get it NOW and make working with HAM even easier!"
Worldcharts: Back to Life!
Silents, Scoopex and Hoodlum have joined forces to create a new multi-platform chartsmag for the demo and warez scenes. Actually it's a sequel to the famous World Charts on Amiga, of which 13 issues were released in 1991-1993. The mag will be released monthly as a "classical diskmag" .exe for PC, Amiga and C64. The first issue is supposed to come out in summer 2002.
Finally the PC scene (and not only it) is going to have a charts again (the last chartsmag, Planet #3, was released in April 2001). More than 400 people have voted so far so there's a chance that this will result in something representative. If you haven't voted yet, do so now.
By the way, there's also been a diskmag called World Charts on PC. It was made by Future Crew. Scene FTPs contain only one issue, which dates back to 1994. Rumour has it that a second issue was released, but it was not so good as the first one and didn't make it out of Finland. Anyway, this World Charts has nothing to do with the current project, it's a pure coincidence that the names of the two mags are (almost) identical (but it's not a great surprise since this is one of the best names conceiveable for an international chartsmag).