Editorial
Phew, I'm damn tired. Well, at least writing this editorial is an easy task for me, for a change. Due to my fatigue I know exactly what to write. Namely why I'm that tired: because I've been working for 14 hours in a row, from 5:00 pm to 7:00 am, without a break. The reason: I wanted to finish that issue ready for January 1st, 2002. And now I have to hurry up in order to be able to upload this stuff in half an hour in order to be still able to make use of reduced phone costs. Then I'll have to sleep - probably the whole day. And on top of that, I should've been using this precious time for preparing myself for exams at university! :)
To keep it short, I must say I'm very satisfied with both the contents, the design and the music of this issue. In my personal opinion, this one is one of the best we've ever had. Whether you agree or not - please send me feedback.
As to me personally: I've started studying medicine at the University of Vienna in October. Yes, I've changed my plans. After a long consideration I've come to the conclusion that it's the modern life sciences that will shape our 21st century the most, accompanied by artificial intelligence (which I'm taking as an extra course), nanotechnology and astrophysics.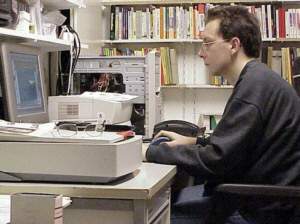 University is a lot of fun, it's absolutely like how I imagined it, and currently I am extremely happy. Every day you interact with highly intelligent people, you learn the latest stuff, and there are plenty of possibilities how you, even as a student, can influence both teaching and research. I feel close to fulfilment.
Despite that, I'm still heavily interested in computers, computer art and the demoscene, and I'll continue Hugi as long as it's fun both for me and for you.