Assembly2k report
Kowboy/Nextempire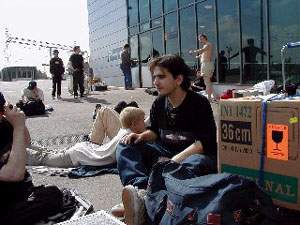 Thursday
12:00 - heu, no - 13:00 Doors open
When we all gathered in front of the the main entrance around 10 am, the sun was shining, everybody was tanning and reluctant to admit wearing black clothing was dumb. Two hours later at opening time though, the doors were still shut and it was raining heavily. A member of each group had to be in the queue and not hide in the dry parking docks in order to get the tickets and waited for another good hour after official opening time. Getting the tickets is one thing, getting in with the tickets and your hardware is another (another queue, another hour as each bags are searched one by one by security crew). We were suprised everything went so smooth and Abyss gave us the entire table zero of the vip area. This area is actually just a blocked "arc" of the main level floor ring (the gamers being in the actual Hartwall Areena itself aka "the pit" at level 0 where they even managed to squeeze table rows on top of standard "crowd seats" in the grandstand areas). The actual oldskool corner was thus situated where they held the "max pain" workshop last year, in the "sports bar" section with about 140 computer places only accessible to those displaying proudly a yellow pass whereas the regular passes were orange this year. Some people did argue it was a pity to be displaced like animals from a zoo and seperated from main jumbo screen which some feel "belongs" to sceners and not gamers. But hey I guess you can't have it both ways and until anybody comes up with a better idea, it was a working solution for those seeking


some peace to finish their productions late. Some people like Soda or Attraction indeed finished their prods there.
At table zero, you could therefore find Moxie and me from Sweden, KTHULU from Greece, KOZMIK from France, Frown/demoscene.ru from Russia, CoaxCable from Israel, and NEXTEMPIRE still had some tickets left for ps/demojournal and two Germans (standing in line under pouring rain with t-shirts for an hour does create bonds). Of course leechers do it best and Moxie and I were the first to connect to the lan. KOZMIK was setting the surprise "Bust-A-Groove" corner for which he had two floormats like the real Japaneese craze arcade and flown in a tv set from France which rapidely became the most popular attraction of the VIP area (Soda being the undiscuted champ hands down). One could follow all the comps either through the now rugged flawless asmtv software or on a mini "jumbo screen", copy of the truly immense screen in the areena.
Frown and KTHULU got interviewed by asmtv (the main interviewer being a woman with a short dress and two long rabbit ears to ease up the heart of interviewees). The last question of these interviews was, "Why do you think the Finns are so good at demomaking?" I think KTHULU replied, "Well they must be either smart or cold during the year, or both." Hm... What else can one reply. Future Crew ruled and Asm org rules, but if brains were the prized possession of a single country, Time magazine would already have already written some article mentioning this peculiar factoid. Aside from that one cannot say foreigners are discrimated at asm party, quite the opposite in fact, maybe it explains why the latter are more numerous on this special occasion year after year. What strikes the eye at asm, contrary to many demoparties, is how the orgs manage to widen the origin of attenders (10-year-olds walking along with their father, crossing in the hall some 30 year old ByteRapers as well has having a real scener's party cohabiting peacefully with a real "lan-party"), and yet still satisfy more or less just about everybody's expectations. This party really has a big future. This year you had a Pizza Hut in the hall, the DeeJay was here to wake up the dead as well as the sleepless sceners in the sleeping hall like last year (it is said at least one very tired person in the "sleeping hall" whispered loud enough "hang the deejay").
Almost forgot, this year the sceners' votes counted for 60% of the final votings as opposed to 40% for non-sceners. Can't argue with that. I guess that's asm org's response to voting results getting weirder every year. An iniative that might spread to other demoparties.
17:00 Opening Ceremony
Basically Abyss being his cool self asking people to have a good time. As a sidenote this year all org crew members were riding these new stylish kickbikes all over the areena.
22:30 MSX show
The first compo was actually a show of the best of MSX, and which portrayed today's effect on yesteryear's machines (if I recall right these came out at same time of C-64 and are even less documented).
Friday
21:30: The first real compos was the oldskool music compo (delayed). Chiptune music a la English trend elevator/lounge music aka corny style and smart hacks mod sizes. You just have to download "Antartica" if you think all oldskool music is dusty and sounds like coming out of a kazoo. C-64 definitely lives.
23:00: Oldskool gfx compo. Most pics could have been standard scan retouches, among obviously handdrawn "im bek" was interesting... although already presented at Assembly'92.
23:30: And oldskool demo compo (a new category for which you can find the rules on asm's site limited to 2 megs).
SceneFabu had an interesting "design" demo (and got tons of applauses).
Our Speedway was also a grand favourite, ascii raytracing, ascii 2d1/2 maze, ascii multi 3d, compressed ascii video, and a hard beat during the whole track.
"The friday night project" really stood out with 3d scenes, an engaging track, multiple plasmas, lightsourced wormholes, 1940 style, still pics.
"New control": plasma bobs, European-flag-style 3d stars, alternating chipmusic with phases getting mean and dirty with techno.
"Cobra" had interference, a d&b track deformations, 3d holed solenoid, but too short.
"Oldskool" had a lot of moire, chaotic patterns, getting more colours out of the standard c-64 palette, fractal moutains and a carefully chosen score. Very oldskool in its "let's fill the cube now" interlude texts. Wobbling transparent cube, bouncing balls omitting to take weight into account. Nice oldstyle "how many bobs can one put on screen" patterns, non-mapped checker board with old style sine scroller, cool wavy dot effects, rotozoomer.
"Oldskool tripping" an amazing atmospheric eerie track with strange effects and "mandala" fx. Hard to describe really, you have to see that one.
"Supreman": sequence of images.
"Sequences": also very atmospheric with a nostalgic sense to it, and "the matrix" overlays, perfectly synchronized, the demo you want to see after having taken hard decisions in your life. Almost always advancing foward. Will blow your mind, yet not complex.
"Psyko killer": vocoded sampling, German style hard techno, metaballs, good design, disco style light beams, plasma overlays over human face, interference. Spaceballs style.
"Oldskool fools": dot and line effects, European flag rotozoom and mandelbrot rotozoom, spline dots palette cycling mandelbrot tunnel. Chip music a la "outrun". Mandelbrot scroll text.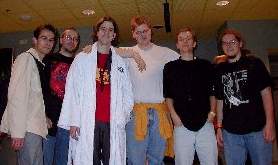 Saturday
Only 2 playstation demos, one by Haujobb and one by Yodel. I like the one by Yodel more, but most people around me think the opposite. We tried to burn them to play them on the Playstation but it did not work in the end, as you need a fix to the latter in order to be able to read non-commercial CDs (you know what I am alluding to). Talking about the Playstation and our "Bust-A-Groove" corner, it is a pity the ASM2K e-zine portrays it twice but our name is nowhere to be found in 100 lines of comments next to the pics, thereby giving the impression to the readers that FC organized it. I feel sorry for KOZMIK, who specifically brought a new televesion set as well as the lasershow and interactive floormats, and flew all the stuff in from France.
Something I have also noticed this year is that when entries are shown on the big screen during every compo, only the title appears and not the name of the author or name of demogroup, also hence increasing the anonymous "product" side of things, whereas for gamers they have their handle and "shooting group" in the upper half on jumbo screen permanently while playing. Something hard to comprehend when you see that credit ought to be proportional to time invested. Also Quakers get more interviewed than sceners: "...yeah me and my possy of the Silver Bullet Crew, we came to kill etc..." Oh well. Bang!
Bang! It is.
4Kb Intros were great, I think 12 made the cut, and the winner was Humus, an Amiga intro, followed by last year's winner Digimind on PC with a stunning raytraced walking character. As for our intro, it got 8th as people thought it was pre-coded whereas it was an entire game, and the person playing it interactively ran into the center of the ghosts and people laughed. The source code should be in this Hugi release though, I think.
Long waits in between but high quality in the end. I wonder why they merged Amiga and PC 4k though, kind of like comparing peaches and bananas. One cannot blame the lack of entries that's for sure.
On the other side, the 64kb compo had far less entries (it's a custom at asm), although all were very good with a lot having oldskool sine scrolls or "is it enough? No!" texts seperating new effects of today. I think the people from PsiKorp did a very good one and during all the time they were finishing it, we even all thought it would be in the demo category. Some other group wanted to do a 4kb but couldn't crunch it below 6k, and had to resolve entering their intro in the 64kb category. Some less known groups like No Pants Production also came out of the dark there.
The multichannel left people dry as last year: 8 of the top 10 entries were "monumental" movie-score like (i.e.: remixes of Star Wars and Chariots of fire, violins etc...), whereas this year 8/10 were d&b, which caught people off guard. One musician sitting at our table was devastated, his first time ever entry not having been selected. We had to comfort him telling him everybody at some time knows the feeling of the ceiling closing in on you. Also our own musician KENSHI didn't make the cut with "March To Liberty" having done a "last year's mood" score and I can see across the table KOZMIK is uneasy with the idea of going online and ICQing him this sad news.
The pixel and raytracing compos were nicely filled up, too. In the pixel category, roughly 25 original drawings made it to the screen. Some obviously were scans but there was a lot of really original drawing too. Of course there were dragons and naked women. Again to repeat somebody I overheard during a comp, "if you need to ask yourself if it's scanned or not, then it probably is". Simple enough. I think KTHULU got 6th with "Runaway" and was very anxious till the end.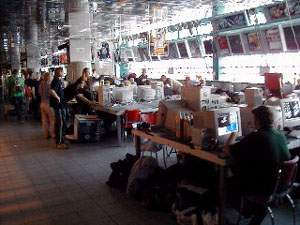 The raytracing compo was a crowd pleaser and except for "log cabin", which got booed, even before being shown, everybody applauded all other entries. My ray "Divine Light" got 10th and they cut out the rightmost of the picture, which had an seemelessly integrated group banner, which is shown in the final release. I encourage you to see it and make your own opinion on it. At least two pictures had Legos in them and were very popular.
The wild compo was ... Wild. As every time, the wild compo stirs up a lot of criticism and leaves nobody indifferent. 80% of them had extreme violence in them: "I am Bruce Lee Ninja, or I am a cold gun killer." Some guys made a "Bomfuck/freestyler" remix and others redid Matrix.
A fire broke out around noon in the woods across the upper parking and railway, supposedly Boozembly is all over the surroundings. Where we went to meet some oldtimers it was the other way, but we could sometimes distinctively distinguish people coming in and out of view between the trees where the fire took place. At first the asm security crew was running all over, and 10 minutes later firemen as well as the police were present. If it was an an intentional act from a scener, that was really dumb.
Besides that, this morning the new Swedish group Array and I re-watched some classic demos in order to get ready for the demo comp and we all agreed "State Of Mind" By bomb is still rocking hard. The guys next to our table even brought a mini jumbo screen along with projector, and we were also discovering demos we did not know existed. Nice of them to do so.

Back there where PuavoHard is, some people have built a two-story-high "Red Bull" tower. When I look at it, I can hardly imagine how it can be stable. Oh yeah, CoaxCable of TRSI is here too and a bit before watching the morning demos, he engaged into an improvised rap session with Soda of Issue and his fellow member Random if I recall.
Sunday
Demotime! Well this is not a place to review demos. Let's just state the known facts after this much awaited compo. First of all this year's asm demo competition had numerous entries of very high standard. People that had been at Mekka2k all said there were more demos and of better quality at ASM2k than at Mekka2k. Not having been to Mekka, I cannot judge, but that is what stunned everybody here at least. Also the legendary demogroup Orange made its comeback at ASM2k. I am certain you will read all the reviews on demos presented there in the next days.
There were so many people with video cameras around that loads of memorabilia .mpg clips are bound to hit Slengpung at some time or another.
Last night some guy was lying in the middle of the parking lot with paramedics around him. He seemed unconscious. My thoughts go to him and hope he recovers well.
Below you will find how ASM2K was portrayed by the news agencies,
V0212 4 i 368 BC-Finland-Computer Party BC-Finland-Computer Party About 4,000 hackers play games, compete in contests and maybe find jobs AP Photos HEL101-102 By MANS HULDEN= Associated Press Writer= HELSINKI, Finland (AP) _ At a packed sports arena, lights flickered from thousands of computer screens, strobes, construction-site warning lamps and a giant video screen as some 4,000 hackers spent virtually the entire weekend playing games but also competing for prize money and possibly lucrative jobs.
"This is not a rock concert, it is not a theatre, it is not something where somebody gets up on stage. It is an event where everybody participates," said Jussi Laakkonen, one of the main organizers of the Assembly 2000 event. Popular attractions included fast-paced Internet computer games with hundreds of participants, all connected by a local network provided by the organizers. Many spent nearly the entire weekend in front of the keyboard, chatting over the network with others located sometimes just across the room.
"A part of the fun is to get to meet in real life people one has previously only known in the chat rooms," said Rauli Lehtinen, 16. "Though, it often turns out that it's hard to think of anything to say. You meet, say hello, and go back to your computers. And if you happen to meet later in the chats it may be that the discussion flows again, on the screen." he said.
Budding graphics artists, programmers and others battled it out in contests aimed at demonstrating as well as honing their skills. Prizes ranged from about 400 to 3,000 euros (dollars), but besides money, those who fared well seemed likely to be offered good jobs in their fields. Event sponsors include Cisco Systems, AMD, F-Secure, Sun Microsystems and Sonera. Some companies set up booths in the arena and brought along recruiters. "This is a really good opportunity to reach young talents that understand the new technology," said Marcus Jensen at Sonera, the Finnish telecommunications company.
While the organizers provided quiet corners where tired, caffeine-jittery geeks could escape the loud music and flashing lights, they were none too popular.
(moz-ewm) 061955 aug 00
So how was Assembly and was it all worth it? Consider Frown (of demoscene.ru) and Digimind (last year's 4k winner with Orinoco) both coming from Russia and having chosen Assembly to meet each other for the first time ever outside their own country, and you'll get a sense of how much of a truly international, friendly and yet aggresively turned towards the next millenium Future Crew's demoparty has really become. Let's face it, Assembly2k was a total success. See you there next year!

KOWBOY/NEXTEMPIRE