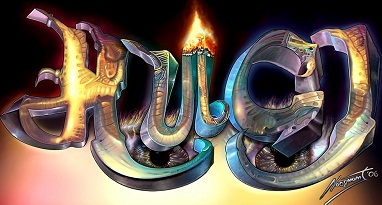 Hugi is an electronic magazine (diskmag) for Windows that mainly deals with the demoscene. Inside the demoscene, Hugi has been a very widespread and acclaimed diskmag for many years, as the high ranks in various diskmag charts indicate, e.g.:
Hornet Charts (1998): #2
Sunray Charts (1999): #1
Planet Charts (2001): #1
World Charts (2002): #1
Savage Charts (2006): #2
For more information on the history of Hugi see Wikipedia and this article.
Credits for this website: Design - Willbe, Logo - Noogman, Contents - Adok.
News and Latest issues:
Bugfix:
| | |
| --- | --- |
| | Hugi #38, June 2014, 1.1 MB of articles. |
| Forcer & Slayer | Two weeks after the 18th anniversary of the release of the first issue of Hugi, a new issue of one of the world's longest-serving demoscene-related disk magazines hits the scene. With 1.1 MB of articles, it is a huge issue reminding us of the glorious days of the late 20th century when each Hugi issue had contents worth more than 1 MB of text. Read all about the history of Fairlight, news about ASD, the making of PandaCube's Revision 2014 demo, an interview with the new Swiss demogroup Horology, the making of Gaia Machina, news about Cocoon, portraits of Prince/TOM, Pal/Offence, Wiklund/Fairlight, articles about Demozoo, SceneSat, Shadertoy, and many things more - embedded in a great design with graphics by Forcer, Slayer and Prince, and music by Xerxes, Chaser, Magnar, Siatek and several more composers. You can also read the articles from Hugi #38 online right in your web browser: click here. |
| | Hugi #37, April 2012, 850 kb of articles. |
| Bridgeclaw, Dzordan & Forcer | Welcome to Hugi issue 37! Willkommen zur 37. Ausgabe von Hugi! This issue is going to enchant you with its fine collection of scene-related articles, visual art by Bridgeclaw, Dzordan, Forcer, Rork, Fabian and others, as well as sound by Magnar, Traymuss, Romeo Knight, CONS, Chaser, Chromag and Siatek. We have several articles on the upcoming Revision 2012 party, including what releases you can expect from the event, articles summarizing the state of the scene on Amiga, C64 and CPC, reviews of Mindcandy 3, the "Kunst, Code und Maschine" book, several interviews and party reports and also a coding corner. You can also read the articles from Hugi #37 online right in your web browser: click here. |
| | Hugi #36, April 2010, 900 kb of articles. |
| Alena Lazareva | Hugi #36 is called Jukebox Delight because it contains eight tunes, making it a diskmag and a musicdisk in one. The tunes were composed by Moby, Romeo Knight, Siatek, Traymuss, pOWL and Magnar. Graphics were made by Alena Lazareva, Anthony Gargasz, Dzordan, Fabian, Ra, Bridgeclaw and Rork. This issue contains the full International Diskmag Encyclopedia (first and second parts), which is a collection of reviews of English-language diskmags released for the PC platform. Other articles in this issue deal with Front 242, Turbulence, Mad Wizards, CPC in 2009, Scene.org Awards, how copyright affects the demoscene, Kakiarts, The Popular Demo song played on ukulele, Mindcandy 3,... You can also read the articles from Hugi #36 online right in your web browser: click here. |
| | Hugi #35, November 2008, 780 kb of articles. |
| Fabian | This issue contains the first part of the International Diskmag Encyclopedia, which is a collection of reviews of English-language diskmags released for the PC platform. Adok reviewed all issues of all these diskmags he had in his collection. Other articles in this issue deal with the North American demoscene, the NVscene 2008 party, the Realtime Generation exhibition in Vienna, various other demoparties, the making of "Masagin" and "Hauptsache Strobo", multi-platform demos, 256b intros, sound in XNA Game Studio,... There are interviews with Fairfax, ps, Ra and Unlock in this issue. The opening and closing pictures were created by Fabian (formerly known as LoneStar). The main background theme was drawn by Ra. Hugi #35 features a slightly modified layout with a completely new design of the article menus and a different font. The music tunes of this issue were composed by Jogeir Liljedahl, Siatek, Buzzer, Mice and Traymuss. You can also read the articles from Hugi #35 online right in your web browser: click here. |
| | Hugi #34, February 2008, 1080 kb of articles. |
| Tascha | A big issue featuring loads of interesting articles. To name a few: The woman behind the demoscener, 96k game round table, Fearmoths - The Untold Story, Textmode Demo Competiton Retrospective, Interviews with Al Lowe, Audiomonster, Biter, Crown, Ghandy, H2o, Moby, Navis, Ultra, reports about Assembly 2007, Function 2007, Block Party 2007, Alternative Party 2007, Riverwash 2007, Making of Malewitsch and Ferner, Noise demos, Scene and Linux, Coding tutorials, Literature corner and Misc. The graphics were done by Tascha and Bridgeclaw. The music was contributed by Chromag, Traymuss and Siatek. Play duration 24 minutes. You can also read the articles from Hugi #34 online right in your web browser: click here. |
| | Hugi #33, April 2007, 800 kb of articles. |
| Bridgeclaw | Late 2006 and the early third of 2007 have had many exciting moments for the demoscene. Assembly, Evoke, TUM and Breakpoint were held, and at all of these parties there were some interesting and impressive releases. This issue of Hugi covers these past events and the productions. Furthermore, we take a look at what's coming in for the future, and the coding tutorial and literature sections are included in this issue again, as well. The musical score comes from Siatek, Buzzer, Mice and Chromag. The opening picture was created by Bridgeclaw and the closing picture by Noogman. You can also read the articles from Hugi #33 online right in your web browser: click here (thanks to Art McBain for the design!). |
| | Hugi #32, August 2006, 930 kb of articles. |
| Critikill | What a plush grassland is for a happy cow, is Hugi 32 for a happy demoscener: a large landscape full of nutritive goods. This issue features 900 kb of articles, reports, interviews, reviews, tutorials and short stories about the demo scene, computer programming and other aspects of life. The graphics were created by Critikill, Mantraz and Bridgeclaw. The music comes from Slashy, Dafunk, Lex, Lesnik, Nightbeat, Rieha and Aquafresh. Articles have been contributed by more than 40 authors including Adok, Adrian Boeing, CiH, Crest, DiamonDie, Fable Fox, Magic, SacRat, TAD, T$ and Wie8. This issue features interviews with BoyC, Critikill, Facet, JCO, JosSs, Manwe, Michael Putz (BongFish Interactive Entertainment) and Yero. There are articles about the Japanese and the Israeli demo scenes written by Got and Bacter respectively. The PartyZone covers Breakpoint 2006, DiHalt 2006, GeekCamp II, Nullarbor 2006 and others. There are also several reviews of demos, music disks and diskmags, the last couple of chapters of "The Wake-Up Call" and many other things you would perhaps not have expected. You can also read the articles from Hugi #32 online right in your web browser: click here (thanks to Art McBain for the design!). |
| | Hugi #31, November 2005, 620 kb of articles. |
| Bridgeclaw | On October 31st, 2005, the 31st issue of the Hugi Magazine is released. This issue features an interview with Navis of Andromeda Software Development, the history of the David Hasselhoff Big Band, party reports of Assembly, Breakpoint, Pilgrimage and Simulaatio 2005, coding tutorials on 3DS max as a 64k intro editor, dynamic constants, the first seven chapters of Polaris' demo coding tutorial for beginners, reports about the DeviantART and ROMhacking scenes, and some literature and miscellaneous fun stuff. The opening picture was drawn by scene professional Bridgeclaw (of Darkage and Gods). For the background an image by nldsr was recycled from a previous Hugi issue. The closing picture comes from Lonestar. The music was composed and contributed by rzs, Stanley, pearl Hunter and Anarkimedes. There is also a Russian edition of Hugi #31, which can be downloaded here. You can also read the articles from Hugi #31 online right in your web browser: click here. |
| | |
| --- | --- |
| | Hugi #30, February 2005, 906 kb of articles. |
| LoneStar / Hugi | The Royal Hugi Empire strikes back with a kind of anniversary issue (the thirtieth). Featuring a lot of thought-provoking, informative and entertaining "Scene Substance" by people such as Adok, TAD, Preacher, rand0m, EP, Optimus, CiH, DiamonDie, Entropy, kraviz, 33 and many more. Preacher has written a tutorial on Demo Design. TAD is back with new chapters of "The Wake-Up Call". EP has contributed almost 300k of texts. There are reports about the Atari and CPC scenes by CiH and Optimus respectively. Optimus has also written a lot of rants about his real life. On the coding side, there are tutorials on writing an exporter plug-in for 3DS Max, using OpenGL extensions, WMI in the .NET framework, and more. There are also party reports, interviews, polls and resources lists. The graphical design has been done by LoneStar: He created opening, background and closing pictures. He's also the creator of many illustrations used inside the menus and articles. Music comes from JDruid/Turbiini, SpiiKKi, Converse/A51, LoneStar, JosSs and Stanley/Elenziah. There is also a Russian edition of Hugi #30, which can be downloaded here. You can also read the articles from Hugi #30 online right in your web browser: click here. |
| | Hugi #29, August 2004, 520 kb of articles. |
| Raven / Nuance | Blue - that's the calm colour, the colour that suits a diskmag best because it makes you enter a relaxed state, feel comfortable and read the articles with pleasure. It's also the colour Blue that turns on your imagination, that makes you start dreaming. Blue is The Colour of Fantasy. This is exactly the purpose of this Hugi issue: to boost your fantasy, to give you new ideas, new inspiration and motivation to make them materialize. Many articles in this issue are of this kind: they present thoughts, ideas their authors had, sources of inspiration for you and your friends. Read about them, absorb them. Think about them, dive into them. Play with them. Realize them. Make your dreams come true one day. Graphics by Raven/Nuance, LoneStar/Phare Design, Adok/Hugi. Music by Melcom, Dynamite, Valzihjken, KENEDY/NEXTEMPIRE, CoaXCable/CoolPhaT. Articles by 19 authors. The most prolific writer is a new one, Emmanuel Poirier aka EP/CosmiK - a man with a lot of imagination indeed. Warning: There are only three coding-related articles in this issues. So do not be disappointed. There is also a Russian edition of Hugi #29, which can be downloaded here. You can also read the articles from Hugi #29 online right in your web browser: click here. |
| | Hugi #28, December 2003, 630 kb of articles. |
| Raven / Defacto 2 | Another issue with 630 kbytes of articles about the usual topics - scene, diskmags, coding, politics, literature. Graphics by Raven, TAD and sunchild. Music by Eterman, _LUKE_ and Impulse. You can also read the articles from Hugi #28 online right in your web browser: click here. |
| | Hugi #27, July 2003, 630 kb of articles. |
| seven 11 / k-storm | Actually I considered to name this issue "God's own magazine" for a while, but after our experiences with calling ourselves "The Royal Family", I've drawn the conclusion that there might again be some people who take this too seriously. So I've opted for another subtitle: "The Freedom Diskmag". Hugi 27 is the magazine released on the occasion of a new freedom in countries formerly ruled by evil dictators, and in the world in general. Editorial, Scene, Coding and Misc (Real Life & Literature) - these are the sections in this issue, densely packed with interesting contents. The GFX have been created by seven11, TAD and Steve Bian, the music comes from My Voice, Gloom, Merlin and Teller, and several dozens of writers have contributed to a total of 620k of articles. There are three special sub-sections in the coding corners: how to create 4k intros, how to draw polygons and how to use ASP on your website. There is also a Russian edition of Hugi #27, which can be downloaded here. You can also read the articles from Hugi #27 online right in your web browser: click here. |
| | Hugi #26, February 2003, 1023 KBytes of articles. |
| Raven / Nuance | The Techno Tarantula is a funny being. It was created by Adok/Hugi by means of genetic engineering. He has inserted a gene into it that made it develop a special organ that produces techno music. Since its existence, the Techno Tarantula has placed 1st at every music competition at every demo party in this world. But actually it just covers work from Gargoyle, JDruid/Turbiini, JosSs, Qumran, chavez/funktion, arel frost, iliks/hugi and zalza/rebels. Its outer appearance resembles a mixture of Raven/Nuance, LoneStar, Fjrb/Hugi and TAD. And it's able to recite 1023 kbytes of texts by heart. Among them there's a lot about graphics & music, including a special corner on skinning created by SacRat, coding stuff on 64k and 4k intro making, poetry, stories, demoscene-related texts and other results of various crazy types of brain activity. There is also a Russian edition of Hugi #26, which can be downloaded here. You can also read the articles from Hugi #26 online right in your web browser: click here. |
| | Hugi #25, July 2002, 967 KBytes of articles. |
| Fusko / Scenic | In the mystical world of orcs, elves and dwarfs, with its dark woods and cold dungeons, the brave adventurer needs a special equipment to complete his journey successfully. He needs the item that gives him the power of the fairies. This item is - Hugi 25! (What else.) Hugi 25 - Fairy Power includes black, white and colourful magic by Fusko/Scenic, Fjrb/Hugi and TAD, ocarinas and flutes by iliks/hugi, Bozo/Medieval, zalza/rebels and look, one thousand scrolls with secret spells, keys to 256 hidden doors by baze/3sc, a handy tool for the reproduction of fairy power by zZz/KCN and many, many riddles and rhymes to puzzle you, daring hero. This issue includes a Flash 5 tutorial by TAD. There's a separate Literature section for the first time, with stories and poems by iliks, the Alchemist, Sol and DiamonDie. There's a party calendar again, which of course isn't that important, but what's important is that there are some pretty interesting party reports. Some puzzling quizzes are also included. But there's one question which is not answered in this issue: Why do fantasy heroes never go to the toilet? There is also a Russian edition of Hugi #25, which can be downloaded here. You can also read the articles from Hugi #25 online right in your web browser: click here. |
| | Hugi #24, January 2002, 880 KBytes of articles. |
| Critikill / Farbrausch | A high-quality issue both content- and designwise. The Demoscene corner is especially strong, with a dozen interviews (focus: Scene Professionals - sceners who have made their hobby their profession), several making-of reports (e.g. 232 by ainc and De profundis by Kolor), party reviews, statements in the discussion of the philosophical aim of the scene, a guide to Telnet BBSing and a diskmag hidden parts list. The coding corner features, among other things, a couple of graphics tutorials, especially about 3D engines, as well as mathematical theory on less known ways of computing the derivative of a function and useful hints for Windows size-optimizing. In the Art corner, the readers are introduced into the concept of Machinima, another branch of digital art that is closely related to demos. Finally, the Real World corner offers the equally relaxing and exciting mix of politics, literature and lifestyle reports; both The Wake Up Call and Poetry by Eyes of Repulsion are present in this issue. You'll get spoilt with graphics that have been designed by Critikill of Farbrausch, Fjrb and Tomaes/TAP. The music comes from JosSs, daike/lfn, substance/mawi, peal Hunter / TDP and iliks/Hugi. There is also a Russian edition of Hugi #24, which can be downloaded here. You can also read the articles from Hugi #24 online right in your web browser: click here. |
| | Hugi #23, August 2001, 1.3 MBytes of articles. |
| Partikle | Alone in the woods, you may get easily lost - unless you have a map. And this map is available here! Hugi 23 will give you an overview of the current actions in the scene, featuring - for instance - reports of Assembly 2001 and the making of the winning demo lapsuus by Maturefurk. Or is it rather that Hugi 23 is the jungle? It may be the case: Hugi 23 features 1.3 MBytes of articles, covering an extreme variety of topics, ranging from linear algebra to humanitarian issues. There's a complete book in this issue, Tomcat's Army Report - it has been translated from the Hungarian language exclusively for Hugi. Partikle lights you the way through the jungle, accompanied by sparkling crystals from nldsr^lfn^fadeout. Steffo/Cryonics, Gopher and CoaXCable/CoolPHat are playing the drums to entertain you. Tutorials on raytracing, scripting engines, 3ds max, approximating of functions will help you get into the state of enlightenment, to finally find the way out of the jungle and to a world of clearness and happiness. There is also a Russian edition of Hugi #23, which can be downloaded here. The bonus pack can be leeched here. You can also read the articles from Hugi #23 online right in your web browser: click here. |
| | Hugi #22, April 2001, 852 KBytes of articles. |
| Kthulu/Nextempire | Ah, the warm and bright time of the year is returning. And Hugi is back with a new style: Let brightness be our guidance! Let the power of eternal sunshine inspire our creative minds! This issue offers big graphics & coding corners with tutorials for beginners and professionals. It also has a special section on the Art of Writing and a corner inside the scene section that deals with the Future of Demos as an Artform. Besides, we have 50 kbytes of scene news, new chapters of the shortstories The Wake Up Call and Poetry by eyes of repulsion, and some extravaganza such as a How to get a girlfriend tutorial. Some changes in the layout have been to increase your reading pleasure and to stimulate the flow of ideas in your brain. The music is mostly chiptune-based - that means that there's been space for eight tunes, which will introduce a great variety into the reading atmosphere. The involved composers are iliks, chavez/funktion, JKL/CoSl, smirk/damage, rieha/array and Ciccilleju!/Apocalypse Design. The graphics were made by Kthulu/Nextempire, nldsr/fadeout^lfn, Mali/Vivid and TAD. In the bonus pack (included in the main archive) you'll find, among other nice things, the sourcecode of the 64k intro shaven raven by Kanttu and Korona, which was presented at Performance 2001. There is also a Russian edition of Hugi #22, which can be downloaded here. You can also read the articles from Hugi #22 online right in your web browser: click here. |
| | Hugi #21, December 2000, 867 KBytes of articles. |
| Kthulu/Nextempire | The horror issue: dark graphics, dark music - but bright texts. Just the right thing for the ending year 2000. Is the demoscene becoming mainstream? Why does the scene have to be present at the next Siggraph? What is a geek? How can one create 4k intros under Windows? How does 3DS Max work? How will biotechnology change our world? How to solder wires without getting burnt? These questions and much more are answered in this very Hugi issue. Featuring graphics by Kthulu, Mali and TAD, music by Yero, Acumen and Exodus, code by Chris Dragan - now equipped with a comfortable printing function. You can also read the articles from Hugi #21 online right in your web browser: click here. |
| | |
| --- | --- |
| | Hugi #20, August 2000, 864 KBytes of articles. |
| CoaXCable/TRSI & TAD/Hugi | Be a guest in our grand party: We are celebrating four years and twenty issues of Hugi. You'll get free drinks to quench your scene thirst - no booze, but pure H20, the source of life. Meet CoaXCable, Mali and TAD, the noble gentlemen who contributed the fancy decoration. Listen to Ciccilleju and Stanley, the gifted music artists. Hear the words of men from all over the world who have come to congratulate the Royal Family of the Hugi Empire. Special guests: Morph, the author of Poetry by eyes of repulsion; the editors and regular writers of all the important disk magazines, with exclusive statements about each other; Popsy Team about the making of VIP2; and many more honourable persons from the whole globe that will keep you up to date about the scene, coding, diskmags, les belles lettres & lifestyle. Book your suite in the luxurious Panorama 2 Hotel in Hugi Cliffs owned by the glorious Chris Dragan now! There is also a Russian edition of Hugi #20, which can be downloaded here. The bonus pack can be leeched here. You can also read the articles from Hugi #20 online right in your web browser: click here. |
| | Hugi #19, April 2000, 1.3 MBytes of articles. |
| Bridgeclaw/Gods | The giant is back for the nineteenth time to show his power and wisdom. If Hugi 18 was The Eminent, then Hugi 19 is The Superior: What seemed the optimum has been beaten in all aspects. A variety of background themes never seen before (four background pictures and three tunes) and a huge mass of articles worth 1,348,577 bytes about our usual variety of scene and real life topics will defeat everybody's inhibitions to feel ultimate pleasure. The godlike creatures who helped with combined forces on this 19th resurrection of the ancient giant are Chris Dragan with his completely rewritten and vastly enhanced engine, TAD with his highly effective painting and writing techniques, Bridgeclaw/Gods with his artistic excellence, Makke/Visuale, P-rat/Access Denied and JKL/CoSl with their extremely high skills at the use of magical instruments and most importantly Hugi's loads of adherents who contributed the small puzzle stones that were necessary to give the giant his proper form. Coding, demoscene, diskmag scene, computer lifestyle, politics, stories and poetry, these are the fields in which Hugi 19 - The Superior will teach you great new things. The bonus pack can be leeched here. You can also read the articles from Hugi #19 online right in your web browser: click here. |
| | Hugi #18, December 1999, 0.9 MByte of articles. |
| dines/blabla | Just before Y2K, Hugi Core & Royal Family release their special bugfix against the "millennium" hysteria: Hugi #18 - The Eminent. A new diskmag engine, coded by Chris Dragan, will guard our readers safely into the last year of the 20th century. It will also make life easier with its many new features, such as saving articles in HTML, changing the background graphics and full text search. Hugi #18 - The Eminent is 100% in English language. It features graphics by dines of blabla, Hellfire of Haujobb and FloOd of Noice, music by Acumen, Andromeda of Razor1911, traymuss of GiRaFfE, Ciccilleju of Apocalypse and Kenedy of Nextempire, and articles by, once again, fifty different writers. Especially worth checking out: the Dreamhack party report by Morph, the new song format concept by Chris Dragan, the new chapters of The Wake Up Call by TAD and JKL, the Texture Generation doc by Ile - the staff is really unable to decide which article is the best. There is also a Russian edition of Hugi #18, which can be downloaded here. You can also read the articles from Hugi #18 online right in your web browser: click here. |
| | Hugi #17, August 1999, 1.4 MByte of articles. |
| Raven/Defacto 2 | A record: This Hugi was made during just a month. Again it had 1.4 mbyte of articles in English and German (actually it's exactly 1500 kbytes this time!), again top news, again mellow music, again nice graphics, again valuable literature. Just what you expected. Music: Avalanche/Trinity, P-rat, Spin. Graphics: Raven/Defacto 2, Hellfire/Haujobb. Nearly 50 authors. New corner: Graphics. Windows Coding Tutorial. Assembly '99 Special. In other words, check it out. The entire Hugi staff was very exhausted after these laborious summer holidays and therefore decided to take a little rest. There is also a bonus pack to Hugi #17, which can be downloaded here. You can also read the articles from Hugi #17 online right in your web browser: click here. |
| | Hugi #16, July 1999, 2.1 MByte of articles. |
| FloOd/Noice | What do Swedes and Brits have in common? Not only that they contributed a lot to this Hugi issue but also that their countries are kingdoms. Impressed by Prince Edward's recent wedding with Sophie Rhys-Jones, the Hugi Staff therefore decided to make this issue a truely aristocratic piece of literature. The vast amount of articles, more than 1700 kbyte in English language and 400 kbyte in German language, written in only two months by more than 50 knighted authors, is only decent for this style. This time the graphics come from FloOd/Noice and TAD. Bacter/Quasars and Echo/Diffusion/Level-D grant great musical pleasure. A quality literature section, huge coding corners (including a 3d coding hintbook of a size of 400 kbyte!), the latest news about top-demogroups like Bomb, Nomad and Trauma, interviews with old and new legends such as Zodiak/Cascada and KB/Smash Designs, useful tips for successful scene journalists, the final scene statistics, political discussions, a fake adult corner, jokes and logs, lovely bitching, technology related talk, a big music corner, and the first representative demoscene charts after almost a year will cast their spell over you. There is also a Russian edition of Hugi #16, which can be downloaded here. You can also read the articles from Hugi #16 online right in your web browser: click here. |
| | Hugi #15, May 1999, 1.4 MByte of articles. |
| Hellfire/Haujobb | After liberating Afghanistan, the Hugi Peace Corps came back with a new example of a state-of-the-art disk magazine. Starring Hellfire/Haujobb and Scape/Mist as opthalmic surgeons, Nightbeat/Prometheus/Nebula and Dawnstar as ear specialists, and over 40 people making effort to increase the literacy rate all over the world. New section: Tech Talk, featuring technology-related articles. Lots of stuff about compression programming and the usual coding subjects. Demoscene Forum. Diskmag Reviews. Interviews. Party Reports. Literature. Politics. We tell you what is moving the world. You can also read the articles from Hugi #15 online right in your web browser: click here. |
| | Hugi #14, February 1999, 1.4 MByte of articles. |
| Hellfire/Haujobb | Kaboom! Live from Afghanistan, the Hugi Special Reporting Team presented you another issue of the world's leading political magazine. Hellfire/Haujobb and Darkflare/ActiveFuel took the snapshots of Afghan women, producing a great title picture, BenJam/TUM, Laxical/Scoopex/ACME and Makke/Comic Pirates/Hugi had themselves inspired by Afghan music, and the reporting team collected 1.4 mbyte of facts about this wonderful country. The coding corner is larger than ever before. One thing is definite: Thanks to the new German chancellor Gerhard Schröder, the German language is getting stronger all over the world. Even in Afghanistan, it is now alive. In this way we got more than 300 KByte of German articles. You can also read the articles from Hugi #14 online right in your web browser: click here. |
| | Hugi #13, December 1998, 1.2 MByte of articles. |
| Cereal/Ooze Labs | In this issue mainly the quality of the articles and the interface were improved. Great GFX by Cereal/Ooze Labs, music by MasterBoy+CoaxCable/WIJ and Steffo/Cryonics, more forum articles than in Hugi #12 ("Our Scene is in Danger", "DemoNews.314 - What is True?", "Hungarian Scene Report" and others), some Amiga-related texts, theoretical stuff about diskmags, a music section, and as always interviews, diskmag reviews, coding docs, party reports and results, poetry and stories. Only 200 kbyte of German articles in this issue. You can also read the articles from Hugi #13 online right in your web browser: click here. |
| | Hugi #12, September 1998, 1.8 MByte of articles. |
| Will Be/Theralite/Skytech | Made during the Summer Holidays 1998, this one turned out to be one of the biggest Hugi issues so far. It has a large forum section with much more miscellaneous articles than in Hugi #11 (e.g. "Beyond Design - Sparse thoughts on the future of demos", "Are We One Scene", "Is Poland a Writing Country?"), music and diskmag reviews, interviews, a large coding section, party stuff, poetry, 150 kbyte of scene news, charts, and 600 kbyte of German articles. Will Be/Theralite/Skytech, Hellfire/Haujobb, and Mr. SEQ/NoLogic/Hugi created the graphics. Makke/Comic Pirates/Hugi is responsible for the music. You can also read the articles from Hugi #12 online right in your web browser: click here. |
| | Hugi #11, June 1998, 1.0 MByte of articles. |
| Antony/Pulse | Our first English-language issue was quite a smash hit in the PC demoscene. Not having much content compared to later issues, it was big compared to other diskmags of the time. There are interviews, diskmag reviews, coding articles, poetry, and some miscellaneous articles (e.g. "Demodiskmagscene Today", "Australian Scene Report", "Do Charts in Diskmags have a Sense At All?"). About 300 KByte is in German. GFX comes from Antony/Pulse, Hellfire/Haujobb, and Dendrite/Hugi, and the music was made by Smash/Beam/Noise. A Windows port can be downloaded here. You can also read the articles from Hugi #11 online right in your web browser: click here. |
| | |
| --- | --- |
| | Hugi #10, April 1998, 850 KByte of articles. |
| Mr. SEQ | Entirely in German language again, this issue contained the first party report we ever had in Hugi, written by nobody else than Franky, then a member of the group Riot. We also had a special retrospective about a diskmag called Cream, which had been officially announced by its main editor to be dead a month before - only to appear with a new issue one week after the release of Hugi 10! However, as it turned out later, that issue of Cream, which was subtitled "Resurrection", was really the last one. |
| | Hugi #9, December 1997, 880 KByte of articles. |
| Mr. SEQ | Another new interface, the first one that was comparable to the diskmags of the international demoscene at that time. It used a Vesa video mode and a modern module player. Thanks to the new data format, which introduced the concept of links, there were no longer separate programs for the menu and the viewer; the menu was now just the first article displayed by the interface. Due to a few bugs, however, you must boot your PC in MS-DOS-mode to start Hugi 9. For the first time the graphics and music were made by Mr. SEQ, and I think that both the background picture and the tune were so good that they could even be used nowadays. There was also an English Section with demoscene-related articles, rather small compared with our current standards but still bigger than some English-language mags at that time. For these reasons I still think that the subtitle "The Next Generation" was appropriate. |
| | Hugi #8, October 1997, 620 KByte of articles. |
| Dr. Brain | This issue uses the same graphics as the previous one. In fact even the topics of the articles are not much different: computers, press, humour, literature, Assembler/C programming and some miscellaneous stuff. Two text-adventure-games are included in the mag - please take this literally: It is games which, technically, are nothing else than articles. Also, we had charts for the first time, with some very odd categories such as "Best Towns", "Best Board Games" and "Best Programming Hints published in Hugi". The voters could also vote for five categories which they thought should be removed and suggest five categories to be added to the charts. |
| | Hugi #7, August 1997, 530 KByte of articles. |
| Adok/Hugi | In this issue at the latest one could clearly see that our style had become a tad more serious, regarding both the texts and the design. Jabberwocky published his first computer magazine reviews in this issue. They later became a regular section of a large size. The "History of Hugi" article was also continued. |
| | Hugi #6, May 1997, 680 KByte of articles. |
| Adok/Hugi | The one-year-anniversary of Hugi was an occasion for me to tell the history of Hugi so far in detail. The fact that this was issue number 6, which in German is pronounced like "sex", inspired one of our readers to write a corner in the style of "Dr. Sommer" in the youth-magazine "Bravo". This issue was embedded in a completely new interface, now fully programmed in C. It contained a nice, harmless bug regarding the mouse cursor, which I'm sure you'll discover soon after starting Hugi. I also published some exact statistics about the Hugi issues released until then, like the percent of articles about a certain topic in each issue and the number of people involved. All in all, 42 people had written articles for at least one of the first six issues of Hugi. I found this quite successful then, but it's not much when compared with today: Today, more than 50 people write for Hugi per issue. |
| | Hugi #5, March 1997, 430 KByte of articles. |
| Adok & Kaktus | In this issue my advance in programming became visible: a new text-viewer with smooth scrolling, albeit pretty quirky control, and, compared to the previous issues, lots of programming-related articles about topics such as Joystick control under MS-DOS and loading PCX files. A bit out of date, but maybe still interesting for people new to programming. |
| | Hugi #4, January 1997, 450 KByte of articles. |
| Karma Sutra | This issue started the era of bimonthly release of Hugi. The most interesting article in here is probably the Diskmag-Report, which gives a profound overview of the best electronical magazines that were then released in the German-speaking countries. Also, from this issue on my C tutorial was published. |
| | Hugi #3, November 1996, 340 KByte of articles. |
| TOXO | In this issue one of our most loyal authors joined us: Helmut Schida, also known as "Charles Bukowski of Vienna". Since this point in time, every issue that contained articles in German language also contained some of his poetry and prose. In this issue I also started publishing my Assembler tutorial. |
| | Hugi #2, August 1996, 460 KByte of articles. |
| Adok/Hugi | With the improved interface, mouse control now worked on fast PCs, too. Actually this bug had been fixed before HDE 1 had been released, but for some weird reason I no longer know I had decided to use the old version of the interface in HDE 1. Text-wise, not much had changed yet: We had got a couple of new authors, opened the "Laber-Rubi" ("Chat Corner", for short articles, messages and discussions), and started the "Prospenstreit", a public discussion about programming languages in which I firmly defended QBasic against Pascal and C. |
| | Hugi #1, May 1996, 420 KByte of articles. |
| Adok/Hugi | The very first issue of what would once become the most popular PC diskmag worldwide had a pretty simple interface, coded and designed within just two afternoons. Only seven authors were involved, yet it already had fairly many articles. The topics were very different from today's Hugi: HDE 1 mainly dealt with school (from a humourous point of view), computer games, Basic programming and the other things its then mostly 12-year-old editors were interested in. Warning: Unless your PC is a 486 DX/2-66 or slower, select "Keyboard Control", or you'll have a hard time browsing through the mag! |
| | |
| --- | --- |
| | Hugi Party Reports Collection, June 2013. |
| Immortal Rat | Converting all English language issues of Hugi to online editions has enabled us to create a collection of the party reports published in all of these issues. Here you can read all the reports in your web browser. |
| | Hugi SE #4, October 2012, 5.6 MB text. |
| Snake, Forcer & Bridgeclaw | This music disk and diskmag in one was released at Function 2012 in Budapest, Hungary. It contains all the programming related articles from issues 11 - 37, and thus it is an update of the Coding Digest. There are 32 tunes from the five latest Hugi issues and a collection of graphics used in Hugi since 2006. The articles can also be read online here. |
| | Hugi Remix, January 2009, 310 kb text. |
| Hellfire/Haujobb | "Hugi Remix" is a small selection of articles from 10 years of Hugi. It is an online-only issue and primarily for new readers who want to get a quick impression of the typical contents of a Hugi issue. |
| | Hugi Interview Bonanza, Aug. 2007, 1.3 MB text. |
| Dzordan/Anadune | "Hugi Interview Bonanza" is what its name says - a collection of all interviews published in Hugi from 1998 - 2007. In addition, a couple of new interviews have been added (las, Laxity, Mice, Pasy). The engine is equipped with music by Siatek, X-ceed and Buzzer + Mice. In March 2013, an update was released for Amiga OS 4. It additionally contains the interviews from 2008 - 2012. The Windows version of this update followed suit in May 2013; the link above points to it. The Amiga OS 4 version can be downloaded here. An online edition is located here. |
| | Hugibox volume 1, February 2005. |
| LoneStar/Hugi | "Hugibox volume 1" is a music disk with a selection of 30 tunes from the first 30 issues of Hugi Magazine. For the first time, Panorama (the engine of Hugi, coded by Chris Dragan) is used for a music disk interface. The idea to make this music disk came from LoneStar of Hugi. He also created the graphics. Adok selected the thirty songs and assembled this Special Edition. The total playback duration of this music disk is 2 hours. Featured artists: Acumen, Andromeda, avalanche, Bacter, BenJam, Bozo, Ciccilleju!, CoaXCable, Dawnstar, Eterman, exodus, Gargoyle, Gopher, iliks, JosSs, Makke, MasterBoy, My Voice, Nightbeat, p-rat, Qumran, Smash, Stanley, Steffo, traymuss and Yero. |
| | Hugi Coding Digest, Sep. 2003, 4.4 MB text. |
| Maali/Boiler | "Hugi Coding Digest" contains all programming-related articles from Hugi issues 11 to 27. This enables you to retrieve information on a particular topic very fast. While the Hugi Index that has already been available for a longer time has only permitted you to search for keywords in the headlines, you can now search the full texts and immediately read them, store them to HTML and print them. This first Special Edition of the Hugi Magazine contains 330 articles written by 102 authors. This amounts to 4.4 Megabyte of text-data. Thus, the Coding Digest is the largest single diskmag issue ever released. There are three tables of contents sorted by three different schemes. One is sorted by issue number, the second by author, and the third by topic. Thus, you are not only able to investigate which issues had the largest number of articles and the most useful contents, but also who were the most diligent writers. And if you sort the articles by topic, you will get something like the Coding Corner of a Super issue. The opening picture comes from Maali/Boiler. The closing picture consists of a background by Sunchild, a logo by FloOd/Noice (though the colours have been modified) and texts as well as arrangement by Adok/Hugi. The three background themes included in this issue are Lonestar's from Hugi #26, nldsr's from Hugi #22, and a new, simple one by Adok/Hugi (for those to whom legibility matters the most - although the other pics also have a pretty low contrast). Regarding the music, several tunes from previous issues have been re-used. The first tune is the one Stanley/Elenziah made for Hugi #20. Next comes p-rat's for Hugi #19, followed by Spin's for Hugi #17, the tune by Steffo/Cryonics made for Hugi #13, and the Hugi #24 opening melody by JosSs. |
| | |
| --- | --- |
| | Hugi.GER #8, Juni 2013, 50 KByte Text. |
| Dzordan & Immortal Rat | Im Juni 2013 erschien wieder eine Ausgabe von Hugi.GER, mit Artikeln zu weltanschaulichen und wissenschaftlichen Themen sowie zu Intelligenz und Begabung. Abgerundet wird diese Textesammlung durch eine Kurzgeschichte und zwei Gedichte. |
| | Hugi.GER #7, November 2012, 150 KByte Text. |
| Dzordan & Spin | Diese Ausgabe enthält Artikel über Diskmags, Philosophie, Bildung und besonders über den Themenkomplex Biologie - Biochemie - Medizin, darunter etwa eine Erläuterung zu den kürzlich bekanntgegebenen Nobelpreisen des Jahres 2012. Das Ganze wird durch einige Kurzgeschichten abgerundet. |
| | Hugi.GER #6, Oktober 2012, 350 KByte Text. |
| Dzordan & Fabian | Ich habe einige meiner Artikel in eine Diskmag-Oberfläche gepackt und das Ergebnis Hugi.GER #6 genannt. Diese Ausgabe behandelt die Themenbereiche Psychologie, Bildung, Informatik, Medien, Politik und Gesellschaft. Unter anderem enthält sie einen Auszug aus der "Enzyklopädie der Diskmags", die ersten vier Kapitel des Fantasy-Romans "Die Geschichte des Aronass", mehrere Kurzgeschichten sowie Artikel zu (menschlicher und künstlicher) Intelligenz, Hochbegabung, Liberalismus, Metaheuristiken und Constraint Programming. |
| | Hugi.GER #5, Februar 2005, 120 KByte Text. |
| LoneStar/Hugi | Pünktlich zum geplanten Termin - zwei Monate nach der vorigen Ausgabe - erscheint die fünfte Ausgabe von Hugi.GER. Ein nettes, kleines Magazin mit nur 120 KByte Text, das vielleicht für den einen oder anderen Interessantes enthalten mag. Schwerpunkt dieser Ausgabe ist ein Artikel von piccolo über den Aufstieg der Bush-Dynastie zum mächtigsten Clan der USA. Außerdem enthält diese Ausgabe einen Text über eine Schach-Eröffnung namens Philidor, Rätselfragen, Erinnerungen an den IRC, Geschichten und Gedichte. Auch diese Ausgabe wurde von piccolo zusammengestellt. |
| | Hugi.GER #4, Dezember 2004, 300 KByte Text. |
| Hellfire/Haujobb | Nach mehr als zwei Jahren wird das Projekt Hugi.GER wieder zum Leben erweckt. Für die redaktionelle Arbeit verantwortlich zeichnet diesmal piccolo. Diese Ausgabe enthält vor allem Kurzgeschichten und Gedichte, aber auch einige Texte zum Thema Irak sowie einen nostalgischen Rückblick auf die Anfänge des Hugi und anderes. |
| | Hugi.GER #3, Februar 2002, 700 KByte Text. |
| Adok/Hugi | In dieser vorläufig letzten deutschen Ausgabe erwarten euch einige interessante Kurzgeschichten und Gedichte. Weiters enthält sie Rubriken mit Artikeln aus den Themenbereichen Computer, Politik und Tierschutz. Zusätzlich findet ihr hier den kompletten Roman Black Mama von Jörg Feierabend. |
| | Hugi.GER #2, September 2000, 500 KByte Text. |
| Dendrite/Hugi | Ein überdreht-poppiges, kühl-realistisches Magazin mit den Themen Zahnputztechniken und modernes Leben! Wie sieht die Zukunft der deutschen Sprache aus, wird sie wieder einmal Weltsprache - und wenn ja, wie? Wie lebt ein echter Freak? Welche Tugenden und Pflichten hat er zu erfüllen, sollte er eine Party organisieren? Wie wird sich die Welt entwickeln, wenn die Frauen erst einmal an der Macht sind? Was wird aus Sex werden? Diese Fragen und viele mehr werden in dieser Ausgabe beantwortet! |
| | Hugi.GER #1, März 2000, 500 KByte Text. |
| Kthulu/Nextempire | Endlich ist sie hier, die erste Ausgabe des Nachfolgemagazins der deutschen Sektion von Hugi. Getreu dem Motto "Back to the roots" wollen wir uns auf die Anfänge des Hugi rückbesinnen. Das heißt: weniger tierisch ernst, mehr Fun! Diese Erstausgabe mag vielleicht noch ein wenig chaotisch wirken. Man könnte aber auch sagen, es handle sich um ein Magazin der Kontraste: Lockeres und eine Spur Ernsteres, Allgemein Interessantes und eine Spur Fachspezifischeres, alte Rechtschreibung und eine Spur neuer Rechtschreibung, Computerszene und Tierschutz - einfach für jeden etwas, für manche vielleicht auch zu viel. |