Nordlicht 2012 – Personal party report
Written by CONS of TRSI on the 23th of July 2012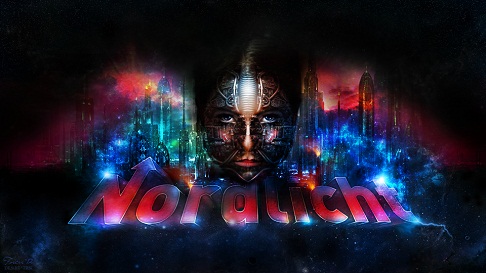 Last weekend there was a small demoparty in Bremen and I, together with 50 others, attended. This is my small and very personal report of how I experienced the weekend. Be warned, some bad English is about to enter your brain. This report was almost completely written at the partyplace during the party.
Arriving on Friday at 14.15 pm means being 2 hours early. The party start was about to happen officially at 16.00 h. We, Moqui of Titan and I, decided to go there these two hours earlier because of the fact that we didn't have anything better to do and thought, maybe we could help out a bit. The train ride was smooth and our trip to the party-place was without any delays or other obstacles. When we arrived, the first thing we noticed was that there was still a lot of work to be done. The cable system wasn't in place, beamer and network weren't set up and the drinks weren't bought. So we helped cleaning the tables and setting up the power system.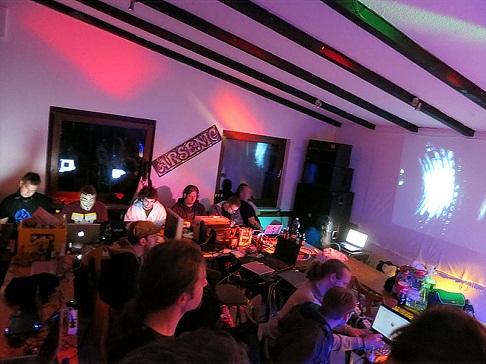 We couldn't help noticing that the place seemed smaller than in the photos that had been published earlier and to be honest, we had our doubts that 50 people would fit into the location. There was a large garden and a small path, leading to the main house. The sleeping areas were aside and in front of it and seemed pretty small at first sight. There was a fireplace and a barbecue grill set up in the garden and lot of wood to burn. Inside the house, there was a smaller room where the organizers tables were placed. A small doorway led to the main room which contained 5 rows of tables for about 20 sceners to put their notebooks onto. A small bar on the right side was supposed to provide all necessary drinks to stay alive for the three days.
As said, the fist thing we assisted in was cleaning the tables which happened to be dirty beer fest tables, at least a few of them. And it proved to be a good idea to clean them first. Some time later, after the main setup had been taken care of, I placed my stuff on the table in the back and with it, I claimed it for TRSi, since I was expecting streetuff and peiselulli later that day. As promised, they arrived later that day and it was great meeting them in person, although a certain Brüllwürfel and some half-known Kassierer texts tested my nerves a few times. Nono, just kidding, it was a pleasure!
At around 19.00 hours, SunSpire came back with the shirts that had been delivered to Bremen train station by a colleague of Topy's. There was quite a quarrel around the shirts, starting with hardly being able to choose a motif, going over to keeping the price reasonable and ending with printing and delivery problems. But in the end, everyone seemed happy. Right after that the beamer was set up and the sound-system started. The big-screen actually wasn't that big, but the sound-system was huge and could have been used on a stage or in a stadium. Crazy. I tried to work on my things then, but the almost filled place and the constant noise made it really hard to concentrate. So finally I gave in and switched to party visitor mode completely.
For the first evening of the party, there was a retro gaming tournament planned, but it got completely cancelled because of a hard-disk failure of the main computer. Actually there was a small fire inside the PC itself. First there was strange smell and then in the search for the smell, the flames were discovered, which destroyed everything they could get their hands on. Luckily, if you can speak of that at all, only the hard-disk took permanent damage. Unfortunately all remote entries were lost, too. Make backups people! We got them all back later through a message on pouet to re-mail them. The next hours I spent talking to a lot of sceners inside and outside the house and it was really great to meet so many of them at once. Inside, a demo-show was entertaining the people, but it was so loud that I decided not to move in again. A few hours later I left the party location to have a good night's sleep.
On Saturday morning, I returned to the place at around half past eight and found a few sceners already awake. As you can imagine many of them were marked from the party they had yesterday until the early morning. During the morning, we completed our compo releases and uploaded them to the party network. The administrators decided to fix the hard-disk of the broken PC and ran into more trouble as copying back the backup to the new drive proved to be more difficult than they thought. The deadline was postponed and so were all compos. At around 17.00, one hour after the compos should have started, they began sorting the entries and preparing them for the show and until now (18.30) they are not finished, so we are delayed 2.5 hours now. And it does not look like they will start anytime soon.
At 20.00 hours the competitions finally started. The first one was the graphics compo, which was one of the strong competitions that evening. With new-school entries from well known PC artists like Forcer and Prince and a few old-school entries from Ragnarok and myself to a PETSCII entry from CoaxCable there was a broad range of different styles and platforms. Enriched by a few entries from local heroes, the competition featured around 10 full-screen graphics everyone had to choose the winner from. The next competition was the photo-compo. There were only a handful of pictures, half remotely entered and half submitted via the party network, but there wasn't a clear winner photograph in it. Right after that, the gravedigger competition was announced. It was expected to see century old, unfinished and unreleased stuff and have a good laugh about it. Unexpectedly there were quite a few entries and the range was from old intro routines over music to unfinished vector objects. The show was quite enjoyable. The oldest entry was from Virgill and me, which was an old unfinished intro routine from 1988. Nothing on the code was changed, it didn't even start by itself. Again there wasn't a clear favorite.
Following that competition was the new-school music. 12 entries were placed and let me tell you, it was the strongest competition of the evening. Various styles and lengths of the tracks made it extremely enjoyable and there wasn't a single track I would consider bad. On a personal note, I must say that I have to learn more about mastering and making the track sound good on professional PA. I don't dare to say who wins this, at least a hand full of entries would deserve that. Unfortunately one track was missing so actually only 11 were played and the 12th one was played after the final demo competition. Not a good solution in my opinion, because most of the people left the building after the demo competition to get some fresh air, drink and smoke.
Next to that was the tracked music competition, which was thin with only 4 entries. But in my opinion this category has a clear winner.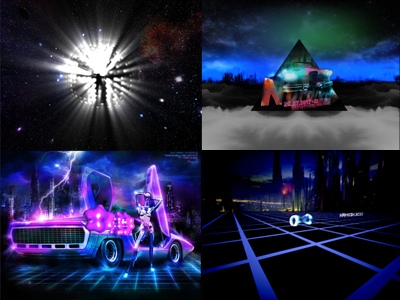 The wild competition featured two animations, one stop-motion video by gaspode with a lot of fish, one comic animation with a bunny and a chainsaw and the video of a VC20 slideshow with a new gfx mode. Although there were only three entries, all three of them were pretty good, so it will be a hard choice again.
Finally the demo competition was up and the 9 entries were played. Nearly all popular systems saw an entry. There was a 4k intro for Atari ST, a small demo and an intro for Amiga, a C64dtv production and a few PC entries. No one expected to see THE big demo here but what was delivered was entertaining and in some cases pretty cool.
Concluding all the competitions was the playing of the left out track from the new-school music compo. The night continued with a DJ set from Ish and a lot of partying and drinking.
The overall mood of the party people was pretty good and there wasn't any protest that the delay was so massive and that the retro tournament and the karaoke challenge didn't happen. The HD crash pretty much killed those things in an instant and everyone was aware of that. So we concentrated more on socializing and partying inside and outside the house. The weather got better and better from Friday to Sunday and there hasn't been a single drop of rain but more and more sunshine. There was a campfire and a barbecue grill that was almost permanently running and later on Saturday there was free meat and salad for everyone. That was a very welcome surprise, because the nearest food market was about 1.2 kilometers away. Not that far and since the weather was getting better and better not too much effort was needed to get your own stuff. Everyone seemed to enjoy the atmosphere and judging by the first comments arriving on pouet, most of the people had a great time and plan to come back next year, if there is a party then. Of course there were many things that can be improved for the next installment, but I am sure, the organizers, who cared warmly for the well being of all the attendees, are aware of that and will reflect the party with the necessary care. I will travel there again, that's for sure.
Links related to this article
Pouet.net
Graphics compo releases
Download all releases
CSDB party page
Party Pictures by Mog
Results
CONS

Nordlicht 2013
Written by CONS of TRSi/Onslaught
A few introductory words to this "party-report": Actually this is more like a personal description of the Nordlicht 2013 party experience than a regular party report. It is highly subjective and probably only covers the aspects of the party which I personally was part of or recognized somehow. And it is mostly written at the party, right when things happened or closely afterwards. This might cause some confusion :) Happy reading.
Packed with the releases and all the other things you need to survive at a demoparty, we, Virgill an I, CONS, started with the car from Virgill's place. And things became pretty interesting faster than we had accounted for. After about 10 minutes on the highway we had the first standstill. It took more than two and a half hours – which is one hour more than usual – to get our asses from our hometown to Bremen. After that slightly nervewrecking incident, we finally saw the city sign of Bremen and with it the first inconvenience was forgotten very fast. First stop there was our hotel. It was surprisingly good. We had low expectations because of the small price they charged, but we were proven to be wrong. It was a small but cozy hotel, with small rooms and a new shower and bathroom. Actually we had sinks in the rooms which featured only hot and even hotter water. Not that big of a deal in general, but try to wash your mouth after you brushed your teeth with hot water. Probably not the best experience to start the day with, but we managed to survive. We met prince/tOM/TRSi at the check in, too. Nice. Did recognize him from his seminar he held some time ago at Revision iirc.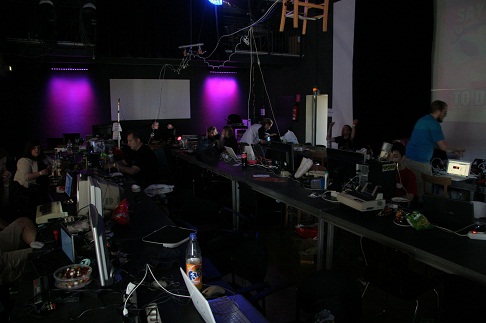 After the check in we went straight to the party place and parked the car behind the building. It was pretty easy to find and offered a large room with tables for all sceners and a sleeping area above the hall. When we arrived the hall was filled with computers to a third already and we sat down as far away from the speakers as possible. This actually didn't work out as planned, because the stereo was that huge, you simply couldn't escape its wrath, but to my pleasant surprise the volume level was kept pretty low most of the time. THANK YOU organizers for that. Of course, during the competitions and DJ-Sets they turned it up, but that's more than ok. So we set up our equipment at our places and started making the first round.
And now I am live. I'm sitting here, writing this report. I've met a few others like Trigger, Tokra, Yago, Offwhite, Streettuff, Peiselulli, Demoscene Passivist, gaspode and some others I forgot and everything is looking good. There was a problem with the audio of the hall before, but it now seems like they solved that for good. The next thing that will happen should be the opening ceremony (which is already one hour delayed) but every organizer seems to be occupied with other stuff at the moment.
The opening ceremony has just been held and it was announced that the gravedigger competition is also moved to a later spot because of the delay that is caused by the Partymeister 2.0 installation, which is actually not running at the moment. It does not compute with me why the hell one would go with a totally new and untested version of the software just a few hours before the party. Why not test that one after the party and work with what had proven to be stable and reliable. As said, that does not compute with me.
They also announced a surprise one hour tracking competition with a Samplepack provided by the organizers. This competition will be held before the gravedigger competition. It actually looks like there will be a few, not to say many, entries in that competition. I am looking forward to seeing all of them. It's already 20 minutes of that hour gone and skomp just talked me into creating something for that competition. At the moment I am trying to get the samplepack, but the net does not work right now. Great.
The surprise compo is now over. I did not get something ready. After 35 minutes I still hadn't got the samples, not to mention a tracker installed, so that I decided to stop trying. There were


three entries, of which two seemed to be fun techno Gabber style ones (Do not correct my if I am getting the genre wrong here. I do that intentionally ;)). They were a little hard to bear on the big PA, I must admit. What will follow anytime soon is the gravedigger competition. They are sorting out all the entries at the moment. It seems to take forever. We are almost three hours behind the schedule. But the time flies by so fast. I had a long and fruitful chat with Offwhite, who I met for the first time and that made the time fly by most enjoyable. For the gravedigger competition, well, I had plans for that since I have a lot of stuff from the early days of computing, like around 1989 to 1992, but I somehow managed not to get something ready here and turn it in. Actually it is pretty hard to work on stuff at the partyplace. I can not understand how people actually manage to get anything done here. I can hardly concentrate on writing down some words.
The gravedigger competition is now at its end. It did take more than an hour to go through all entries. There must have been at least 15 or more altogether and from all sorts of areas, like intros, demos, games gfx and music. Compared to the entries of the last year, the quality has risen a lot, but the "rule" of century old stuff might have been not taken very strictly this year. The range of production years was from 1986 being the oldest entry to 2010 being the newest. And many of the entries were in a far more developed stage than they were last year, so the unfinished look wasn't that present this time. Now they are about to set up for the first DJ set. That is the moment I am leaving the inside of the building and preparing myself to close the first day.
It's day two now. We arrived back at the party-place after around 4 to 5 hours of sleep. Although the hotel rooms and beds were fine, as mentioned before, it took me ages to finally get to sleep. New environment and being sober must've worked in favor of that. First thing to notice here at the party on day two were the very few people sitting outside, continuing where they had left the day before. Some of the few in the hall hadn't even slept at all (Hello veto). Some were busy working on their entries, others were just sitting there and staring at the ceiling. When entering the building, we were welcomed with a fresh coffee which we accepted gladly. It did fit our fresh croissants we got from the nearby Lidl market pretty good. And right after having that small breakfast at the entrance counter and a little chat with some of the orgas, we went to our table and started working on the final stages of our release. And that is what we are doing right now. I see Virgill beside me, working in the sid tracker to time the effects of our demo to his music. Fingers crossed that he can manage to get it done.
An hour later we were done with the entries and all of them were uploaded to partymeister 2.0. I was told that dfox had provided major support during the night. Kudos for that! Since we had another two hours to kill, Virgill and I went for a swim in the nearby outdoor pool. Luckily there were only very few people around so that we had one huge pool almost for ourselves. With all the sun coming down all day, this was pretty relaxing and enjoyable. Then the competitions regarding graphics were about to begin and we went back across the street.
Somehow, now that the oldschool gfx, newschool gfx and photo competitions are done, I must say there was definitely a bug in the organization. In the oldschool gfx compo, they didn't show the exe of my entry, that was especially coded by Peiselulli for this purpose and would have moved the picture around to show that it actually runs on real hardware. Instead they showed the last stage of the worksteps which is the final picture as png. Ok, everyone could see it but not as it was intended to. In addition to that two pictures, namely the ones by Yazoo and Sphinx weren't shown in the first run at all. This is a total no go and I can't understand how they managed to mess that up. Hours after the compos I was told that the Arsenic members had explicitly talked to the orgas before the party to make sure the orgas got their entries. Since I had to leave for a bit I am not sure that they were shown afterwards.
In the photo compo, it seems that one remote entry wasn't shown, too. Aside that, there were some really great entries and I enjoyed the three competitions. Now there is another break and the free barbeque will start soon. After that, the music competitions will take place. Looking forward to that.
It's a few hours later now. The barbeque is almost over but the DJ Set from Streettuff and skomp, mixing back to back, is still up and running. As far as I understand it will continue throughout the music competitions. For me, of course, there is no other place to be right now than in the main hall, looking at the introductory slide of the exemusic competition and waiting for it to start.
The exemusic competition is now over. It featured seven tracks of which for me four tracks stood out. But you couldn't really enjoy the sound of the music because the bass was so massive, it overlapped all other frequencies. And the overall loudness was immense. Insanely immense.
And now the tracked music competition is over, too. Fever entries and the quality of the exemusic wasn't reached in my opinion.
Now the streaming music. As far as the organizers said to me, there was no preselection in any category. Wow, that competition showed a lot of diversity. Great. Although the bass did take away most of the middle frequencies of my and a few others songs, it was still great to listen to them. Okkie's track was actually perfectly mastered for the PA. This came to his total surprise because he admitted not to have any clue about mixing and was just fiddling around with switches. Funny how things turn out sometimes. All the best to him. I enjoyed talking to him a lot.
Now for the main part of the evening, the demo compos. The oldschool demo competition is first with 4 entries of TRSi and three others. Two of them were C64, one was C64DTV and one for the Atari 2600. The compo was most enjoyable although there were no major releases. The bad thing was, they started having problems with the color and so it began with a lot of hardware switching. Then they couldn't play the dtv demo, even not the avi of it and again one demo – the one by Arsenic - wasn't shown because of a possible partymeister error or a late submission. I don't know. After some uproar there was a little break and then then managed to show them. That almost turned the party mood around for some people. You could literally see Yazoo and a few Arsenic members being upset. Who can blame them. I know, I would be upset in that situation aswell. But they cooled down in the end and we're able to enjoy the party nevertheless. Still, I feel for them.
Now it's time for the newschool stuff. They combined intro and demo because there were not enough entries to host both separately. Its a hell of a mess here, but it keeps being enjoyable, if you take everything with the necessary humor. Not many entries in this category, but I was expecting that. And somehow it feels good to know that the oldschool faction was the strong arm here :) Still I enjoyed the few prods of which one was Virgills very first 4k intro. Not that he gets to make music for so many 4ks, now he even codes his own ones. G-sus, where shall that end. Trigger released a Genesis cracktro. I remember him being so nervous about it. I saw him this morning, staring at it for a long time. He hadn't slept until that point and was searching for possible errors in his intro. Of course it was all fine in the end and there was no reason to be so nervous about it. They are preparing the next DJ-sets now, so its again time for me to leave the hall for today and come back tomorrow.
It is day three now, the sunday of terror. All bad deeds from the day before hit you as hard as they can. We're at the party-place pretty early again, leaving the nice little hotel behind us and finding the party-place almost empty. Someone, must be RbR, is sleeping under the desk right next to us and everything is calm. There is no sign of the party that was running when we set off yesterday. Only when you look into the faces of the few attendees who are already awake, you can see that the party must have been good. Anyway. Moving to other matters. Since all entries are already on scene.org its now time to add them to the databases. Well, it proves to be a little difficult with the Internet connection being down. This happened before and was fixed pretty fast, but this time it is not going to happen that fast, because none of the organizers seems to be around to care. But its probably for the best.
Prizegiving is now over. I can't believe what just happened. I placed 2nd in the streaming music competition and won the prize that I suggested to the organizers before the party. And that was exactly the prize I was aiming for. And not that the one wasn't enough, my oldschool gfx compo entry was ranked 2nd, too. So I got another one. And when the small intro I made together with streettuff came 2nd, too, I told him to grab the prize. I got third place in the same compo together with Virgill with out Zeropage Gravity C64 onefile demo. He got 3rd in the streaming music compo, so since we had a bet running, I need to sponsor him a meal now. He won the exemusic compo and came 2nd in the combined newschool realtime compo with his 4k. I need to look at the results later, can't remember anymore right now.
What's next is to grab our stuff, say bye bye to all the lovely and interesting people I met and hope to see them again some day. It was way too less time to talk to all of you but I hope there will be another chance. I know that will heavily depend on me, but Evoke is soon and maybe, maybe maybe I can get myself to go there. It depends on how many releases I can get done until then.
To sum up, let me say that I very much enjoyed the party. The location is really good for such an event and as far as I heard, everyone had a good time. So lets hope that there will be a new edition in 2014. Until then, make more demos.
Links related to this article
Nordlicht 2014 Invitation - Blitzgewitter by Titan