Function 2012 Party Report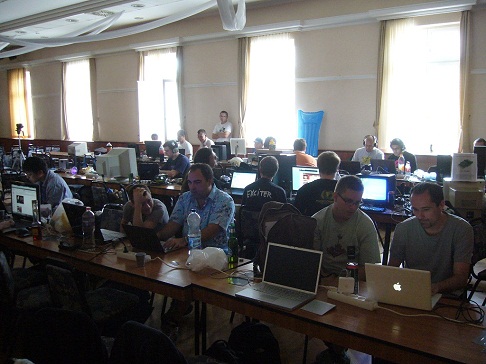 Introduction
Function 2012 was held in Budapest, Hungary, from September 28 to 30. It was the 10th installment of the party. I had thought about going to Function already some years ago. It is not so far away from my hometown Vienna, Austria, and as I do not have uni in September I am usually not so busy in this period. However, in the end it took me ten years until I actually visited the party. We had been preparing Hugi Special Edition #4 in the past couple of weeks and Function 2012 seemed to be a good occasion to release it. This may be what gave me the impulse to visit the event in the end. Moreover, I decided to take two games of mine along to release them in the game development competition. CoaXCable also sent me a picture he had drawn, so there were four releases of Hugi members in total.
My Journey
I left Vienna on Friday, September 28th, by bus. The trip cost me 38 EUR (including the ticket back home). After three hours of driving, at about 2 pm, I arrived at Budapest Nepliget. A funny thing I noticed in the bus was that the clock did not go from 10:59 straight to 11:00 but first displayed 10:60 for a moment. In Budapest I took the metro to Hatar street, as recommended at the Function website. It was a good coincidence that the blue metro line, which you have to take if you want to go to Hatar street, also has a stop at Nepliget. Hatar street was just three stops away. When walking to the metro station I noticed that Hungarians do not always walk at the right side. Where I come from, people always walk on the right side so that there can never be a collision when two people walk in the opposite directions. Hungarians apparently have not adopted this system yet. Anyway, I tried to buy a ticket at the counter and my Hungarian 200 forint bank note was rejected as it had expired. Fortunately I had converted some money at the bank a couple of days before, so I also had some up to date forints. With this I traveled to Hatar street. There I took the bus 66. The website recommended taking 66E, but when I arrived a 66E was just driving away and I thought it would be better to take the 66 instead of waiting for - I don't know how long. Both bus lines stop at Hösök tere but the 66E was supposed to be faster. Whatever, I took the 66, and the tour led me through some parts of Budapest that, although not too far away from the center, looked very rural, with lots of small houses. Finally after a bit more than a hour I arrived at Hösök tere in Soroksar, the 23rd district of Budapest, and as I had taken a look at Google Maps before making the journey I knew I had to walk a bit to the north. After a few minutes I indeed arrived at the party place.
From there I went straight to the hotel, which was about twenty minutes away further to the north although there were only two blocks in between. The hotel Le Rose was a nice mansion and the porter spoke German (apparently most of the guests came from German speaking countries). I got room 8 in the 2nd floor. After quickly unpacking my stuff there, I left for the party place.
At the Party Place
When going to the party place from the north, one could spot a wall on which "Function" was written in big letters. This was the only sign indicating that Function was happening there. If you came from the south, you would not notice that a demoscene party was going on in that building. I arrived at about 4 pm, which was the official time of the opening of the party, and received a visitor badge saying that I was visitor number 2. The party place was a kind of community center which hosted various events. There was a rather large room that served as a kind of entrance hall with a shop where you could buy food. The actual party room was a huge room on the right. At the rear there were four rows of tables for computers and in the western half there were chairs where you could sit down and watch the compos. The bigscreen was on the theater stage and the screen contents were projected onto it. On the left side of the stage there was the organizers' area, where everything was managed.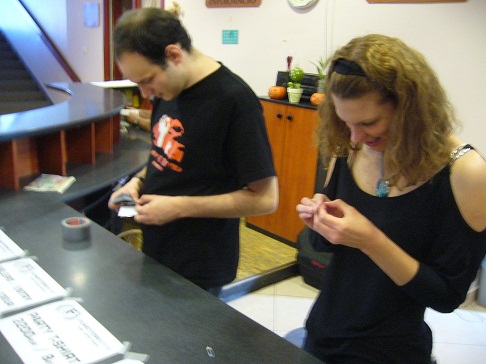 Soon after me Ferris of Youth Uprising and lug00ber showed up and sat down with their PCs, working on their compo entries. Then two Finnish sceners appeared, Solarius and Manu. Solarius wanted to make a game for the compo, for which the deadline was 7 pm, so he had to work very fast to get it finished in time. We sat down at the terrace and chatted a bit before I left in order not to disturb Solarius working. At the other end of the terrace a couple of Polish sceners were sitting and offered me to drink a beer with them. I accepted. The beer tasted fine.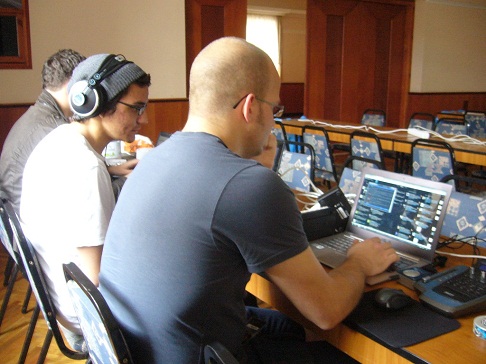 Time passed, and I asked Solarius for the current state. He told me there was some bug, and together we debugged the game and quickly found out what was wrong. In the end, the game got finished after the official deadline, but was accepted for the compo nevertheless. Together with my two games and a few other entries, there were eight games in total. When the compo started at 9 pm, Gargaj (the main organizer of the party) called us to wait in front of the organizers' room so that we could present our games to the audience. My games were shown as entries number 3 and 4; it seemed the organizers ordered the entries based on their own impression of the quality, the best games coming last. Indeed the last entry was technically outstanding and far advanced compared to most of the other games. It was a 3D racing game by Archee. Another interesting entry was a variant of Space Invaders for two players, in which one player controlled the space ship with the keyboard and the other player controlled the enemies using the mouse. My own games were a puzzle game that was a kind of mix between Connect Four and Tetris, and a simple action game in which you controlled a stationary cannon and had to shoot all the balloons on the screen. In the end I gained fifth and sixth place, the puzzle game gaining slightly more points than the other one. The winner was Archee, as expected.
The Second Day
After the game development compo a movie about independent game development was shown. However, I decided to return to the hotel instead of watching it. The next day I consumed breakfast together with D.Fox and Ziphoid. At the party place not much was happening when I arrived around 10 am. Only when the clock showed 2 pm, there was action again: it was time for the photo compo. I recall a nice photo showing a hedgehog and a donut. Of course, the winning entry was the one that showed a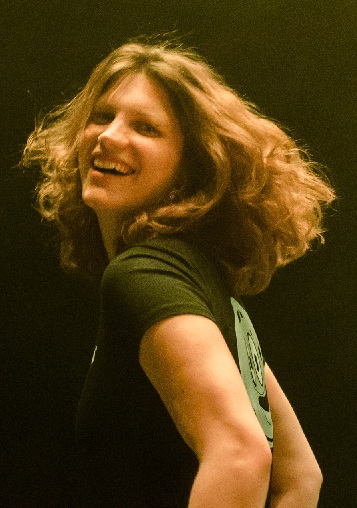 nude woman. Then it was time for some seminars. First Lukasz Migas, also known as Lettique of ex-Haujobb and ex-Addict, talked about work in the game industry. He described the jobs of various team members, ranging from artists to technical coders, and showed a lot of advertisement movie clips from his company People Can Fly, which was acquired by Epic Games a couple of years ago. When he asked the audience for questions I was the only one who dared to ask one. My question was about the salary of a typical employee, and he answered it's very good, not only for Polish standards. Thereupon I was contacted by a Hungarian party visitor. It turned out he was a headhunter and he was interested in recruiting me. We exchanged email addresses and decided to keep in contact.
The other seminar was from a member of the company Havok, which focused on developing game engines. He talked about some of the pitfalls in game engine development. The seminar was in Hungarian, but it was actually quite easy to understand even without knowing the language. Gargaj came to stage after the seminar and said that a third seminar was planned, which would only last 15 minutes, but the presenter was not there and so they would probably skip the seminar and proceed straight with the music compo. Indeed the music compo was the next in line. There were more than 20 entries, and so it took quite some while. People especially seemed to enjoy the tunes that focused more on rhythm. Afterwards first the freestyle graphics were presented and then the handdrawn ones (including the picture by CoaXCable). Some of the entries were very nice. Then the music group SIDrip Alliance performed live. People danced (Vickey and Ziona even on stage) and had a lot of fun. This was one of the highlights of the party.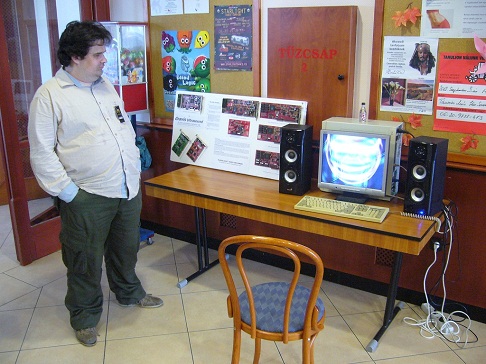 Finally, after 10 pm the wild compo started. There were some great animations in it. The first one was an anti-PC wild demo, and the crowd cherished, screaming "AMIGAAAAAA" all the time. Another one I liked very much was one involving living cubes, falling in love and fighting with each other. Our Hugi Special Edition #4 was also shown and the crowd seemed to appreciate it. Indeed we gained more than 100 points and 6th place, not too bad. The end of this compo was the end of the party for me. It was half past eleven and I wanted to get up at 8 am the next day, so I decided to go to bed instead of watching the demo and intro competitions. As the prize giving was scheduled for 1:30 am, I would also miss this part of the party. But as I was not expecting high ranks for our releases, I thought I could risk not attending it, and I was right.
Leaving the Party Place
The next morning I paid my hotel rent, which was 90 EUR, and asked the porter to call a taxi to take me to Nepliget. The taxi came after less than 10 minutes, and I had to pay about 3100 forint (a bit more than 10 EUR). The bus arrived around 11 am and brought me safely back to Vienna.
Apart from Hungarian and Polish people there were also some visitors from Germany, Finland (as already mentioned) and various other countries, including Japan. The scener who had made all the way from the other end of the world was very successful at the intro competition, where he won first place.
In total there were 260 visitors according to Gargaj, which was a new record for a Hungarian party. For a first time in history, a Hungarian demo party had more than 200 visitors.
All in all the party went as I had expected it to be. Great! Thank you very much, Gargaj, for all the work. Greetings also to Vickey, Ziona, Ferris, Solarius, Manu, D.Fox, Topy44 and all the other people I met.
Party Report: Function 2013
Written by Vincenzo of Rebels, Conspiracy and Fresh!Mindworkz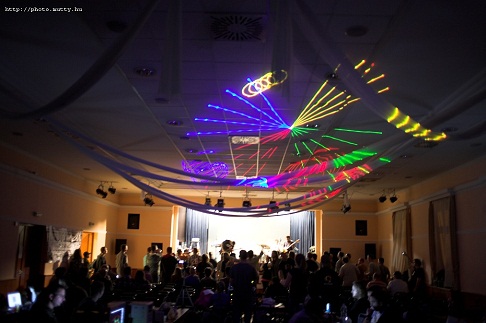 Prologue
The strong pillar of Hungarian demosceners with more and more people and better and better releases from year to year. It's great to be there, in a great and unique atmosphere it's a party that you can't find anywhere else. Believe me, I'm a big demoparty fan and I've been to many parties. I've been to Germany, Poland, Slovakia and I never experienced such an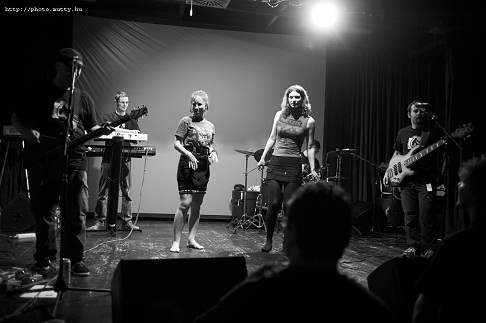 inviting and friendly party like Function in Budapest. Maybe it's because the party is relatively small and takes place in a great location. Maybe it's because of people who attend from year to year and create a great and cool atmosphere. You should visit Function in 2014 and experience it.
For me, it's a tradition to attend the party, of course. I love the party place, it's good to sit in the garden area, have a beer, and have a talk with friends and the main hall is great to put down your stuff and partycode. To be honest, my primary interest is not the competitions and releases, but of course I always release something there. It's just weird to visit a party without empty hands and without a release :) But during the years I switched from hardcore "release maker" to a simple "party attendant".
Function. THE Hungarian party since 2003.
And now, let's see what happened in 2013 from my point of view. I arrived to Budapest from Warsaw, Poland on Friday morning after a 10 hours car ride. Sleep until Friday afternoon, then visiting old friends in town. Then my brother arrived in the evening and we went together to the party place. I was quite surprised because the place was so crowded that it was never before. So, we grabbed a beer and joined a group of people and started to enjoy the party. Somehow I forgot to enter the main hall and watch game competition. And later, somehow I went home and slept more than usual. Saturday arrived with rain. Bad, bad rain. I went back to the party around ~10AM, everybody was sleepy as hell (including me which was strange because I slept more than usual) and we were a bit sad. Rain means no party outside :( Anyway, we quickly grabbed some audio equipment from the garden, it seems somebody forgot to take care of it - or was too drunk to remember the stuff was outside, enjoying the rain. I was excited while I was waiting for SIDrip Alliance members to arrive. Saturday evening is about SRA concert, warming up people for the main event: competitions! I was afraid that we would miss the audio set up but all members arrived in time :) and around ~12 o'clock we were able to make some chaos on the stage by removing the beamer and putting musical instruments and microphones and cables everywhere. I was happy with the result, the audio equipment was great, the band was great, everything was promising for a great evening gig. After the sound check we gave the stage a proper look again, then we went outside to enjoy the afternoon. And again, I missed the competitions at the afternoon. You wouldn't guess why. Beer and traditional Chinese restaurant visit, eating the best crap food ever nearby the party place. We do that once per year, that Chinese restaurant must have more visitors on Function's weekend than during the whole year.
SIDrip Alliance Concert
Concert time! I almost missed it because the long queue at the canteen. I remember I was upset because it was time to start the concert but I had no drink. And it's just weird to control the mixing console for 1.5 hours without refreshments. Imagine the same, from the band's perspective on the stage. Giving an energetic, freakin' awesome concert, and not drinking a drop of water...
Shameless promotion: SIDrip Alliance is the perfect band for demoparties. Period. They made a frenetic show, playlist is great, and crowd went mad during the gig. Party organizers should consider inviting SRA to play everywhere.
After the great concert we quickly disassembled the stage, and everything went back to normal. Organizers were stressed as usual, some light delay appeared before the competitions. So we decided to go outside, drink a beer and have a chat about the concert. And it happened again, I completely missed the competitions... Some of the best production this year were Apocalypse When by Fairlight, Primitive Beings by Dead Roman, Tea Storm by Ribbon. This year's invitation by Rebels was also very nice!
Epilogue
Conclusion: Function 2013 was great and F2014 will be more awesome, everyone should consider visiting the party. And while you are in Budapest, don't forget to check some nice touristic places as well.
Interesting facts about Function
1. Did you know that it started as a very small party in 2003, in a small village on the countryside of Hungary?
2. Function took place 11th time in 2013, this party is organized the most times in Hungarian demoscene history.
3. Function still has 256byte intro competition!
4. Organized by Conspiracy members (I started to organize the party) since 2003.
5. We have a Leon C64 gfx release in the handdrawn graphics competition every year.
6. Function is the second home of Polish demosceners. Polak, Wêgier, dwa bratanki, i do szabli, i do szklanki :)
Links related to this article
Function 2013 youtube videos by TMC
Function 2014 invitation by Rebels
Function 2014, H-1118 Budapest, Dayka Gabor Str.4
October 3-4-5: www.function.hu coming soon!