Defcon
By Adok/Hugi
Defcon was a French diskmag. While the first issue was only in French, the second and last one was mixed-language (French/English). The main editor was Arrakis of K!Prod. Defcon #1 and #2 can be downloaded from scene.org (about 1200 downloads). Defcon is DOS-based and can be run using the latest version of the DOSBox emulator.
Defcon #2
While Defcon #1 (September 1997) was fully in French, Defcon #2 (April 1998) also included a lot of English articles. You could always switch between French and English in the menu where you selected the articles. Many of the articles were available in both languages.
After the unspectacular intro and Made's title picture, the reader came to the main menu, where he could select the section he wanted to read. The sections were: Edito, Code, Coup de Gueule, True Life, Interview and Delirium. In the Code section, almost all the articles were bilingual, except a French article about Huffman encoding. They dealt with topics such as anti-aliasing, optimizing division operations and radix sorting. There was also the announcement of a coding contest. The Coup de Gueule section had only one article in English, and it wasn't saying much to me. In True Life, the English articles dealt with Linux and Internet under DOS. The interviews were all in English only, the interview partners of this issue were Judge Miguel, Shodan, Skal, Toshi, Unreal, Probe, Veckman and Xman. Everybody got roughly the same questions. The Delirium section contained only one English article, a not so interesting one about how people get accustomed to using Linux with time. That was all you could find in this issue.
The music of this issue was made by Alexel of Realtech, Dune of Orange, Jogeir of Pulse, PLi$CaNN of K!Prod, Snes of PolyMobil and Traven of Syndrome. For the graphics, Filter of ToadStood, Made of Bomb, Sicca of Psyko, Tec of Scarface and Veckman of Scarface are credited.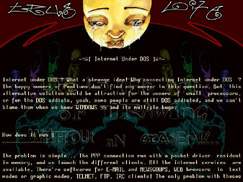 Something that is special about Defcon (and the reason why so many graphicians have been credited) is that every section has its own design. That's cool. What's a bit annoying is that some parts of the design are displayed in the foreground of the texts, and so parts of the texts aren't readable unless you scroll a bit back and forth.
A nice mag all in all, if you're interested in the coding articles, otherwise it's a bit poor of contents for a non-French-speaking reader.
Adok/Hugi