Becanne
By Adok/Hugi
Becanne was a magazine distributed in PDF format. Edited by Humphrey of Centolos, its first three issues were in the Spanish language. The fourth and last issue was in English. All the issues can be downloaded from scene.org. They got about 200 downloads each so far.
Becanne #4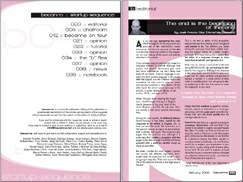 Becanne #4 was released in February 2005, about a year after the first issue. Like all issues, it spoils the reader with a professional looking layout - one to three columns per page, photos and other images included, various different background graphics. It's 40 pages in total, including the front and back covers. The contents include an interview with the coder Trace of xpslv, a Bcn Party 100 report, a tutorial about texture generation (it's already part 3, the previous parts were published in the Spanish language issues of Becanne), an article about German demo parties, and several one-page-long statements by individual sceners such as Crest, Spock, Sergeeo and ps.
It's a nice magazine all in all, and it makes the reader wonder what he has missed due to his lack of knowledge of the Spanish language.
As we can read in the Editorial, Humphrey didn't want to remain the editor of Becanne. He thought it would be better if a fresh spirit came to the magazine once in several issues. Too bad nobody wanted to become the new main editor of Becanne and so the magazine stopped issuing.
Adok/Hugi