Bad News
By Adok/Hugi
Bad News was a Polish diskmag that also contained an English section in some of its issues. The main editor of the issues I'm going to review here was Akira of Surprise!Productions, later a member of Pulse. All reviewed issues can be downloaded from scene.org (about 700 downloads so far), and they work using DOSBox.
Bad News #3
Bad News #3 was released in October 1995 as a co-production of Substance, Surprise!Productions and The Grid. It was coded by Sebl of The Grid. The graphics were from Sketch of Surprise!Productions. The music was created by Falcon of Substance, Key G of Substance, Raiden of Substance and Scorpik of Surprise!Productions.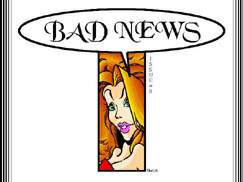 After the cute title picture the reader would get to the main menu, where he could choose from among the links Welcome, The Charts, Polish Zone, English Zone, Credits and Advertisement. In total it was more than 800 kbytes of articles, about 100 kbytes of that in English.
The charts were about groups, Polish groups, demos, Polish demos, intros, Polish intros, coders, Polish coders, graphicians, Polish graphicians, musicians, Polish musicians, swappers, Polish swappers, diskmags, unpopular and lame sceners, games, paper magazines, women, films and drinks. 45 people had voted.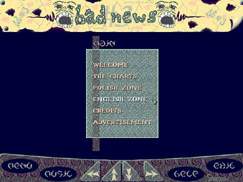 In the English Zone, we could find news and rumours as well as "crazy news" (invented fun stuff). There were interviews with Ervin of Abaddon and Gredon of FSN, articles about ripping samples, disk stealing and why there were no swappers charts in other diskmags. There were also some demo reviews, party reports and a quotes corner.
All in all the English Zone of Bad News #3 was quite good compared to other diskmags from those days. The level of grammar was not ideal though.
Bad News #4
Bad News #4 was released in April 1996. After Niko of Pulse's wonderful title picture you came to the main menu, which had the same sections as in Bad News #3. The main graphics were drawn by Sketch of Pulse. Unfortunately the contrast within the background picture was slightly high, which disturbed reading a bit. The tunes were made by XTD and Scorpik, both members of Pulse.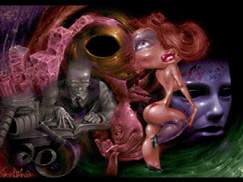 The charts categories this time were groups, demos, intros, coders, graphicians, musicians, swappers, diskmags, musicdisks, slideshows, games and films. There were no Polish charts any more, just world charts. 94 people voted, which is quite a lot.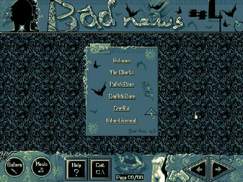 Apart from the usual columns, the scene sub-section of the English Zone featured articles about animations in demos and swapping as well as party reports and six interviews (Darkness of Imphobia, Metal of Analogue, Unreal of Pulse, Maf of Camorra, Gatekeeper of Xtacy, and Yarpen of Substance). The Forum sub-section contained articles on metal music, computer games, capital punishment, Toy Story and Windows 95.
It was another nice issue for the time, although it would be rather weak compared to today's diskmag standards.
Adok/Hugi