C64 Scene & X2008 – Less is more
By Jazzcat/Onslaught
The C64 scene has existed and continued to thrive longer than anyone could have imagined. During the years of its existence, many things have happened, with change there is further change and the result of which shapes the scene into its present state. Are we getting any better?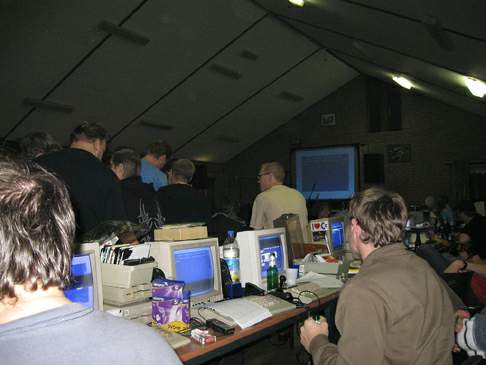 Taking centre stage in this article/review will be the X-2008 party, taking place between the 24th and 26th of October in Gelderland, The Netherlands. The party has been highly anticipated and sets to deliver true 8-bit data action in the countryside; isolated from the modern distraction of society. By far, this is one aspect of the C64 scene in 2008; let's first have a look at some developments over the past few months leading up to the party...
The C64 demo scene
The scene has slowed down over the past few years, the days of being a teenager with plenty of time and no distractions are long gone, but we still manage to push the "breadbox" to the limit with some demonstrations of C64 power. Usually, a scene-party/competition is the motivator of production, but we also experience "in-betweens", that help us get through the dark months as we wait for the next scene event.

The C64 scene is quite diverse, just check out some of the scene parties that have made a big impact this year: St LCP – Return of the Rasterbars (Lund, Sweden), Silesia Party v2.0 (Slaskie, Poland), Arok 2008 (Ajkarendek, Hungary), Riverwash 2 – Project Mayhem (Rudy Raciborskie, Poland) and of course X2008 – Moooooohhh! (Gelderland, Holland). As you can see, the year isn't even over and some events scattered across Europe have sent waves of activity through the underground. Some demos that are worth checking out are SINNERS ALL by Vision & Instinct; this little cooperation tells a story which is complimented by beautiful graphics by master graphician/animator Mermaid. SILVER STAR is from the guys in Chorus (Hungary) and was placed number one in the compos at Arok Party in August. Awesome music by Drax and Fanta really takes you down memory lane and you witness oldskool effects such as DYSP and ECI-pr0n (binary abused by Clarence). PARTY GROOVE came in at number two and has less hardcore code than Silver Star but features superior design. Both demos are by the macho hardcore C64 fanatics in Hungary.
Not everything is in Europe however, the ancient USA scene shows life with several demos coming out this year like the 10 YEARS demo by R64 or XMAS IN JULY by the guys in FOE (Forces of Evil). Getting these kinds of demos as your daily entertainment make the C64 so much more special than many other platforms, take for example the CASSETTE demo by Onslaught called A LOAD OF TAP. "Cassette demo?" I hear you say? Yes, a multi-"IRQ"-loading tape demo, giving us memories of the 1980s before young kids could afford disk drives!
Most of the demo power is located in Sweden; despite the activity slowing down a little, things are still very strong there. This year they hosted the ST. LCP event, which is two parties joined together (St. Lars and LCP). There is a tiny video showing some of the guys preparing their data for the big screen at YouTube. The party gave us some nice demos; some worth checking are THE SUPER LARSSON BROS by Horizon & Instinct, TRISTATE by Triad and V3LOCIP3D3 by Fairlight. The party also had entries for the Amiga, GBC and the ZX81.
Whilst the scene relies on a lot of old and established groups to provide the fun some new guys still make it to the scene, which we welcome a lot. The Polish scene was once the most active part of C64 scene town but it became quiet for sometime; however recent scene parties (River Wash 2 and Silesia Party 2) and a new group called Black Sun have proven otherwise. Talented individuals like Hermit have revived Polish legends Samar Productions and there is promise that more will come back. The opposite has taken place too, with groups like The Force (circ. 1985) and WiseGuy Industries 2015 (circ. 1987) producing releases this year.
The C64 cracking scene
With hardly any new games coming out on the C64 it's hard to imagine that this scene is still alive. Proving the critics wrong, the culture that created the demo scene still continues with some die-hards showing the iSO-scene the way it should be done.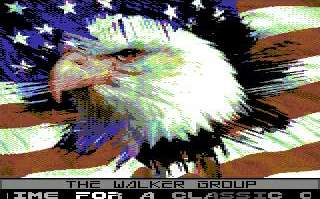 First release scene: minimal, with a lot of previews and unreleased rare things being released. Some groups still take it seriously, like Triad (Sailor, Taper), Onslaught (6R6, Skeletor, Conrad, myself) and most recently the return of Laxity (the German group) who made a comeback this year with Goat returning to cracking after 7 years hibernation. Some of the good first releases this year include: Mythos Preview/Onslaught, Enforcer 2 Preview V2/Triad and Thunderzone Preview V2/Onslaught.
Oldie cracking scene: unlike on other cracking scenes that have bugged versions with malware embedded key-generators and patches, the "oldie"-scene on C64 focuses on bringing out the best possible version of all the classics (bug fixing, mega compression, mega trainers, NTSC/PAL fixing, full documentation etc). The main players in this scene are Nostalgia (6R6, TMR), WOW (Jockstrap), Hokuto Force (Ian Coog, Overkiller, Karmody). I heard that a new group was being launched soon but nothing as yet.
Overall the cracking scene is still very much alive, smaller numbers of sceners but some great releases dedicating to doing it "right".
X-2008 – Scene party of the year
The bi-annual C64-only event in rural Netherlands has been one of a kind in scene-town. Not only do you get brilliant demo/graphics/music competitions, but you also get a nice bed, hot showers, proper food, breakfast and all the beer you can drink. It's hard for me to write a lot about the event, as I didn't make it this time (last time I made it was X-2004) but looking at the hype and the releases, the decision to give you a summary was an easy one for me to make – it rocked.
Rather than having thousands of strangers connecting through impersonal LANs, you have to imagine the party from this respect: over 190 friends, legends and newbies alike, mixing data on a computer that has extreme limitations together with a well organised arrangement of alcohol, bedding and festival-like entertainment. It is THE C64 event, only coming once every two years.
So, let's discuss the competitions... they were huge...
14 demo entries, 24 graphic entries and 25 music entries. Not bad for a "dead scene"?!
The demo competition got more legendary with each demo shown. Major groups such as Horizon, Fairlight, Booze Design, Chorus and Instinct blew our minds with some major heart-pumping stuff that makes a 1982 computer look like something far more modern. After the party was finished, the releases started to flood the sites in C64 scene-town, all with the exception of the winning demo by Booze Design called Edge of Disgrace. Apparently, there were some tiny bugs that needed fixing and some tweaks that had to be done, but it finally arrived to a hyped up non-party-attending-audience several days after the event.
Musically there were again fine performances, Maniacs of Noise legend Jeroen Tel won the compo with his trademark sound followed very closely by a mind-bending performance by Fanta/Oxyron which had me scratching my head thinking "is that coming from a C64?" I also enjoyed the work of Drax/Vibrants/Crest /MON..... Once again Mr. Thomas showed me why I think SID music is REAL computer music. The music competition is usually the strongest show at any scene party, this year there is no exception with 25 entries. Not to forget fine live performances by both Reyn Ouwehand and Jeroen Tel, that got the dance floor hot.
Graphically there was a big performance as well, top entries from guys like Deev/Onslaught, Archmage/Instinct, Duce/Extend, Yazoo/Oxyron, etc. I missed the Dutch power from guys like Mirage, Hein and Sander, maybe next time? Still, the entries were impressive, covering various graphical formats on the C64. The graphical limitations make modern art so much more sexy than unlimited everything... less can be more, proven fact.
I managed to have a chat to some of the main guys behind some of the main productions released in the competitions... I wanted to get some insider insight behind their productions...
Firstly, with Dane/Booze Design, musician, co-coder and co-graphician of the winning demo, Edge of Disgrace:
Jazzcat: Tell us about the demo, what were the hardest bits? The fun bits?
Dane: Hardest bits... getting the right demo flow with transitions and music sync. Fun bits... seeing the end result on big screen.
Jazzcat: Was the demo completed on time or at the party itself?
Dane: We had a completed version with us to the party but decided to do some small fixes and also discovered a bug while we were there.
Jazzcat: What was the reactions of the spectators at the party when it was on the big screen?
Dane: Reactions... extreme! Such a positive vibe and a great payoff after all the work.
Jazzcat: Standing ovations I heard! Any inspirations for any parts that you could relate to us?
Dane: The demo takes a shot at improving some effects made by others, so you will recognise some classic c-64 effects. Hopefully you will like our version more than the previous ones.
Jazzcat: Was this the demo of your life?
Dane: This might be the demo of my life...but strangely enough we have already started talking a bit about some future projects. I'm not sure if I have the energy needed for another 2+ disk side project though. :)
Jazzcat: The demo goes for around 15 minutes right?
Dane: 14:35 is the running time, I think... all with one long continuous soundtrack.
Jazzcat: WOW! the soundtrack surely must have been a feat in its own right?
Dane: Yes, it was the most challenging thing I've ever done technically, since it had to be optimized, cut into small pieces and then linked together at the exact right frame. I'm really happy on HCL's behalf that he finally gets to release this and see the reactions. I know I've put MANY hours into my stuff for the demo, but it pales in comparison to what he has done.
Jazzcat: Excellent! So, the party in general, enjoyed the other demos too?
Dane: Yes, I don't think I've ever been to a compo with such high quality entries. That a demo with such killer effects as Amplifire ends up 4th says quite a lot.
Jazzcat: I've heard people saying that your demo was the best EVER, how do you react to that?
Dane: Wow, of course it's a nice compliment, but I look forward to seeing what people think about it in a month or two. Maybe they have changed their mind then. :)
Jazzcat: Thanks for your time and comments Stellan and thanks for a wonderful demo, proving that the C64 gives more with less!
http://noname.c64.org/csdb/release/?id=72550
"Edge of Disgrace is dedicated to everyone who is still active on the c-64 scene. Let's keep this baby going for a few more years, until we're so old that demo parties take place in hospitals!"
I managed to shove the microphone in the direction of Yazoo/Oxyron, graphician behind Natural Wonders 2, which placed second in the Demo Competition...
Jazzcat: Tell us about the demo, what were the hardest bits? The fun bits? Inspirations for it?
Yazoo: We started planning a demo for X'08 maybe one year ago. But then Axis and me (Yazoo) got a new job and ran out of time and motivation. When X was coming closer we thought it would be lame to go there empty handed, and 3 months of hard work started. We are quite satisfied with what came out in such a short time, and after all it was a hell of fun to do this. Hardest bits? Umm... maybe all that synching of the music/video – it gave Fanta and Axis a hard time I think. A few days before X the RR-Net of Axis was broken, so Fanta had to do a lot of testing on real hardware because there were some serious problems. We are more than happy that it works now.
Jazzcat: Was the demo completed on time or at the party itself?
Yazoo: The demo was completed in time. Coding and pixelling at a party often is no fun when you would prefer to have some booze with all those sceners you don't meet very often (like those from Sweden, Finland, Hungary...) I think the demo was finished 3 days before the party started, and a local friend started to make 50 copies of it (we were spreading our demo together with a disk-cover on disk right after the competition).
Jazzcat: Oxyron are back. Do you see the Natural Wonder demos becoming a series like the Coma Light demos from back in the day?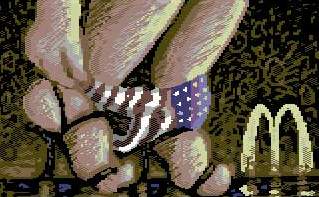 Yazoo: Well... I don't know yet. There's one thing I can say - I don't think that it will become a series of 12 demos like the coma light series was - since we can't do a demo every month anymore like we did in the beginning of the 90's hehe ;-) but time will tell.
Jazzcat: What was the reaction of the spectators at the party when it was on the big screen?
Yazoo: The reactions were quite good. Maybe that was because our demo was running before Booze Design's :D it seems that ppl liked the end part the most - which is something I agree to. It's not the hardest coding in the demo, but eventually the best effect. We recorded a video of our demo running on the big screen. I need to fix it and upload it to YouTube I think, so you can check the reactions yourself. What pisses me off a little, is that there was a strange bug in the tunnel part on the big screen. I never have seen that before or later on real hardware.
Jazzcat: Graham will be back in another demo some day?
Yazoo: Nothing I can promise - but I do think so
Jazzcat: The party in general, enjoyed the other demos too?
Yazoo: This party was just great. It made me feel like I was back in 1992 at the Light Phenomena party or the Brutal/Hurricane event. We met a lot of legends like Jeroen Tel (nice talking to you) and some others. The compo was quality-wise the best one for ages, and we are quite happy we became 2nd... you know it's much more fun to become 2nd in such a great compo than just becoming 1st in a low quality competition. congrats to Booze Design again.
Jazzcat: Thanks for your time and comments Michael and thanks for a wonderful demo!
http://noname.c64.org/csdb/release/?id=72560
Next is one of the Larsson brothers who programmed the demo Amplifire, they won the X2006 demo compo with their 'The Wild Bunch', this year they came in a close fourth, showing the quality of demo show. Introducing JackAsser/Instinct...
Jazzcat: Tell us a bit about the demo, what were the hardest bits? The fun bits?
JackAsser: The fun bits as always were to plan and dream about the demo and whose ass we wanted to kick. :D We had this forum online where all of us posted previews and stuff regularly which was really a motivation booster. What also was really fun I think was to know that the effect we had were outstanding and never before implemented (in that speed, size, resolution etc). The hardest bits I'd say were the twisters and the rotozoomer, those effects uses kinda tricky techniques.
Jazzcat: That sounds like a cool plan with the forum! Did it lead to the demo being completed on time or at the party itself?
JackAsser: At the party itself. Before the party the demo was in two pieces with some missing transitions. Plan was to finish it in the car but as most of you know by now my bro got sick and was unable to help. So we fixed it on the Saturday morning. Actually we got the final tune 19.40, i.e. 20 minutes before deadline and it used too much rastertime so we had to quickly optimise some parts. :D
Jazzcat: Brothers working together on the production, more Pernod than JackAsser in this one?
JackAsser: Definitely more Pernod. He did the fade plasmas, filter sinus and twisters. I did the rest. I.e. he did 3/4 parts, I did 1/4. Intro, image viewers and transitions I did while waiting for him to finalise his parts.
Jazzcat: What were the reactions of the spectators at the party when it was on the big screen?
JackAsser: They cheered, ALOT. :D Thank guys!
Jazzcat: Heard you are working on a BIGGER demo too?
JackAsser: We're always working on a demo but seldom actually plan for one. There are several parts in stock at various stages but both me and my bro have really hard time coming empty handed to a party and kinda dislikes saving effects, so we'll see how big it'll be.
Jazzcat: The party in general, enjoyed the other demos too?
JackAsser: The party was AWEFUCKINGSOME (as always). The organisers did a great job keeping me drunk and happy. About the other demos; great in many (all) ways. Personally this was the best demo compo I've ever seen, but that doesn't say much though considering I'm kinda new in the scene.
Jazzcat: Thanks for your time and comments Andreas and thanks for a wonderful demo!
http://noname.c64.org/csdb/release/?id=72559
Summary
In whole the party was regarded as one of the best yet, eclipsing previous events not only with the competition output but in regards to the atmosphere itself which cannot be described in simple words. Amazingly there is still debate that the scene on C64 is dead when it is quite the opposite, this event showcasing how wrong those non-believing critics truly are.
Good news is that the organisers have announce X-2010, which is 28 years after the C=64 was made, is that die hard or what?!
To end this small article, I want to give you some quotes from different X'08 attendants, thanks for taking the time to get an impression on what we're doing on C64 these days, will see you either in the next Hugi or my own magazine Vandalism News #50 and Recollection #3.
Regards,
Jazzcat/Onslaught. - http://www.atlantis-prophecy.org
Quotes
Archmage/Instinct/Andromeda: (winner of the graphic compo)
"I am overloaded. Wish it could have lasted one more day. Easily one of the best parties ever."
Jeff/Viruz: "Best party ever. Really cool how the old school party feeling is like recreated..."
And on IRC:
<Jazzcat> Macx tried to hump you Enno?
<Burglar> Dave, yea, on the first night
Sander/Focus: "Deekay cried, he said it was the best compo he ever saw... fact!"
Hollowman/Fairlight: "The Instinct+Horizon demo was like a punch in the face... and then HCL had a demo that fisted me for 15 minutes!"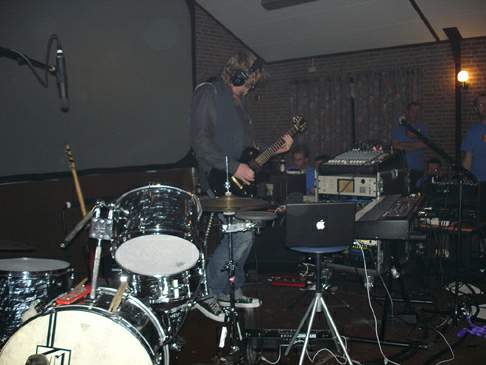 Axis/Oxyron: "Wow, this party was the fucking best I ever visited. Meeting all my old heroes and new heroes and watching some amazing live acts (Jeroen and Reyn, you rule big time!) And also amazing competitions. I never thought that something like this is possible nowadays, but it is! Thanks to the organisers and thanks to everyone for being there, you made this event unforgettable. See you in 2 years."
Deekay/Crest: "I think this was probably the best party I've ever been to. The Demo compo definitely was the best c64 demo compo ever in the history of c64, I'm rather goddamn sure about that...
I expected some great demos to be released, but I had no idea it would be THAT mind blowing! There were five killer-demos (Booze, Instinct+Hz, FLT, Xenon, Oxyron) and one really good one (Extend)...
I actually cried after the demo compo, and while it was running I think the farmer's wife was just about to call Dutch riot control because people just went fucking crazy and screamed like we had a torture gangbang going! ;-D I still have a sore throat (Reyn's great concert and Jeroen's DJ set prolly also had to do something with that!)
After this compo, I think we might just as well sell all our 64s and be done with it, there's just nothing that can top this! <:-)
The only areas of improvement are maybe better food, way more stable power supply (how many power outages were it in the end? like six?) and some information on when the organizers actually arrive themselves! ;-D
I think we set a new record for attendees, too, that might've been the reason, though none of the orgas seems to know the definitive number... But it's somewhere around 200, which is quite amazing for a c64-only party in 2008!"
Some highlights...
* HCL stage diving at me during the Jeroen Tel performance.
* Jeroen Tel winning the music compo!
* Big competitions! (14 demos, 25 compositions, 24 graphics + extras)
* Live broadcast and interviews from the party
* Jeff showing his pale Danish arse after too much
* Soooooo many SCENERS (REAL data fun!)
* And finally.... the beer was finished! CBA found one the next day and gave it to Jeroen Tel.
Links
Compo entries
Live music and photos
10 minute clip of Jeroen Tel performance
Jeroen Tel Compo Music MP3
Fanta Compo Music MP3
Other links of interest, watch, listen... learn.
http://noname.c64.org/csdb
http://www.atlantis-prophecy.org/recollection
http://www.c64.sk
http://hvsc.c64.org