Scenecon '08 report
By Ziona
The following story is about the 12th and 13th days of July 2008 from my subjective view - keep this statement in mind, because maybe I'll write a lot about the making of my release, so I apologise for that. You know, that was an event, too.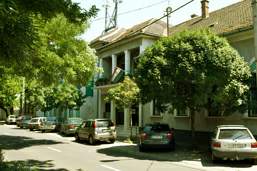 At first, some words about the days before the party. During the last days of the week, I was wondering about how much time had passed. I had lost control of myself and hadn't forced myself to start working on a release, although I wanted to enter the compo with a piece of music. Wednesday went by, Thursday went by... On Friday, two o'clock AM, I managed to get up and realize that if I didn't do anything in order to make that release, it really wouldn't come into being by itself. I remembered last year's Function. It was an incredible feeling to be there with a release.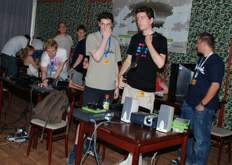 I didn't know how it would end. I was running out of time, and in addition, nowadays I have new waves in music, and in my active state I want to keep that trend too, at the matching tempo. I was worrying that I would have no chance to make a similar styled stuff, because the metal is for live performance. After all, in the morning, at 6 o'clock, I started to realize that the guitar playing wasn't so bad. Then it became obvious that I would have to finish it, no matter how it would end. It became obvious that it would be a party release.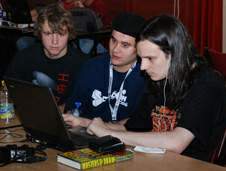 On Friday evening, I went to the station in order to wait for Inno and became marveled when Gargaj said hello to me from the waiting crowd. I was even more surprised when Inno arrived by the train together with Zoom. They had also had to prepare something on the last day - obviously, didn't they?
On Saturday morning, I modified the artifact of my release a bit at home and sent Inno shopping, to avoid nightmares and him laughing at me because of the 'hörg' noises. ;) Then we started off to the great event.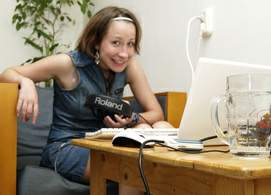 At the entrance, we were friendly welcomed by Gery at the infodesk. I bought the last female t-shirt, which was unfortunately 'M' sized, but it was a wonder how fine it fitted to me, despite the difference of the targeted size. That scene was followed by the ordinary Function-like feeling: the common dudes were crawling around, drinking beer at the buffet and at the court, the more fanatic dudes found a little retreat with the computers, took headphones and asked not to disturb until the work would finish.
Walking around, meeting with friends, I saw enthusiastic photographers at the place. Some of them were reporters and broadcasters. Vincenzo gave me helpful hints again after listening to the release artifact with a face that said "WTF". I didn't really show it to the others, although Leon asked for it. I wanted to let the surprise be a real surprise. On the other hand, he felt good enough without seeing it, too. ;)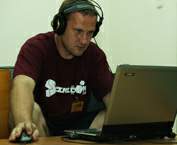 In the meantime, Pohar guessed that he needed a great tune for his 4k intro, and this exercise was given to Inno. At this time, Inno was inexorably targeted by a camera and interviewed. Simultaneously Levelup were playing games in the console room. In the compo and console rooms, there were presentations running. Later a DJ-set came, and I don't know what should be my opinion about it, because I didn't see them.
I wasn't able to render my song with the demo version of Renoise as the mastering had to be done channel by channel. After an exhaustive search, I decided to find a dude with a creditcard. It was Pontscho. With his aid, I bought the Renoise-licence and was happy and untroubled. Thanks again, Pontscho, you saved my life!
Vincenzo told me that he had entered me to the Stepmania-compo, which was interesting because I had said that I didn't want to abandon my music and leave it in an incomplete state. But during the compo it turned out that, although I had never played this game despite loving that type of game, I couldn't escape from it. It's great when you can dance to your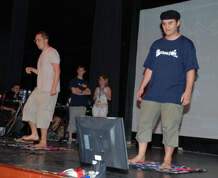 favourite popular scene-music collection! I want that at my home too! Zsombor and his company followed the events with a camera and with a great smirk on their faces. Of course, at the first round I dropped out, and I ran back to finish my project.
Sadly, it couldn't be finished. There wasn't enough time to do the mastering and do everything more thoroughly. Although the overall sound annoyed me very much, a mastered version was constructed without gollam-pitched rattle and without fails. After all, it was a fine feeling to release this work, which was made only in one and a half days.

The Stepmania compo was followed by a Guitar Hero compo, which took seriously long, but the audience liked it. I understand why. To bring back something from last year's feeling, Sampi arrived and we presented the releases after the last rush. Vincenzo helped me out after a panic situation. The gain was so strong that I had to render three times in order not to step over the 0 dB. ;)
At last, I was able to leave my screen and move towards the collective social activities. "Athina has come, let's go to chatting and drinking" (the beer was only for my training). Outside, the dudes were talking and consuming. We were standing near them, the people came to us, "hello Dlee". Gargaj was a bit tired after the all day long work with rare sleep periods. Addario was clicking, we were laughing, Athina and Zsombor were talking in the public about the influences of subjective opinions.

Besides, we had a party-dog too, from Robson, Molly. Everyone loved her. She is the "bag-dog", likes the sugar cubes and can look stunning when she senses a sandwich nearby. It's hard to go for her look!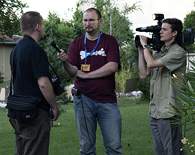 After a while, Tomcat appeared and performed an interview. We didn't know what it was about, but perhaps it will appear in a self-released Levelup-broadcast one day. Leon came and went away again. He proudly showed us his gfx on the phone. :)
We were hovering between the buffet and the court when the music-compo started. I was so excited. "Maybe they will laugh fine at it or maybe get frightened", I thought. "Maybe both things will occur." "Maybe me too." We sat in and started listening. A number of persons would hear something because they guessed that it was metal. It started. Shaman was very cool, respect. Slyspy surprised the people with his declaration that he "resorted to the dark pass", which means that he brought out and loaded old music. There were dozens of featureless pieces of music too. But it was gladsome when KvAzAr returned. If my release could be the next one after his work!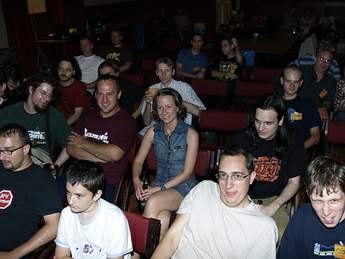 The interest was increasing. Zoom had shown the Maxie's announcement on IRC about the coming 'hörg'-metal, then Reptile had given her an answer containing eight question marks. The music started after the intro, lot of people were smirking backwards, from where from a lot of question about the singer arrived. Flashing, headbanging and 'muhalol'. Guffaw from me, I can't stand such stress, 'yay'. :) Then several people congratulated, despite the lack of bass in it. It seemed that this stuff would be more successful than the previous ones, although it was only a half-finished work. Maybe my surprise was slim only because that music was amazingly good to listen to for me as well. After all, trance can be good for other purposes than metal. After the compos, Gery asked me if a mastered version would reach completion or not. I didn't know at the moment what to do next.
The photo compo was the next event. Zoom would probably beat the competitors with the prairie dog. Unfortunately the releases weren't so impressive, there were some funny attempts among that segment.
The graphics were very few and it was a pity that Leon had to enter the same compo as the truecolor graphics. In addition, this category isn't fully definable, as the pixel graphics aren't representative in every aspect. In some releases, textures appeared. In my opinion, it's a bit disappointing in a way. The releases weren't so satisfying.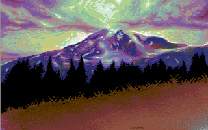 In the wild demo compo, the United Force showed some impressive stuff, we were stunned.
8bit compo - doesn't need too much commenting. I think lots of people were looking forward to Arok's entry.
In the 4k compo, the music of the robot intro seized me. However, I must mention my pleasure about the releases of my closer friends. Although Inno and Pohar had to skip some parts of their music, they achieved the second place.
64k - Slyspy saved that category from vanishing, there were two competitors in it. So strange. How could it be such a few? After all, he made a good shaped work.
Demos - congratulations, holograms, congratulations, UnitedForza, congratulations, Ümlaüt Design. We were happy to bring back the past by watching Euthanasia, but lots of dudes were confused about the presenting of the port, too.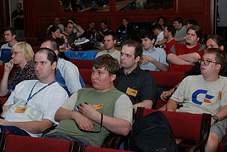 Compos over, hovering, Egon and Dönci screening indoors. We went outside, I needed some fresh air and free locomotion. Outside, people were speding their time tiredly, but at the middle of the court, near the tree, the feeling was very impressive - sitting around at the elegant cigar smoke. The nomadic feeling was provided, whichwas good, although my dress didn't match it, but I couldn't care less, we were as comforted as it was possible. The crowd became sleepy, a few were already sleeping. That was a bit festival-feeling.
By the end, the announcement of the results followed. They reassured me about my place in the first three, but didn't believe. However, that came about. The Howl inside won the second place. Then I received a teddy bear, thanks a lot, cool. Of course, I didn't deserve it fully, next time, I'll have to start the stuff in time and pay attention to the details, too.
KvAzAr got the third place. I temporarily received his award.
Slyspy, next time you should write a 4k too and draw a gfx in order to make the skipping category less remarkable at the beginning. Furthermore, he can win the half of such compo-categories at once, madness.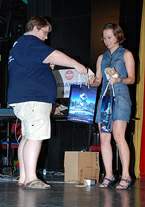 Congrats to everyone, Function is coming up, don't lose the enthusiasm!
After the announcement of the results, everybody was preparing the homeward journey, by car, taxi or mass traffic at the morning. We landed in Zsombor's car, thanks for the carriage, good night everybody!
My conclusion was that it was worth being there. Stiftung Warentest: sehr gut, thanks to the party organisers and everyone who helped making it better!
Links related to this article
Ziona