Assembly 2008 party review
By Maija "DiamonDie" Haavisto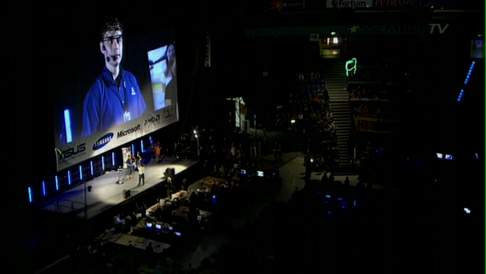 It was easy to see Assembly was again getting much worse even before the party had started. This year they fixed the horrible "let's move the oldskool/demoscene area to the main party hall" thing, which should have never happened in the first place, but the compos were arbitrarily mangled. Freestyle graphics and drawn graphics were combined, as were freestyle music (former vocal music) and instrumental music, and browser and mobile demos (now "real wild") to make more room for the game compos.
Even worse, oldskool graphics and music became extreme graphics and music, because some batshit insane organizer thought it would be a good idea to combine oldskool compos with executable graphics/music. This also resulted in changes of filesize limits, which were wisely announced only a few weeks before the party, when many people had already been working on their entries for months.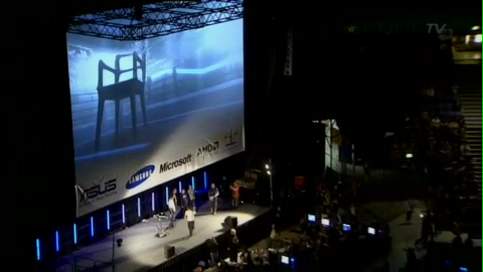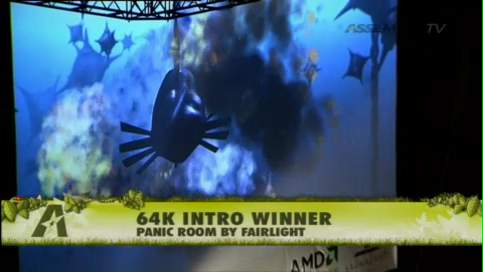 The party was a complete joke. There was one good thing, though: this year the wristbands were a pretty nice shade of purple. I can't think of much more positive to say. The only thing that made it possibly worth it to go to Assembly was meeting friends, especially meeting people you only see once a year, people you hadn't seen for years and people you had never met before. However, the number was much lower than usual. I felt like I have never seen so few sceners at Assembly. Of course there were a few excellent entries, but I could have watched them home anyway.
This year's program included three concerts (which I'd have liked to see, if only to take photos, but missed the last two thanks to the organizers who completely messed up the schedule). There were raves, but again they were scheduled in such a way to guarantee that many people would not be able to visit them at all, except for one hour on Saturday. There were also loads of game compos, much more of them than demoscene compos.
Thursday wasn't so bad. Helsinki was caught in a heatwave and as a result Hartwall Areena was like a sauna, but other than that it was an ok day. We went to visit Boozembly, which this year was held in a little woods near Messukeskus. It was all but empty at the time, maybe 20-30 people there. I checked the sponsor stands, but couldn't find anything interesting. They were mostly filled with games - I heard there was every single dance mat game in existence (?).
I participated in the fast graphics compo and then watched the gamedev compo. It was alright, though only a few actually interesting games. The most interesting one seemed to be David the Ordinary Spacemen with its trippy VCR effects. The audience went nuts about a simple ice hockey game, because it was Sweden vs. Finland. All goals by Finland resulted in huge applause and all goals by Sweden, well. In the end Finland obviously won and people seemed to be ecstatic.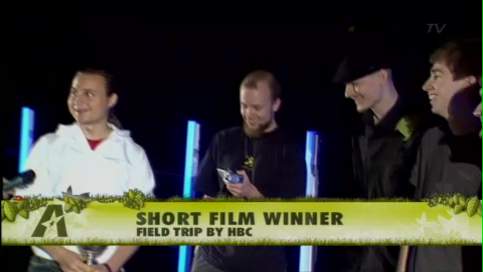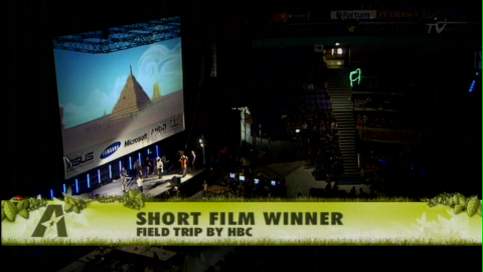 On Friday there were the traditional sports compos: CD and disk throwing and soccer. I used to go see them every year, but they always look the same so I no longer do. Arriving at early afternoon probably wasn't the best idea, because there wasn't much to do and the shortage of friends made for a boring time.
There was also the Megascreen sponsored by N-Gage, which meant that everyone at the arena level was told to point their computers to a specific website and enter the coordinates of their computer place. Then every monitor was turned to a "pixel" of a huge screen, which displayed demo-like effects and advertised N-Gage. It was pretty cool actually, if you don't count the dorky announcer. One of the randomly selected participants won a Hesburger "dinner" with the said announcer.
The fast music compo was mostly really bad, though there were a few impressive entries too, which sounded like real music. The quality of the fast graphics compo was as a whole higher than last year and most years. Extreme music compo presented a variety of platforms, but wasn't very memorable. Most of extreme graphics were executable entries, with a few C64 pictures, some Amiga pictures, one B&W ANSI (sorry Unssi, but there is still no such thing as "block ASCII") and my EGA pixel picture. A picture featuring an Amiga ball and a girl who was apparently too poor to buy clothes stole the attention, perhaps not a big surprise.
Altparty presented a seminar about "avant-garde video art", which unlike the other seminars was held in the oldskool area. I found it very dull, mostly because the two researchers/artists that had been arranged to offer a view outside of the demoscene were really bad speakers. I didn't like their videos that much either - the videos of his that nosfe presented were more interesting.
The 4k intro compo was alright, though not as good as it has sometimes been. Some really stylish entries and some with more traditional coder design (including cubes). Oldskool demo compo only had four entries. PWP had a new VIC-20 demo and Byterapers had made a really epic DOS demo (featuring the aforementioned Amiga chick and another, much crappier titty picture). X-flies was a textmode demo, essentially a joke prod with an X-Files theme. Unique etc had a solid Amiga demo, but the organizers messed up and it was played with one stereo channel completely missing.
On Saturday the program started a bit earlier than usual with the music compo. On the good side there were loads of variety, not just movie soundtrack tunes. Genres such as reggae, funk, speed metal, house, blues, rap, new age and opera were featured, as well some less usual instruments like mandolin and trumpet. A few of the tunes were total crap though, something I could have never imagined being played at the Assembly bigscreen. At least two were of the kind that you didn't know whether to laugh or cry.
The graphics compo didn't offer that much variety. It was pretty good as a whole, but with some totally crappy entries as well. There were no completely analogic entries and not much 3D or photo manipulations, but more vector than in last year's freestyle graphics compo.
The real wild compo was the only compo that didn't seem to suffer from being combined from two compos. There were still only a handful of entries. No JavaScript demos this year. Evoflash's Flash demo stood out, even though it wasn't as stylish as some of their previous demos. I also liked Hedelmae's demo, which was a tribute to their former member Skybax who died as a result of violence in 2007.
After that we would have gone to Boozembly, but the weather was really bad, so we skipped it. The first prize giving ceremony was late, as they always are at Assembly, but even more than usual, almost an hour. That didn't stop Abyss from trying to pretend that he is a really good and witty speaker (which he is not, and the more you try to be, the more you fail) as well as now speaking in both Finnish and English to prolong the agony of the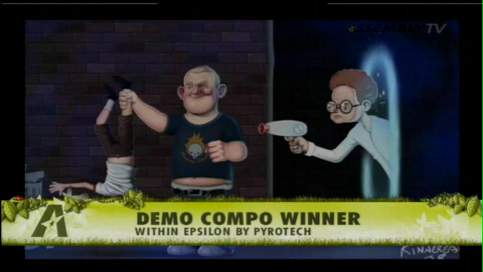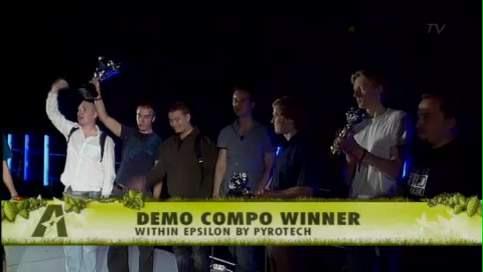 audience. He also insisted on asking plenty of clever questions, like "How did you win this gaming compo?"
The wild compo had been scheduled to begin right after the prize giving ceremony (talk about more failures that could have been foreseen), so it was already an hour late. According to the bigscreen it would start soon, but then the organizing made the wonderful decision, competing with the compo changes as the worst decision in the history of Assembly, to prioritize the CS compo (which was shown on the bigscreen) over the wild compo.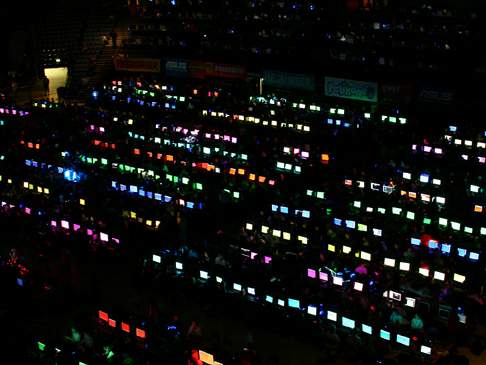 So we had to wait for almost an hour for the CS compo to start and then the compo lasted for over 1.5 hours. Thus the wild compo started only 3.5 hours late. You can guess whether the organizers even apologized. Meanwhile I had gone to the rave to listen to Takomo play their breaks gig. There were only a few people present. One guy was dancing wearing a horse head.
The wild compo was luckily much more tolerable than most years, with no Matrix parodies (only a 3D rendered ninja movie) and the "home video" entries weren't too bad. Tekotuotanto, a group known for their crappy homevideo parodies, presented something different in the form of a compilation of time lapsed explosions filmed with an expensive camera. Maxon's group Half-bit Cheese really stole the compo. First they had a very simple entry consisting of animated squares. It turned out to be just an "intro" to their real entry, which was a very impressive and groovy 3D animation.
The 64k intro compo was quite a letdown save for Fairlight's entry. The demo compo (which only started about 15-20 minutes late, to the organizers' credit) was even less impressive. The number of entries, six, was probably the lowest ever. All the demos were enjoyable, but nothing really outstanding. It seemed like everyone had a different favorite among them. Me, I was mostly trying to keep myself from falling asleep.
After the demo compo we packed up our stuff and left. I didn't come back on Sunday as I usually do, as I was completely fed up with the party and besides the weather was very bleak. I didn't even bother watching the prize ceremony on Sunday. I knew that those entries who really deserved to win, would win anyway, as they did.
Maija "DiamonDie" Haavisto
Thanks to Abyss of Future Crew for letting us use some snapshots from Assembly TV.