The Dutch scene vs Outline
A 100% Dutch article starring Havoc of Lineout and co-starring Skrebbel of Matt Current, Okkie of Limp Ninja
and Maali.
Produced by Magic of Nah-Kolor
Prologue
I had my share in visiting dutch parties. But not in recent years though. For the older sceners among us: Prime '92 by Mirage, Somewhere in Holland 1993+1995 or the infamous Legend Holland is Ok party 1993. Recently I got the idea to attend a Dutch party again. It would have been DemoZone 2008, which should have been held at 7, 8 and 9 November 2008. I even wanted to release Hugi #35 there and hand out free Hugi CDs (of course with the title picture printed on the CD). But god decided otherwise because Solenoid, the main-organizer of DemoZone, got some private problems and unfortunately DemoZone got cancelled. Let's hope everything goes well with Solenoid, and DemoZone can go through in 2009! Originally this article would have been about the dutch scene and DemoZone. It would have been a shame to throw the entire article in the trashcan so a few days before finishing Hugi I came to the idea to replace DemoZone with Outline and try to finish the article anyway. After all the Dutch scene part of the article would not have to change. Luckily Havoc found and created some spare time and here we are. The dutch scene might perhaps be small, but it's very much alive! This article is split in two parts, first it will inform you about the Outline party and then will give you some information about the Dutch scene.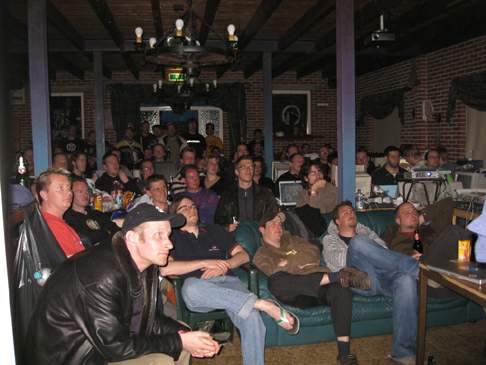 Outline
Magic:
What is Outline and where does the name originate from?
Havoc:
Outline is the biggest and longest running Dutch multiplatform demoscene party, which in its original form was organised by members of the Atari demogroup "Lineout". Besides the obvious link with the group name, another reason to choose the name "Outline" was to symbolise the link with the former "Error In Line" party in Dresden, Germany.
Magic:
What can you tell us about the history of Outline?
Havoc:
In 2004, it became clear that the organisers of the Error In Line party would not be organising another edition of their event, which up to that point was the biggest and most influential Atari scene party. To provide an alternative, the members of the Lineout group decided to organise an alternative party in Holland. The Atari scene embraced the initiative from the start, but most other sceners preferred to go to Breakpoint (which was organised in the same weekend). In 2006, Outline was for the first time organised on a different date, and since then has developed into a true multiplatform party with over 100 visitors. The amount of releases has traditionally been high compared other similarly sized parties.
Magic:
What kind of locations has Outline been held at in in the past?
Havoc:
The word in Dutch is "kampeerboerderij", I'm not aware of a correct translation of it. Basically it's a farmhouse converted to a group accomodation. There's quite a lot of places like this in our area, and for our purposes they're well suited: we only need to bring in some technical equipment, all usual commodities such as beds, chairs, tables, kitchen equipment, etc, are included in the rental fee. Another advantage is that we don't need to get permits from local authorities, it is legal to organise a party at such venues under the partyplace owner's permanent license.
Magic:
Do the Dutch parties of today differ from from parties of the same size and magnitude abroad?
Havoc:
Yes, but the differences between parties in other countries is usually just as big, they are all unique events which I'd love to visit (except for maybe a few where I had bad experiences previously). From discussions I had with foreign party organisers, I get the feeling that we are doing a pretty good job at minimizing overhead, both financially (for Outline it was under 5%, for Demozone it might be a little higher but not much) as well as practically (little or no internal debates, a clear focus on getting things done rather than theoreticising ideal solutions).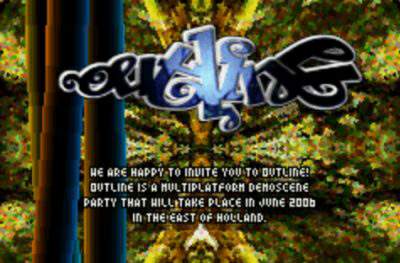 Magic:
Looking at the Dutch party history, where does Outline stand at the moment in your opinion?
Havoc:
Outline is the only remaining multiplatform demoparty in the Netherlands. There have been bigger multiplatform events in the past, but that was a long time ago, and these events were much more locally oriented. Outline has well over 50% foreign visitors, from all over Europe and in some cases even further away.
Magic:
What is the relationship between Outline and party invitations? Please comment.
Havoc:
We have a tradition of releasing many invitations, sometimes up until the last moments before the party. The late releases were in some cases caused by me not finding enough time to finish my graphics besides my main organiser duties, and sometimes rather intentional. We are looking forward to continuing this tradition, so far it has really helped us to create the right atmosphere before the party-people like to see some commitment, apparently.
Magic:
What are the most known productions released at Outline in the past?
Havoc:
We haven't done any research in that direction, but I personally have fond memories of releases by Wamma, Dead Hackers Society, Paradox, BDSE, Checkpoint, Guideline, gwEm, Flaming Marshmellows, TSCC, Inque, and everyone else who competed in our competitions. :-) (Realtime Generation invitation demo by Fairlight, ASD and Alcatraz is the first release I thought of :) -ed)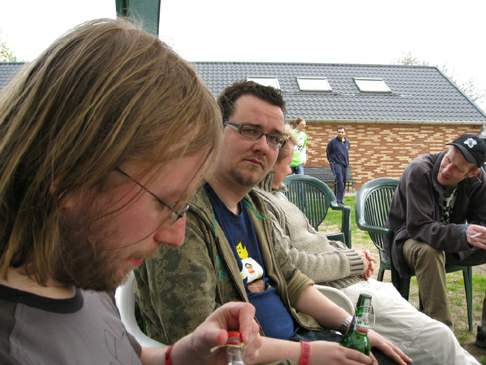 Magic:
Havoc, as the father and central orginizer behind Outline, how do you see Outline's future?
Havoc:
Positively, without a doubt. At this moment we have not yet announced our plans for the future publically, but behind the scenes we are working hard to ensure the tradition will be continued.
The Dutch Scene
Magic:
In your opinion which sceners and groups shape the Dutch scene today?
Havoc:
In my mind, it's a collective effort. Limp Ninja is probably the group with the highest amount of releases, but it hardly comes as a surprise given the amount of members they have. Inque is the PC group carrying the biggest burden of expectation at this moment. I'm personally also very fond of Guideline's attitude and method of operation - among local friends, they get their demo done, have fun while doing it, and do not ever look back at the compo results in anger - no matter how drunk the voting was. Gotta respect that. This is how I started back in the 80s, and it's just great to see it can still work today. My own group (Lineout) is the only remaining active Atari group in Holland, so I guess one could argue we shape that scene all by ourselves. But it's not much of an achievement to shape a scene of 4 guys, I guess. Similar Pyrrhus victories have been achieved by other groups in smaller scenes, with the possible exception of the C64 and MSX scenes which are still going relatively strong, it seems.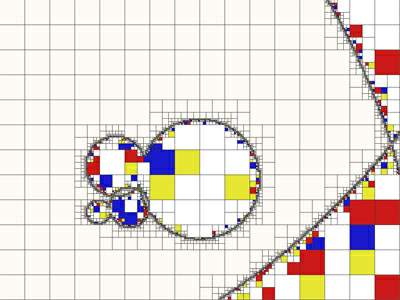 Okkie:
Well, this question is difficult to answer! Of course the big players like Guideline and Limp Ninja shape the Dutch scene to what it is today, an exquisite and diverse platform of digital art and craft. But let us not forget the many, many smaller groups that are hammering on the road. Groups like The Flaming Marshmallows and The Inapplicable Toothpicks! (Expect their first big demo at Breakpoint 2009!) And then the people, let us not forget the people! People like Havoc, Shifter, Skrebbel, Bruce, Avoozl, Numtek, TheBat, Beta, Izard, Glow, Warp, D-Force, Earx, Renhoek, Tinker, Robert, Inopia, The_Ye-Ti, LarstiQ, Rob (van Aardbei), Neo, Jay, Tycoon, Bassie, Ile, Sjaak, Maali, Freebase, Redhound, GeC, TMC, Zaxe, Blasty, Sharky, Mlein, that other guy from Flaming Marshmallows, Sweex, Deadline, Sjaak, Jace, Balance, Nix, Tim, Harlequin, Mr Crash, Ravity, Scout, Alpha C, TRC, Sander and all the others.. they make the Dutch scene to what it is today!
Magic:
What's the status of the Dutch scene compared to the rest of the European demoscene?
Havoc:
We're small in numbers, but prominent both vocally and organisationally. No other country with a scene this small has such a strong presence at foreign parties, and two "Breakpoints of their own scene" (X and Outline) at home. Scene.org, while an international organisation by nature, has strong Dutch ties. And we have Okkie, so everyone likes us by definition. The only thing that's missing at this moment is more releases. But we're working on that. :-)
Maali:
A lot of the other European scenes are a lot more productive and active lately. Probably the Finnish and German ones the most. We're definitely in the lower region compared with the rest.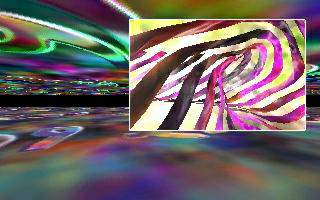 Skrebbel:
Well it's tiny and slowly dying a painful death. Like all national scenes, really, except that some were bigger when things started shrinking so people noticed less. That said, I'm pretty sure that the hardcore few who's here right now are going to stick around quite a bit. The demoscene is now at a point where recruitment is low but we all just happily get older together, and we all seem to be fine with that and enjoying it. I wonder about the average age at Breakpoint, in fact. Some survey would be cool.
Okkie:
A lot of people think the Dutch scene is dead, but this is far from the truth. We are more active than ever! Not as much in making demos, but more in, well, doing other eh.. things.. I'm not sure what. :)
Magic:
Unfortunately DemoZone 2008 has been cancelled. What are the other most important parties in Holland? What can you tell about them?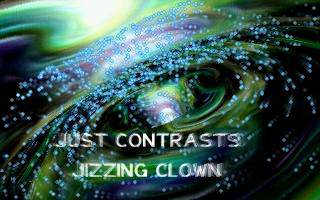 Havoc:
X party is one of the highest profile C64 parties on the planet, both in numbers as well as in release quality. It's also the longest running party series in the Netherlands. But it's more aimed at the general C64 audience than at the Dutch multiplatform scene. The number of visitors showing up every other year makes it impossible to argue against that choice of focus, though. Up until 2005, pretty much the same story applied to Outline. However, since Outline opened its doors to non-Atari sceners in 2006, the number of visitors has more than doubled, and the competitions saw a fair amount of multiplatform releases besides retaining their status as the most prominent ones in existance for the Atari 16/32 platform.
Skrebbel:
Outline. As one of the organisers for many years, I would recommend everyone to come. Outline isn't so much a classical Dutch demoparty - it's been very international from the start and has been having a very different atmosphere than the other Dutch demoparties, including Demozone, have been having ever since I can remember. Being originally an atari party, Outline draws all kinds of very passionate oldschoolers to Holland who typically don't show up on many other parties - the cool extra here is that there's absolutely no platform wars or grudges; quite the contrary, the PC sceners very much enjoy and sometimes even support the Atari compos, and the Atari sceners enjoy and support the PC compos just the same. There is not really a boundary or a separation of the group. This odd combination makes Outline have an atmosphere which is truly and honestly demoscene. That demos are cool and that there should be more of them.
Maali:
As far as I know for PC sceners there is only Outline left. Since it is the only one, I assume you can call it rather important. I should've checked X 2008 out as well, after all who cares about platform specificness these days anyway?! But as lotsa Dutch blokes were heading for Finland around that time or not planning to go I decided not to as well. Although originally Outline was an Atari-only party, I think Havoc made the right move to lure in other sceners as well to give it more significance and rather important for the local scene.
Magic:
In your opinion what are the most important all-time Dutch releases and why?
Havoc:
For me personally, it's probably the Synergy Megademo. Synergy was by far the most innovative Atari ST group that existed in Holland, and they had Scavenger's enchanting chiptunes backing it all up. Stash (and Jizz) by The Black Lotus have to be mentioned too. Not only because of the impact they made upon release, but also because this was the best way Jace could punish me for years and years of belittling PC demos and groups originating at our local secondary school. Having worked with some C64 people, I have been drilled to mention "Dutch Breeze" when it comes to classic demos. But in all honesty, it has since been beaten in every imagineable aspect by other C64 releases, and I lack the historical perspective to properly judge C64 demo history. The same goes for Amiga... alas, life is too short to enjoy everything :/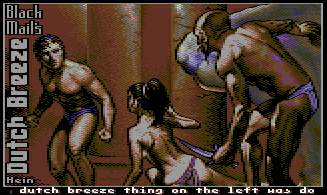 Skrebbel:
I don't really see how it matters where a release are from, in fact, and many of my favourite demos have been international efforts. However, for pure Dutch, I think that it must be Stash by TBL. Which is, by the way, also an international effort (Probe did the tune and the synth, and is also responsible for getting me into the scene in fact), but ok. Other than that, I think certain Limp Ninja demos, such as Antifact, dup xiao muhaa and 하수구, will make a lasting impression.
Magic:
How do you see the future of the Dutch scene?
Havoc:
Quite positively. Even though the time people can spend on their hobbies will probably keep on decreasing, we're now left with a bunch of dedicated individuals who are not likely to give up any time soon, and happy to provide infrastructure to new arrivals. As long as this mindset persists, the Dutch scene's future is secured.
Skrebbel:
Pretty lonely. But as long as there are parties, there will be a scene. I think we'll hang on for years to come. You never know, Inque surprised us by coming back and becoming really good. Similar things may happen plenty often again.
Maali:
I expect more of the same to be honest. Limp Ninja still being the most active group on PC, the c64 scene just doing their thing and just an occasional outburst of some old farts. And of course there is this 'demo that will rule the universe-idea' that I keep postponing till forever!!' :)
Okkie:
I think one day we will take over the world or at least win an Intel DemoCompo!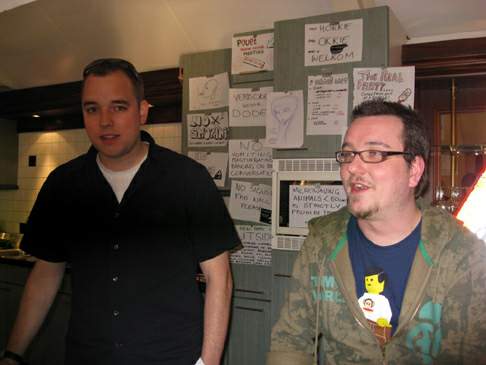 Disclaimer
For more information on Outline, especially if, when and where the next edition will take place, visit www.outline.scene.nl regulary. For more information on the Dutch scene you could try www.demoscene.nl.
Magic of Nah-Kolor