Showtime - Rebirth from the ashes
Written by Magic of Nah-Kolor
and Kaosmaster of RamJam & Scoopex
Prologue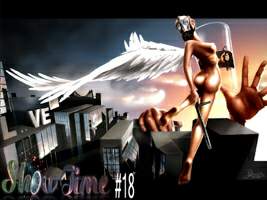 Showtime is back on the PC. This charts magazine, which was originally for the Amiga platform, has been rebuilt by Scoopex and RamJam. I (Magic) can remember I even witnessed the birth of Showtime on the Amiga. In fact I had the honour to 'manage' issue 4 myself. Not only writing and collecting articles but also for example organizing the title pic (Lazur) and music (Muffler and Dreamer). Now Koasmaster of RamJam and Scoopex is again the captain behind the Showtime PC project. Using the Hugi engine. For those who don't know Kaosmaster and never even heard his nickname here is a short introduction by Kaosmaster himself: "Who am I? Well, I am 'Scozzari Franco', also known as Kaosmaster. I work as a Production Manager for a private company. Actually I am nearly 33 years old and I have been married since 2005. In my 'spare' ;) office time I do all scene related stuff like: writing, exchanging mails with Showtime Crew and all sort of related stuff. At home, when I find some free time I read historical and fantasy books or do Military Scale Modeling concerning the second world war period."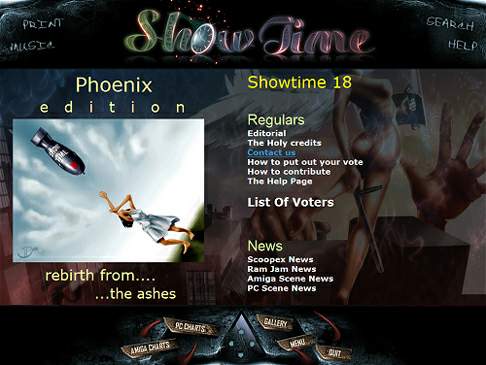 Why Showtime?
The Official Eurochart has not been officially decleared dead but kind of faded away. The last issue was released on in March 2006. It's also been a while since the last issue of Savage Charts on the PC: October 2007. Pouet.net could give a good insight on the rating and popularity of a production. It's perhaps time to ask what another chart can add to today's scene. Why did Showtime rise from its ashes? The reason for this has a more personal background than one may think: "It's quite simple. A long while before joining Scoopex I was a member of IRIS. I was writing articles while waiting for the release of the EC. But for one reason or another it never happend. With the result of the articles getting old and obsolete. Frustrated about the situation I decided to take leadership. The rest is known..." Kaosmaster explains. This might also be the explanation why there is so much (awesome) graphics work by Dr.Doom/Iris inside Showtime#18.
Showtime - Creation Process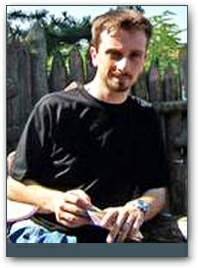 On the 15th of September 2008 the 18th issue of Showtime got released. But when did 'Project Showtime' kick off exactly? Kaosmaster explains: "Sir and I started with the first brainstorming sessions around the end of May. So the entire process till the release took about 4 months of time." When I was reading Showtime #18, I saw the name of Vega and ABCS of RamJam popping up in the credits next to Fishwave of Scoopex. Names of old Amiga sceners who haven't been active on the diskmag scene for years. What exactly has been their role in reviving Showtime? Kaosmaster explains: "I live in the same area as Vega and we often have e-mail exchanges. He is the RamJam organizer while ACBS is the first and only Ram Jam founder. Early this year Vega and I had the idea to bring Showtime back to life. In this phase we involved also ACBS whom was very excited about the project. On the other side Fishwave had a series of personal matters to follow in real life. Actually he did not play any active role, but I hope he will be operative for next issue as he his a very good writer."
Behind the curtains of Showtime
From my (Magic's) own experience I know that it's not easy to create a 'new' (charts-) magazine in today's demoscene. Unlike the old days sceners have less and less time for scening and with all websites and forums on the Internet support in the form of articles is not something one should count on in quality and quantity. Did the making of Showtime #18 go according to Kaosmaster's expectations? Did he perhaps run into any obstacles along the way in creating Showtime #18? Kaosmaster: "Not really like expected. There was a lack of support: from votes to articles. We like to consider this as a beginners' problem. This first PC issue was quite a surprise for many, also the voting system wasn't perfect, too many categories. And so on.." Showtime #18 uses the Hugi engine called Panorama, which was coded especially for Hugi and later was released as public domain. Why was Panorama chosen? Kaosmaster explains: "Why not? It was ready and it was quite powerful. Meantime we keep open also the option of an internal coded engine."
Epilogue
A few weeks after Showtime #18 was released we asked Kaosmaster what he is aiming for with Showtime today and of course what the plans are for the next issue: "First of all we will optimize the charts categories. This would make a much easier and affordable voting. Second, we will try to get new members for the editorial team. We really need some help, the duty is too heavy for ourselves. We can sum up: The plan is very simple! It's called: 'Sit down and have a look.' Yes, now we will stop and see if support and help will come in", Kaosmaster comments and continues: "I can tell you that I very much like the actual diskmags like Hugi or Zine. They are very professional. But I see a big hole in the charts area. Showtime aims there. I like to consider Showtime as a bridge that connects the scene with the past with a unique solution. You can feel this by reading it. We don't aim to have 'the best mag in town', we do it to enjoy ourselves. Showtime's contents range from the old school scene to current topics, from Amiga to PC and much more. This bridge is under continuous construction and we need more bricks to advance to the next issue. Our voice is your voice, send your bricks to: kaosmaster@ipa-spa.com ;)" Hugi wishes Showtime and the people behind it a good journey (don't let the lack of 'pro-active support' de-motivate you guys!) and we are looking forward to the next issue(s)!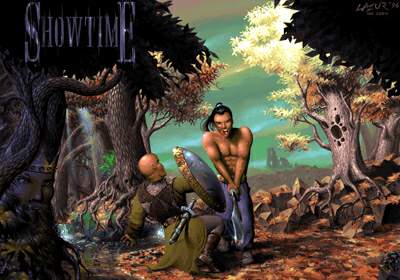 Links related to this article
Submit your vote
RamJam official website
Magic and Kaosmaster