Wattle's performance at 'ROCK-February 2006' (By Mitchell/Mostly Harmless/Hardwave/Wattle)
This is a short article about our performance at the Russian musical festival, "ROCK-February 2006" which was held in Ivanovo city.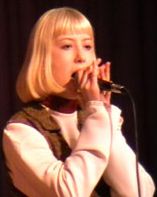 The organisers of the Paradigmus demoparty participated in the Russian Festival ROCK-February 2006, held 24-26 February in the Ivanovo city, as the music group 'Wattle'.
The jury of this festival had to listen to about 100 musical offerings from all around Russia - from the FAR EAST of Russia (Chukotka) to the very West of Russia (Smolensk city).
It was a great event for us! Yeah!
Before the trip to the festival, we passed the preliminary selection in the South Moscow region, at Serpukhov. There was around 16 entries, of which 4 were selected for the festival. The names were "Pleten" - this one being from us (Wattle), "Kolokol", "Quality of System" and "Perelom Profilja" (means something like "fracture of the profile").
Some information about the groups...
"Wattle" - "Pleten" (rus) is our folk-rock group. "Quality of System" - rock "Kolokol" - hard'n'heavy rock with superb solo-parts on guitars - "fracture of the profile" - "Perelom Profilja" - alternative music, very technical, good melodies.
We had a very funny trip (which happened at Night) on the train from Moscow to Ivanovo. The travel ended up being around 5 hours. The Guys from the "Perelom Profilja" group were very loud. The conductor of the coach was very worried due to them.
Early in the morning, when we arrived at Ivanovo city, we took our machines into the hotel room, along with all of our belongings and musical instruments.
The festival lasted for three days.
Strange, The rooms of hotel were rather cold.
The first day had alernative/extreme music compo. This was a little boring because we had to listen to around 20 groups from all over Russia. This sounded more like noise. But our friends from "Fracture of the profile" - "Perelom Profilja" sound really good, as their technique of musical-extraction and their playing was very good and professional!
The second day was more interesting! It was traditional rock. The "Kolokol" group looked the par!
On the third day we, the "Wattle" group - had our show in the catagory of "Rock in acoustic". There were virtually no other competition - as there were only four other groups. The points we recieved at the festival made us very happy. We got the rank of "Laureate" in the catagory of "Rock in acoustic". Yeah!! This was even better than 1st place!
The members that went to the festival:
Didenko Dmitry (Promus) - accordion Anshukov Dmitry (Dimedroll) - mandoline + vocal Anshukov Vladimir (Mitchell) - bass-guitar Zheludev Igor - rhythm-guitar Morozov Igor - drums Zemskova Alla - vocal
Our tour-Promoter was Tolsky Sergey.
The offical site of the Wattle is www.wattle.narod.ru. You can also check out www.realmusic.ru/wattle.
E-mail anshukoff@mail.ru, or anshukov.d@mail.ru to get in contact with us. ICQ: 230-967-019
Mitchell/Mostly Harmless/Hardwave/Wattle