reTracked #1 reviewed (Written By Adok & SacRat / Hugi)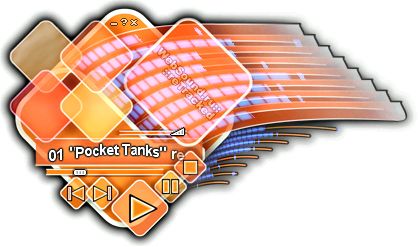 Adok> According to the Hugi #32 Charts, reTracked #1 is currently one of the most popular music disks in the Scene. For this reason, we have decided to take a glance at this music disk and review it.

First of all, the background information: reTracked #1 was released by the makers of the Internet site Websound.ru in April 2006. Websound.ru is a site which features a lot of music, and it's by far not only scene/computer related pieces. For example, SacRat has pointed me to a long list of remakes of one of our favourite songs, Podmoskovnye Vechera. All of these remakes are also hosted by Websound.ru.

While the website Websound.ru is mostly in the Russian language, the music disk fortunately contains some English notes (in contrast to postMODism #1), so I was able to read them and get an understanding of the idea behind this music disk. Basically this disk is a collection of 16 classic tracked tunes in .mod, .s3m, .xm and .it formats by famous scene musicians. In addition, there is a remake of each tune in .mp3 format. Listening to the original and remade versions, I clearly notice that the .mp3s are usually of better quality - they sound much stronger and clearer, while of course the melody is about the same. All of these are embedded in a unique GUI.

According to the credits, the idea behind this music disk came from Alexander Radzishevsky a.k.a. Aradzish. The project was coordinated by dendra (Alexander Slepenkin) and zipp (Eugeny Dachenko). The GUI and player were developed by one of my personal favourite coders - Dmitry Andreev a.k.a. AND (the man who created a 64k intro all alone - code, graphics and music - and won first place at Assembly with it).

The original tunes were composed by Alexander Las, C.C.Catch, Deep Sound, DNA-Groove, Elwood, Falcon, Karsten Koch, MyVoice, Noisyman, pOW, Purple Motion, Radix, Siren, Tempest and Vibe.

The tunes were remade by AG, Alex Job, cluster, D.Copy, Manwe, Sever, Svyatoslav, "The Miracle" band, Tone, Waybe, WhiteLake and zipp.

The titles of the featured tunes are:

01. 'Pocket Tanks' (DNA-Groove / Alex_Job)

02. 'Invisible Space' (Deep Sound / D.Copy)

03. 'Sun Jammer' (Radix / The Miracle)

04. 'Flying High' (pOW / zipp)

05. 'Cosmic Outflow' (Falcon / WhiteLake)

06. 'New Beginning' (Purple Motion / Manwe)

07. 'The Last Ballad' (Siren / D.Copy)

08. 'Stereo Waves' (Noisyman / WayBe)

09. 'Sacred Grounds' (C.C.Catch / WhiteLake)

10. 'Zen Bowling' (Tempest / Tone)

11. 'Community' (MyVoice / Cluster)

12. 'Leaving All Behind' (Karsten Koch / Sever)

13. 'Sick On Monday' (Elwood / Svyatoslav)

14. 'World Of Plastic' (Purple Motion / Manwe)

15. 'Human Essence' (Vibe / AG)

16. 'Alice's Lullaby' (Alexander Las / Alex_Job)

All files are stored unpacked and unencrypted, so it's possible to listen to them using any player of your choice; you need not use the player supplied along with the music disk.

The total playback duration of the original tunes is 1:00:43, and of the remakes it is 1:04:02.

The Windows-based interface is simple, easy-to-use, playful (with features such as custom window shape, transparency, sine scroller etc.) and cute. It would go too far describing it here in detail - simply take a look at it yourself.

Let's now take a look(?) at the individual tunes!

SacRat> Sooth to say I've never heard some of the tracks represented here but still it was interesting to compare them to the originals.
01. 'Pocket Tanks' (DNA-Groove / Alex_Job)
Adok> The remake of this game-music by the Israeli musician DNA-Groove is not exactly a chiptune, but it features some elements I'd call "chippy" (arpeggio) - or at least it sounds like this. In general, the tune creates a happy mood and is a good "welcome" tune. In the original tune, the "chippy" elements seem not to be there, and the sound quality is much worse IMHO. Only thanks to the remake, this tune is really enjoyable. So, good job Alex_Job, I'd say!
SacRat> The new version sounds very similar to the original. The only difference I could notice from listening to both tracks for a couple of times is a more polished sound of the remastered edition.
02. 'Invisible Space' (Deep Sound / D.Copy)
Adok> This is a dreamy tune with a strong beat that absorbs the listener totally. In contrast to the former tune, the original also sounds good this time.
SacRat> This one is completely different. While the original balances between classical demo sound and Russian pop music, the remix has a completely different sound. With piano at the first place and powerful electronic background it reminds me more of instrumental tracks of Robert Miles and the like than a tune of DeepSound. Great Job, D.Copy!
03. 'Sun Jammer' (Radix / The Miracle)
Adok> Radix is one of my favourite musicians because of his optimistic, good-sounding tunes, and this one is not an exception. Playing the two versions in Winamp I'd even say the original tune sounds better than the remake for the remake contains some annoying noise sounding like "bump". However, this noise doesn't appear when using AND's player which is supplied with the music disk. The remake is a bit longer than the original tune and features vocals. All in all, both versions are enjoyable.
SacRat> Another track with classical tracker sounding. Don't really know if the retracked version is better or worse as it's just too different. Demoscene sound has gone completely, solo synth has a more straightforward sounding, background has gone to a break loop... If Radix' version has been mostly a ballade, this one is definitely targeting the dancefloor :)
04. 'Flying High' (pOW / zipp)
Adok> A mildly optimistic tune that made me fell like I were in stress and had to see to it that I manage to get out. The remake is well done; it basically sounds like the original tune, but it's more powerful.
SacRat> What can I say here? zipp rocks! While retaining the original song's idea he has widened its sound and edited it to make it sound really modern. I don't think I would be the only one to say that the cover version sounds quite close to the works of J-M Jarre.
05. 'Cosmic Outflow' (Falcon / WhiteLake)
Adok> A very rhythmic, rather fast tune that keeps you stimulated.
SacRat> Cosmic Outflow by Falcon is a definite classic of tracker music, so while dealing with it the cover makers should be twice as accurate. Sooth to say I didn't like the renewed version too much. It's not bad, quite the opposite, but I loved the sound of Falcon's original track more.
06. 'New Beginning' (Purple Motion / Manwe)
Adok> The beginning has reminded me of "hiding deep inside" by Steffo/Cryonics, which was used in Hugi #23. A gentle, rather slow tune that could also serve as background music in a diskmag.
SacRat> Purple Motion is one of the classics of the world demoscene and Manwe is a living legend of the Russian scene. The result of their works are also excellent. The old overcompressed tune has got a new life. It's probably not the exact way Purple Motion would have liked it to sound but it's an excellent interpretation of its own.
07. 'The Last Ballad' (Siren / D.Copy)
Adok> Finally a tune with a piano part (these are my favourites, probably because I only play the piano myself)! Similar to the previous tune, a slow and majestic piece that is good to relax and get a feeling of having accomplished something.
SacRat> Another interesting track in interpretation of D.Copy. He didn't even try to copy Alexander Brandon's sound but instead just polished the composition and gave it a new sound.
08. 'Stereo Waves' (Noisyman / WayBe)
Adok> A strong sound of the instrument that is called "wood" in my Yamaha Clavinova CVP-70 smashes my face. The melody partially sounds a bit Eastern Asian, but it isn't. Not the best song on this disk.
SacRat> While re-listening to the original I was sure it would turn into somewhat disc-like in the cover-maker's hand. To my surprise the result is absolutely different. Noisyman's track with clear electronic groovy sound has turned into a medieval battle song with the help of WayBe. If you've ever heard Apocalyptica or Gregorian cover versions of the tracks you're familiar with you'll get the idea. These are just two absolutely different things. Even such a retrograde like me must notice that the idea (and the result) is excellent.
09. 'Sacred Grounds' (C.C.Catch / WhiteLake)
Adok> Guitars, guitars... The beginning is boring, far too slow, and it doesn't get much better. I like the original tune more because it's shorter.
SacRat> No surprises here. WhiteLake has just polished the sound and made it look more modern. If you liked the original track, you will like this one too. Solid work.
10. 'Zen Bowling' (Tempest / Tone)
Adok> Not bad, but it doesn't touch me, either. Is it just a coincidence or have the creators of this music disk deliberately grouped the tunes so that the best ones come first and then the not-so-good ones come?
SacRat> Tempest's work is one of the samples when the melody might be good but the chiptune sound can make crazy any even its fan in just few minutes. Out of this noise (with the help of Tone) a new dance song has been born. Now anyone can show the tune to people not familiar with chip music without having to fear to torture the listener's ears. Selecting between two versions I definitely vote for the new mix :)
11. 'Community' (MyVoice / Cluster)
Adok> This tune by MyVoice, who was also responsible for the main tune of Hugi #27, is a relief: At least some (i.e. more than zero) tunes of the second half of this music disks are good. Powerful, entertaining, absorbing, catchy.
SacRat> One more classical track: electronic background with a clean solo instrument in front which is good by itself. Cluster's interpretation of it differs the same way the music of early 90th differs from today's groove songs: it's louder, more dynamic and more modern overall. Great work.
12. 'Leaving All Behind' (Karsten Koch / Sever)
Adok> The celesta vibes and the melody at the beginning of the remake make me think of my childhood memories ("David der Kabauter"). A nice, mellow track good for relaxing (if you don't consider the passages when it suddenly gets a bit louder). I like it! The samples of the remake are better than the samples used in the original.
SacRat> Another attempt to polish the sound of the original. Sever's version is probably more suitable for today's listener: overall it's still the same tune with a richer sound and good modern arrangement. String inclusion is a really nice turn by Sever.
13. 'Sick On Monday' (Elwood / Svyatoslav)
Adok> A good, rhythm-centered tune that encourages dancing. The original already sounds very good, the remake even better.
SacRat> With a different beat and smoother sound it's more like a different vision of the same track. Still its energy is nowhere compared to Elwood's tune.
14. 'World Of Plastic' (Purple Motion / Manwe)
Adok> Yet another nice, rhythm-centered, techno-ish tune that may be suitable for dancing.
SacRat> Another Manwe interpretation of Purple Motion's track. Solid work, remaining the feel of the original although there's too aggressive background for my taste.
15. 'Human Essence' (Vibe / AG)
Adok> This one is rather melodic. The quality is about the same as of the preceding tunes, i.e. it's worth listening to.
SacRat> Just a solid arrangement featuring richer sound while being careful with the original. You'll definitely like it if you don't expect anything special.
16. 'Alice's Lullaby' (Alexander Las / Alex_Job)
Adok> Melodic again, and heavily guitar-oriented. It develops a strong, majestic sound that makes you feel proud (this effect is stronger than in any of the other tracks of this disk). A powerful piece of music and a good choice as ending tune.
SacRat> After listening to the cover track for a couple of times I've understood that it definitely lacks voice. With vocals added it could become a calm pop song. And yeah, the result is well-done although you might have already guessed that ;)
SacRat> So what should I say at the end? The disk very is interesting and might be recommended to people not familiar with tracker music at all. For old fans it might also be interesting to compare the arrangements with the originals or just enjoy the renewed sounding of classical tracks. I really hope that positive feedback will encourage the reTracked team to continue their work.
Afterword
Adok> Manwe/SandS has asked me to include a few words into the review (don't worry, he asked me this even before this review was written - he didn't exert any influence on the opinions expressed here *grin*).
Manwe: "If anyone wants to take part in reTracked vol.2 project, he should drop a line to me: manwe@demoscene.ru. Also we want to record real CDs (not commercials, just minimal price) if we get 300 preordes. So, you can click the 'websound' logo in the shell to be redirected to the project's website, where the preorder procedure can be made."
Adok & SacRat / Hugi