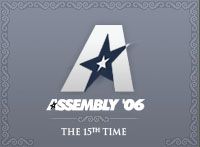 The 15th ASSEMBLY event!
3rd to 6th of August 2006
Hartwall Areena, Helsinki, Finland
Join us for the coolest event of Summer 2006 - the 15th event! Since 1992 ASSEMBLY has been one of the most respected, largest and well organized parties in the world. The tradition continues this year with our 15th event - ASSEMBLY '06 taking place at the Hartwall Areena, in Helsinki, Finland from Thursday 3rd to Sunday 6th of August 2006.
Hartwall Areena will once again be the home to 78 hours of nonstop action from Thursday noon to Sunday evening. We will rock the place with over 5000 people, great competitions, quality seminars, an outstanding program and much, much more. Come and join us for our 15th event - a party not to be missed!
When we started in 1992 the organizing committee did a marvelous job in creating an unprecedented 700 people demo party in the Nordic region. Finally the Finnish and the European Demo Scene has a truly great Summer Party. Superb releases came out from the ASSEMBLY parties and even greater memories were made for everybody who attended.
A lot has changed since. And a lot remains the same. ASSEMBLY is at its heart a demoparty, created by demosceners for demosceners. That is what the party is today. ASSEMBLY is open for anyone, and we welcome the chance to educate people on appreciating the marvelous works of art created by the ingenious, mad, bewildered, inspired and otherwise truly outstanding sceners worldwide.
Come to ASMEMBLY to see thousands of monitor shutting down when the competitions start. People will be watching your demos, your graphics, listen to your music and applaud you for doing what only the talented few can do. Make your dreams a lucid reality for thousands and thousands of people to experience.
Come to the party, in which the competitions from previous years has given you such legendary demos and intros as Unreal, Second Reality, Stars - Wonders of the World, Sumea, Machines of Madness, Boost, Lapsuus, Gerbera, Humus 1-3, Zoom 3, Halla, Variform, Liquid...wen, Ix, Dreamchild, The Prophecy, San Angeles Observation, Iconoclast and Instant Zen.
ASSEMBLY is back for its 15th event. Be sure that this year, the competitions will continue to be of the highest quality! We want you to be there to make your Mark!
You know the drill. Get your ass over to Helsinki, enjoy our hospitability, soak in the sun, crunch to finish your competition entries, and listen to roar of the crowd as you pick up your prize. Or just chill out, listen to some great seminars, meet some funky people and unwind. Whatever is your thing, ASSEMBLY'06 is the place to be.
The best party of summer 2006 is coming. Be there.
ASSEMBLY '06
The 15th ASSEMBLY event!
3rd to 6th of August 2006
Hartwall Areena, Helsinki, Finland
For more information about Assembly, cometitions and their
rulez look at: