- - --=[ SCENEBITS 31 ]=-- - -
.:( New Scene Mags ):.
In February 2005, short after Hugi 30, Becanne #4 was released - a PDF magazine about the demoscene. While previous issues were in Spanish, this issue is in the English language. Some pages with a fancy layout are awaiting you; the spelling could be better. Humphrey has announced not to continue editing Becanne - if you want to take over, you must contact him. www.becanne.net
In May 2005, Alive #10 was released, a diskmag for Atari ST with a good overall level of articles. The online edition can be read at alive.atari.org.
In August 2005, the 1st issue of Kubika was released. It's a web-based scene magazine that is available for online reading only. It includes articles on the PC, C64, and Amiga scenes. www.kubika.dk
September 2005 was the month when the first issue of SCEEN saw the light of the day. It's a paper magazine about the demo scene and other types of computer art such as VJ or machinima. The 72-page color magazine is published by a German publisher in the English language. Each issue is EUR 6.50 within Germany or EUR 7.50 for people living anywhere else respectively. New issues are supposed to be released four times a year.
The Russian diskmag Incube #2 was relesed on 23 Oct 2005 and impresses with a novel way of transition between text pages. Text pages are printed on sides of a cube, which rotates when you flip.

---
.:( Bridgeclaw's homepage ):.
Bridgeclaw's new homepage has opened at www.henningludvigsen.com. There you will find a lot of his artwork and several useful painting tutorials.

---
.:( Acumen's photogallery ):.
You might know him as being a musician in the demo-scene, but in the past years he's also taken a keen interest in photography as well. Dig in to his second photogallery which has over 100+ brand-new, individually edited and post-processed photos. Each one, according to the author, was hand-selected from over 5000 photos taken with his new equipment based on the Canon 20D dslr-body. www.milankolarovic.com

---
.:( Birthdays ):.
The Northern Dragons celebrates its fifth anniversary January 12, 2006. The group would like to extend a heartfelt thanks to those that have supported us over the years, and greet our friends and members across the pond. Visit www.northerndragons.ca early in the new year to sign our celebration guestbook.
The IN4K web portal goes live on (or near) October 31st, 2005. This is the first web portal dedicated to fostering the 4kb intro community. Check out http://in4k.untergrund.net/ for unique articles, tutorials and tips. Contribute your articles and techniques to the scene! (Polaris)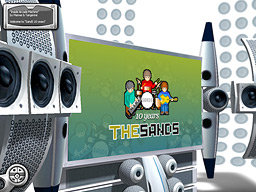 The Russian music group The Sands have also celebrated their 10th birthday.

---
.:( Bitfilm ):.
The sixth Bitfilm festival for digital film culture will take place in Hamburg, Germany from November 2 to 6. The organization Digitale Kultur e.V. will support this event, making a demoshow possible. 11 demos will be displayed on 4 screens in the Mandarin Kasino at the Reeperbahn in Hamburg. The winner will be elected by the auditorium using SMS.
---
.:( Freax ):.
Freax #1 has been released and sold at various demo parties including Assembly, Evoke and Symphony. Now Tomcat is working on Volume 2, which is planned to be released at Breakpoint 2006. "If we run out of both volumes, a second edition of both volumes will be published, as a single 500 page volume, as far as our plans go. That can be expected for Assembly 2006.
Still nothing was decided about Volume 3, the Freax Art Gallery. It might come out along with Volume 2, or later, with the second edition, also as a bundle. We will see. It might even happen that we'll incorporate it into the big Second Edition, but that'd probably end up in a book too thick for bindery."

---
.:( A book on pixel art ):.
Ensellitis is getting together a book about pixel art, focusing on tutorials. He has gone through thousands of tutorials already, but he's still looking for good tutorials and illustrations. Especially tutorials for oldskool pixel art (like C64 graphics) would be greatly appreciated. He has also set up a contest for the front cover of the book, the winner will get a DeviantART subscription (or $30 worth of stuff from the DeviantART store), the piece printed in the cover of the book (with proper credit of course) and a copy of the book. See news.deviantart.com for more details. (DiamonDie)

---
.:( Altparty ):.
There won't be an Alternative party next year (though with luck there could be an Alternative Stork, the less formal social gathering), but the organizers have decided that there will be a new one in 2007, though the date and location will be decided later. (DiamonDie)

---
.:( Matt Current ):.
Rumour has it that parts of Matt Current are currently working on the initial production stages of a pan-media art piece that will be displayed as the sole piece of a digital arts exhibition in Kiasma (a museum of contemporary art in Helsinki) in 2006.

---
.:( Metalvotze ):.
The infamous German demo group split up into two groups named Kackvotze and Goldvotze respectively. The reason of this split seem to be quarrels regarding commercial tendencies of part of the group. Kackvotze consists of Drago MacKayb, Fieser Wolf, Syntax, Ragnarok, Toxie, Conflict and Freeze. Goldvotze are Bitbreaker (group leader), Nitro and Widdy. The other members haven't been sorted to either party - "they're inactive anyway", says the Metalvotze website.

---
.:( Music ):.
Titan released their 1st chip disk on 9/9/05. It includes more than 30 tunes. Also CoolPHat released a music disk, it is their 6th one and a new one will be worked out these days.

---
.:( CoolPHat ):.
CoaXCable[CPH], founder and main organiser, got back to the "scene" after being ill for a while and his situation got worse, like it happened before. Yet for now, he is active and back to working with the team.
An Ascii maker/artist named COH joined CoolPHat after being in other art teams for a long time; some even said he'd been inactive.

---
.:( Adverts ):.
hi, im from a new demogroup called the lone rangers and i need a lil help from you, we are looking for a gfx artist so if you could have an ad in hugi to help us, just give them my mail, or if you know anyone looking for a group could you tell him, thanks!
zukko <zukkogsx@gmail.com>