Writers on Writers PC edition
Assembled by Adok
Coders can't code about coders, composers can't compose about composers, but writers can write about writers. So did various Amiga diskmag writers in Hugi 19. Now it's PC writers' turn.
In the PC scene there isn't a small writers clique that writes almost everything that appears in diskmags, but there are lots of people who occasionally contribute. This article hence just covers editors and regular writers in international scene publications.
Adok/Hugi
Main editor of Hugi.

Baloo writes:
Adok is dangerous, for is own health. He writes long articles, so long I guess he stays up weeks in a row just to finish them. He is a serious writer and he writes about various subjects
D-lee writes:
sometimes boring, but every time he can got the essence very deeply. great that he writes about politique aswell.
Gekko writes:
These days Adok is the most well-known writer on the PC demoscene without doubt. It must be a great effort (and a great deal of time...) to organize and run Hugi. I consider him rather to be an editor than a writer; although his non scene-related writings (eg. the stories in the 'miscellaneous' section of Hugi or the advertisement stories about upcoming Hugi issues) showed to me that he has good abilities as a writer. Besides he uses a fine English language and he does not use smileys.
Melwyn writes:
Prophet of the diskmag scene? Well.. perhaps not, but at least Adok writes articles which are literally pleasent to read - I bet he checks every word from a dictionary if not sure how it's spelled. :) Perhaps also a bit too formal writer for my taste, everything doesn't have to be so serious.
Morph writes:
Being Mr. Hugi to the scene and most often - in the few charts for writers there are - being ranked number one, one perhaps should take for granted that he's a good writer. Actually I think most people voting for him does so because of his magazine, not because of his writing-skills. Still, I think he's a very good writer, one of the few on the scene always writing things that keep my interest. He's got a good language and a good structure of his writing. He investigates his topics closely and doesn't seem to rush or be careless with any articles, something that seems to be uncommon on the scene today. He has grown in maturity through the years, but still, I once in a while think it shows that he is only 16. Together with ps the one who motivated me to start writing for diskmags.
Seven writes:
His grammar and vocabulary are above average, although that's of course a "conditio sine qua non" for a main editor. He writes a lot, but not all his articles are equally interesting, especially when he has written say 6 out of 8 articles in Hugi's diskmag-corner. Most of his articles are serious and humorless, which is a shame because he can be funny if he wants to (see Demoscene RPG manual). Or maybe he has just a weird sense of humor that people don't understand, remember the Prophet thingy.
Tryhuk writes:
I take him more as editor than writer although you can find lot of articles by him. His biggest advantage is that he can write about many different things, because he has so many interests, but his articles look often too simple, like he would think that we are idiots. :) I use to read his articles only occasionally. Maybe you can try to write about something that would make me think (science?).
Venior writes:
A fine reporter, sometimes does huge research for articles. I see him more as an observer. Sometimes goes a bit too far with analyzing the whole scene-thing. It's just 'scene shit' you know :).
Baloo/Replay
Main editor of Shine.

Adok writes:
To me it seems that Baloo tries to be neutral and politely reserved in his articles. He apparently doesn't belong to the category of "ah, and then I'd like to add that..." writers, that is, he concludes his article when he's said everything he wanted to say. Many of his texts deal with cinema, by which he's introduced a new topic to the world of diskmags. Movies actually seem to be a great source of inspiration for him and other people in Replay. It's good all in all that apart from all the coding and design he does for demos, he also occasionally finds time to make a new Shine issue.
D-lee writes:
i like his cinema reviews, and his funny articles. it gives an unique fresh to the shine. and of course great designer he is.
Gekko writes:
One of the creators of Shine. His demo reviews are rather subjective, but this is not necessarily a fault. He does not always seem to be too much interested in the spelling and punctuation stuff.
Melwyn writes:
A writer with nice "freetime" style. Movie articles are one of the highlights of Shine - nice change to forget such a dull thing as demoscene for a moment.
Morph writes:
In the same way as Adok's style of writing has created the serious and professional feeling of Hugi, Baloo's writing have created Shine's humorous and amateurish atmosphere, I would say. Some people love it, some don't. When I read Baloo's articles I smile a bit, get bored, skims through all the reiteration (pizza, beer, pizza and more beer for a party-report), find something funny, smiles, get bored and then it loops. When they're serious I usually enjoy his opinions but dislike his writing. He's not a bad writer, just not my kind of writer. He doesn't seem to aim to be professional so perhaps I shouldn't judge him... and I haven't read very much by him either. A talented, creative and friendly guy, but in my opinion not the best of writers.
Seven writes:
His articles in Shine are often short, written in a "spoken" style, and with typos here and there. The partyreports are mainly booze-reports, which is not very interesting for me. I think he could improve a lot if he would spend more time on a single article, but it seems he doesn't really care.
Tryhuk writes:
His articles are more notices than anything else. He sees a good movie? He writes down a short article, a bit looking like transcription from some movie magazine. His articles aren't so enjoyable, but at least it isn't empty talking like many other people do. Shine is nice.
Venior writes:
Nice guy on IRC, very active guy. Anyhow, i think Shine diskmag lacks personality for some reason...
Coplan/Immortal Coil
Main editor of Static Line.
Adok writes:
Coplan has a rather factual style. His texts reflect a positive attitude. He finds happy words even about little things, such as if his newsletter has gained a few new subscribers. His texts often deal with music, for example he publishes a pretty long review of a tune in each Static Line issue. Music is not one of my favourite topics, but it's obvious his reviews are very detailed. Not only does he consider what music sounds like but, being a tracker himself, he also judges it based on how it has been made. Thus his reviews may be a real pleasure for technically interested mod fans. It seems he is careful at editing & formatting his mag and enjoys his work.
D-lee writes:
well, i'm no more connected that to the music-label scene, so i can't really comment his activity. but great that he supports it, and continue the way of the demojournal.
Gekko writes:
Coplan is the main editor of Static Line. He just appears to me a very positive guy: he can write very well, he has a fine style, he does not offend anyone with his articles and he is doing a good job of organizing and keeping the Static Line together. As a member of the music scene, he seems not to know the demo scene very well - for example he have not ever been to any demo party yet. With the Static Line he is still eager to provide a medium for the demo scene, too.
Morph writes:
I started reading Static Line just for this article, so Coplan is very new to me. But after having read issues 14-23 I must say that I'd missed something - they're a good crew of writers for sure. For some reason, Coplan's editorials were my favorites. He wrote from his heart and there is nothing I appreciate more from a writer. I always enjoyed reading what he thought as he seemed to be honest and not biased - even the in other cases uninteresting music-topics caught my interest. His language was very good too, as well as the rest of his writing. A good and underrated writer I hope to see more from.
Seven writes:
Well, I can't write anything bad about him or I'll lose my job :) Living in America, Coplan has of course very good English skills. His music reviews in In Tune are always very detailed and with clear descriptions, but he is not very close with the rest of the demoscene, probably due the lack of parties and other scene-activity in the US of A. That's a pity, I'd like to read his opinions on more diverse subjects.
Tryhuk writes:
I remember when I found on Hornet a magazine called "TraxWeekly", and column that impressed me most was Coplan's "In tune". I like his style of writing reviews, where he highlights interesting ideas, both musical and technical, and gives this way tips to other trackers. My favourite music reviewer and in a way my strongest influence.
Venior writes:
I tried to read some of his articles for doing this review. After 2 grams of speed i still fell a sleep reading this stuff. Probably well written and so, but the topics just don't interest me.
Dario Phong/Hugi
Co-editor of Hugi.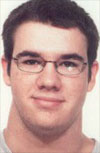 Adok writes:
Dario is on his way to become a profound expert at data compression and regularly writes new tutorials for his homepage. They are mostly very long and detailed, rich of pseudo-code examples, with not so much supplementary sourcecode, as he wants the readers to learn and not simply copy code. Unfortunately, he tends to use rather long sentences to describe important procedures instead of splitting the description up into several sentences. Sometimes that's pretty confusing, especially if a misspelt word has slipped in the text or the word order is wrong... Occasionally he also writes non-technical texts, about the scene and the real world, from a rather personal point of view. They're much easier to read, they entertain and encourage thinking. I've enjoyed "Casual writing: sitting" pretty much, for example.
D-lee writes:
uhh. i can't really remember of his articles.
Gekko writes:
I know him to be a regular writer to the Hugi coding column. He is most of all interested in compression programming, that is why I just occasionally read his articles. He has a clear style and good English; he can explain programming questions very well. He also wrote a few intro reviews but I did not like them because they were pointlessly offensive.
Morph writes:
I guess Dario is more of a diligent coding-tutor than a "normal" writer. And as I'm no coder, at least not yet, I've never read any of his articles about coding. They must be good though; he seems to be a skilled coder. The other articles he writes are of different quality I would say - some are average, some are crap. I guess he would call this elitism, not that I care really. It happens that I get bored before I can actually ask myself if there is a point of the article. It also happens that the point is nice but the rest isn't. He's got too bad sentence structure and way too much between brackets - at least lately - for me too keep interest. Words without a meaning or a meaning without the right words - that's Dario Phong to me. Very overrated.
Seven writes:
Dario is mainly a technical writer, on subjects he has learned through self-education. Since the subject of my master thesis was compression, I've read a lot of his old articles at his compression-site, which were written in very bad English. Luckily, he has improved a lot since then, reaching the average non-native English quality level. In his non-technical articles, his style varies a lot, sometimes almost spoken with a lot of sentence fragments, sometimes more considered. In some articles he over-uses brackets (something I'm also known to do :)). As a young student with a very limited net-access, he tries to get himself known via his articles, but self-advertisement is generally not well received in the demoscene and thus should be avoided.
Tryhuk writes:
Also a name that is in my head since the first article I read. His tutorials are VERY professional, you can notice that since the first line and if you have trouble to understand it, maybe is the problem on you. One of the best scene writers.
Venior writes:
Good ideas, original writer. The writing compo for example, illustrates his creativity.
Darkness/Imphobia
Main editor of Imphobia.

Adok writes:
Although he probably had a lot of work keeping contact with the dozens of authors and formatting the loads of articles in Imphobia, Darkness managed to write a couple of articles for each issue. As far as I remember, they were mainly scene-related and opinionated, a bit like newsgroup postings. The English in his articles was pretty good compared to most other sceners at the time (whose average age was below today's, after all). Obviously he invested a lot of time in proofreading and correcting his own texts, as you'll see immediately when comparing them to the level of English in his postings and mails. Then again, this just shows the dedication to his diskmag. I guess Darkness' organizing skills were one of the driving factors of Imphobia's success in the early 1990s. Without a person active as he probably was, the worldwide scene probably wouldn't have been united in a single diskmag. Thanks for Imphobia, Jeff!
Baloo writes:
The best. He could write intresting article about all subjects. He could force you to keep on reading, and don't stop half way through.
D-lee writes:
well, he is very oldschool now, i think he isn't that connected to the demoscene i think. about his cd projects (dreams, musicians collected) it's interresting but i would do it another way.
Morph writes:
Perhaps I should be embarrassed - I don't know Darkness very well. When Imphobia was big I was active on the Amigascene and puked at everything concerning PC, and now the old issues won't work properly on my very Personal Computer for some strange reason. I guess the others can say a lot about him anyway... Oh yeah, one thing: his handwriting suck ;)
Seven writes:
Except from his Audiophonic textfile I haven't seen any recent article around, and the last Imphobia is over 4 years old so I can't comment his current style. In his old texts he seemed to have a clear and mature view on the scene, taking it more serious than just a average hobby. He writes in an enjoyable style, but the spelling is not 100% right (not typos, rather making the same error several times).
Tryhuk writes:
I have never read Imphobia, sorry. No time to get it (I just came from vacation and this article has to be sent in two days). Thanks for audiophonik.
Venior writes:
Jeff is a good old friend of mine. I actually see him more of a CD seller/dealer then a writer.
D-lee/Exceed/Haujobb
Main editor of Fleur's last issue.

Adok writes:
D-lee has been watching the scene for several years. Although, to my knowledge, he's never coded, created gfx or music himself, he's a member of Exceed and Haujobb, so he must have other valuable qualities - organizing, perhaps? In fact he knows a lot about the non-technical aspects of the scene, has seen many demos, is pretty up to date about who's doing what, which is a good basis for writing about the scene. D-lee seems to be a spontaneous writer who makes quite a lot of use of scenish anecdotes, sometimes dissipating from the actual topic. His style is a bit as if he talked to the readers. His articles make up a pretty high percentage of the text amount in Fleur #2 and #3, so quantity doesn't seems to be a problem for him.
Baloo writes:
D-Lee is a cool guy who often write scene related articles, he seem to write articles with pleasure, instead of pain.
Gekko writes:
D-Lee is known to me more as an organizer than as a writer. He never lacks enthusiasm and he has an excellent ability to reach whatever he wants. Without his pushing the others to work no Exceed productions would have been as good as they are (including Heaven 7, for example). When Ezah was suddenly caught up in real life problems and he took over the editor's post of the Fleur magazine to keep things going. As far as I know, this was the point when he came close to scene journalism. When reading an article of his, the first thing one notes about D-Lee as a writer is that his Engish is poor. But he surely has excellent communicating abilities since this does not prevent himself from making his readers clearly understand whatever he wants to tell.
Morph writes:
Has written quite a lot in the few Fleur's there are, and most stuff has been interesting. Doesn't seem to care about his reputation very much, which is great and enables him to publish original articles. Some can be very boring though, especially when it's about topics for a small audience, like his thoughts on the Hungarian demoscene for example. Not the best writing-technique and not the best English (which he always excuses himself), but a very prolific writer with a knowledge about the scene which probably will make him a very good writer with time.
Seven writes:
He has a very personal, enthusiastic style, quite similar to his real life attitude (as far as I remember Ambience). Too bad his articles are crowded with typos, just pulling them through M$ Word or any other program with a spelling checker would improve them a lot.
Tryhuk writes:
I know only his articles from Demojournal, only some other and I have to say that I don't remember too much about his articles. His reviews are short, informative, sometimes giving even some additional info about people around - that's how a review should look like. But sometimes it's this way a bit "cold".
Fred/Calodox
Ex-main editor of Pain.
Adok writes:
His articles were among the most interesting things about Pain. His style used to be fresh and seemed to come from a motivated mind. He displayed an enthusiastic attitude to the scene, and even when he had to criticise something or someone he found a positive conclusion. I also like his ads for Calodox which had a style that was... stylish? I mean, they weren't simply lists of facts, but creative and entertaining. It's about like Replay describing themselves as movie makers.
Baloo writes:
Fred also writes intresting articles. You can read all of them, no articles are boring and out of intrest.
D-lee writes:
hahahh. a great guy and i'm happy that i met him at mekka2k personally aswell. and he still wanna send me some swiss chocolate. ;) and of course he is making logos damn fast, respect.
Morph writes:
Most things I've read by Fred have seemed to be purely from his heart - thoughts on things he just lets flow into an article. I really like it. It's in a good language and I like reading what he thinks - he seems to love the scene and shows that he has a big knowledge about it and he is very talented and creative. Too bad he is so busy, lets hope the lovely Pain will grow without him.
Seven writes:
I'm not a regular reader of Pain, but Fred seems to be a good writer that manages to make his point. Good English, and hardly any typos.
Tryhuk writes:
I am a bit surprised by his name appearing here. I haven't seen too many articles by him. There are many other writers that would deserve to be mentioned here, they just aren't so "visible". That's not critics on Fred.
Gekko
Assistant Editor of Static Line.
Adok writes:
Gekko has written many intro reviews for demojournal and Static Line. He can write both compact and long reviews and knows to structure his text into short, comprehensible chunks. Instead of giving an absolute overall rating he often resorts into describing the demo parts, design and technical aspects. By saying that an intro has oldskool effects or weak design, he directly or indirectly judges parts of the intro. Thus every reader can decide for himself whether it's an intro that fits his own ideas of perfection. I find this way of reviewing good, it's almost objective.
D-lee writes:
sometimes too short, sometimes too much. sometimes wrong, sometimes wellm but his grammar is every time good - and helped fixing us the heaven7 too :) thanks again for that
Seven writes:
I don't remember having seen any non-review articles from him, which makes it hard to get to know the personality of the writer. His English is good, but his reviews are a bit short. If I've seen the intro before I read the review, I can only agree with what he says, but if I haven't, I seldom feel the urge to download and watch the reviewed intro.
Tryhuk writes:
When you look on his articles, you find out that he is doing similar output as d-lee. You get all information that you need and then some, but because he is writing only short reviews, it's hard to say how is he. Let's see what time brings - just try different kind of articles.
Makke/Visuale
Ex-co-editor of Hugi, now freelance writer.
Adok writes:
Makke's articles are cool. They mostly seem to be spontaneously written, they always have a personal touch and are opinionated. His first texts in Hugi #12 and Shine #3 were pretty short, but they gradually grew longer and more in-depth. He was among the most productive writers for Hugi from issue 12 to issue 18. Most of his articles - reviews, tutorials, interviews - appeared in the Music Corner. It was his corner: he had had the idea to install it, he cared about regular text supply for it, he selected which articles should be published in it, and he wrote the Music Corner Editorial. With him, it has never been a problem to have a decent Music Corner in the mag.
Baloo writes:
Makke writes good articles about scene related issues. They often involves just the art of diskmags.
D-lee writes:
ehrm... hello ;) i can't really recall anything of his works.
Gekko writes:
He is a musician, and as a writer he also tends to prefer music topics. He can describe tunes very well. He uses correct English and it's fun to read his articles.
Morph writes:
I didn't like Makke in the beginning - I thought he wrote pretty badly and his articles were boring, had no point or was about the most uninteresting of topics. He has grown though, and is now a better writer with better topics. Still need to improve though, I would say (how arrogant I sound sometimes :)...), especially in the structure of his long interviews and articles, too many of these "(blabla // Makke)" and similar meaningless sentences. He can speak his mind and I love that about a writer, as I've said before. Who on the scene doesn't know that Makke loves Noice? That strength also makes him a very good reviewer I think. An already popular writer who's worth it even though he still can improve - that's my opinion.
Seven writes:
One of my favorite writers: he has strong opinions that he can explain in a humoristic way and in clear English. He often talks directly to the reader and isn't afraid to use an occasional swear word to make the point clearer. It's sad that he's in the army now, I hope he'll continue his scene career when he comes back.
Tryhuk writes:
Makke is imho second best music reviewer in the most read diskmags. His articles have good structure, they are interesting and what is important, he tracks and knows what he talks about. I like his style and read all his articles and recommed it also to you.
Venior writes:
I quickly checked out 3 articles from him which appeared in Shine. Something about voting charts (again), something about making your text look better and a third one about how to install your alarm clock. Writing down stuff which everyone already knows isn't really that interesting.
Melwyn/Haujobb
Ex-editor of demojournal, now occasionally writing for various mags.

Adok writes:
I remember having read some pretty long party reports by him. They belong to the most vivid descriptions of the atmosphere at demoparties I've ever seen. Although he doesn't regard himself as a writer, he definitely can write - very well.
Baloo writes:
One of my favourite writers. He writes really intresting and funny articles with a good sence of detail and humour.
D-lee writes:
all that i can say is just: IT'S HIRMU!
Gekko writes:
Melwyn has a good English and is able to write well, these are no disadvantages for a writer. He is more known as a musician and a programmer, he writes little (or at least this the way I know). He was the editor of the Demojournal for a few months, there he had the playground to try out his ideas. It seems however that this period was enough for him of being an editor...
Morph writes:
Does he mostly write party-reports or is it just me? Can't say that I've read very much from Melwyn, some party-reports and one or two other articles are all. Anyway, he seems to be a good writer and I always enjoy his reports. His, Avalanche's (for biased reasons?) and Seven's party-reports are my favorites on the scene I think... Good language and fully interesting. His "Voting sucks - or is it just the voters?" from Shine #7 is the only article by him I can judge, and I really liked it. Would be nice to see more by him, preferably in other magazines.
Seven writes:
The only articles I found were his Sunray party reports, and I don't like the "party == boozing" attitude. As a writer he's OK, with a normal level of English, but with a tendency to drop the "the"s, which looks sloppy.
Tryhuk writes:
He can handle this job, but he won't probably be that good writer as musician. But it is a nice thing to try something new, isn't it?
Morph/Trinity
Freelance writer, mostly for Hugi.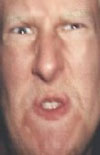 Adok writes:
Morph is a great writer! To my knowledge, a Swedish government agency once interviewed him because of his Swedish-language prose and poetry he published on the Net. He was first reluctant to write in English, as he found himself incapable of expressing his feelings as precisely as he could do in his native language. But after the first positive reactions, he became fond of using English for literature, too. He published several articles in Hugi, recently also one in Pain: a couple of stories, an essay on videogames and violence, which I liked very much, and two party reports. All his articles are extraordinarily long - on an average 20 kbytes - and contain many details and personal impressions. How carefully he is with the wording I noticed when I compared an updated version of his latest story "Poetry by eyes of repulsion, part 1" to the first: not only had he added three more chapters, but he had also changed some hyphens to commas, inserted or removed small words such as "but" and so on in the original chapters. So he seems to be a perfectionist not only regarding the contents, but also regarding the language.
D-lee writes:
good style he has.
Seven writes:
Another writer that I don't know very well, although I remember his article about the influence of games in real life, which made me change my mind on the subject. I hope to see more articles of that quality.
Tryhuk writes:
I've got to say that I had to seek out his work, because this name said nothing to me. First thing I noticed is that he writes only 1-2 articles per issue and also that they're very long. Sometimes too long. Still three articles aren't enough to say something.
Venior writes:
Just writing trying-to-be-serious articles it seems, and with me he neither fails nor succeeds. They're okey, nothing more, nothing less. Some parts are serious, some are not. Always good ideas though. Morph is a talented writer and has even written some novells which you can read on his homepage, check out the bonus pictures of his mom, dad, grandpa, dog and his neighbours' kids. Great guy on irc.
ps/Calodox
Main editor of demojournal and Sunray.

Adok writes:
ps is one of the strongest advocates of the "spontaneous" style because it is most important for him that your immediate feelings are written down. He is an emotional writer. Occasionally he also creates poetry, like the Sunray poem, which is pretty good. In fact I find his simply-knit scene articles less interesting than his attempts at literature, where he tries to use good vocabulary and metaphores.
Baloo writes:
PS writes articles about all subjects, sometimes they are personal, and sometimes they can be on a non personal level. I still remeber, his first articles in Shine, on the subjects like: "How it is to be a freshman". I thank him for all support. He has done an excelent work in Demojournal - but he seems to have got quite tired of writing articles nowadays. Like everyone else has. Except for some people. (Hi Adok!)
D-lee writes:
i had sex with that stupid portugiese. ;P a close scene pal of me, and sometimes he is better informated than me. strange.
Gekko writes:
PS is known as the editor of Demojournal. The first issues of Demojournal looked like a work of a newbie, but it soon became a very calm & pro type of magazine. PS has been working hard for two years to support the demo scene with weekly news and other information. He often writes meditating and philosophical articles (eg. about himself or the demo scene), which are in contrast to the sometimes agressive reactions of his. I remember his jokes in the countless IRC-interviews he made; and I think he was successful in teaching every scener that the capital of Madagascar is Arantaninivo.
Melwyn writes:
Editor with a serious mindflow addiction - "Oh my, does he ever plan what he's writing about?" Also a man who did over 50 interviews and didn't still learn from it. :)
Morph writes:
A strange guy with a strange style of writing on strange topics. And strange opinions, too, which is why he didn't write anything for this article :(... His style of writing is very original and distinctive and it doesn't take more than a sentence to know that he is the writer of an article. "I write more than I read" he once said - something that shows as he truly has developed his own style. Also, his love - or sometimes hate - for the scene influence his articles and make them even more enjoyable to read. I can't really say that I like his style - it's very cool and I love to read his stuff, but mostly because it is so very different from my own I think and because I like ps as a person. Definitely the most prolific writer on the scene as well as the most original.
Seven writes:
Without doubt the most punctual editor ever, releasing almost 100 demojournals week after week. The scene has a tradition of delaying deadlines, from compo deadlines to diskmag release dates, but not ps. He doesn't aim for high quality, so his articles contain a lot of typos, no capitals etc, but compared to his earliest work, it has become much more readable: longer sentences, no more exclamation marks after each three words,... (yes ps I've re-read DJ 1 :))
Tryhuk writes:
Everybody knows him and everybody loves him. :) He has a good taste (that means almost same as mine ;)), so he uses to review or mention good releases, he has also experience with writing poems and that also makes his articles unique. Thanks for making me a part of demojournal team.
Venior writes:
PS is a strange guy. The quality of his articles vary alot from time to time. Sometimes it's good original stuff, other times it's shit.
Seven
Columnist of Static Line.
Adok writes:
Seven mainly writes reviews, but sometimes also general scene articles. For example, he published an article in Static Line #23 in which he summarized the discussion about the commercial music used in the demo VIP2 and gave his own opinion. All his articles are logically constructed, he explains convincingly what brought him to the conclusion he drew. He employs vocabulary that makes it easy for the reader to follow his arguments, and his articles always reflect a positive, friendly attitude, similar to Coplan's. It's always a pleasure to read his texts. We expect his recently written thesis to be equally good. May Seven get for it what he deserves!
Baloo writes:
I can only recall his reviews in DemoJournal. So I can't really say much more about him than, sometimes he has good taste in demos, and sometimes not :)
D-lee writes:
huhhh... sometimes he is wrong in his articles with when he is trying to define arty things, but well... he is a coder. :) but he is writing really good technically thingies, they are usefull. his ambiance 2000 article was funny. oh yeah, and he is an another muchwriter like adok. but thats not bad.
Gekko writes:
Seven is known as 'the' demo reviewer on the scene; he has been writing in the Demojournal and the Static Line for a very long time. He can write very well and he is able to describe demos rather objectively. In his reviews his programmer spirit sometimes overcomes himself and he gets too much into the details of how to code this or that effect. He has a very good command of English, his style is clear and his articles always have a neat structure.
Melwyn writes:
D'oh. Is it really possible to write so much in demo reviews? Well, for the demomakers it's always nice to get as much feedback from their productions as possible so I wouldn't consider this as a fault but rather a nice feature..
Morph writes:
Seven is without doubt the writer I've read most from while not knowing a single thing about who he is. He's yet another very productive writer, in my opinion undoubtedly the one with the best writing-skills among them. I can't fully understand how he has the motivation enough to write so much for such a small audience though - he must really love what he does. A very good reviewer, the best of the scene I would say. He has a great language and writing-technique and seems to have the ability to be honest and speak his mind, which makes him worth being among the top of scene-writers in the charts and among the only ones on the scene I really like myself. Great writer, just so boring that he writes for such small magazines and because of that probably never will get the respect he deserves. Very underrated.
Tryhuk writes:
One of people that held together demojournal and made it interesting, what else to say. Although he describes you whole demo in the review, you'll be surprised anyway when you see it. How is this possible? He cares also about newbies and that's a good thing. I use to read all his text.
TAD/Hugi
Co-editor of Hugi.
Adok writes:
As TAD is from the UK, writing English fluently is absolutely no problem for him. That's one of the reason why he's an extremely prolific writer. Another is that he knows a lot of topics to write about: coding from the times of the ZX Spectrum through today, computer technology, and the latest developments in the big world out there. His articles are based on humourous sub-headlines that often contain puns - only after he has invented the sub-headlines, he writes the actual texts in between them. Besides, he codes and paints a lot, so he certainly invests a lot of time in computing. Always active and ready to help, he's really done a lot for the latest issues of Hugi. He's also good at story-telling.
D-lee writes:
uhhh. another failure of me... can't remember... maybe i'm too tyred now?
Gekko writes:
To describe him in one word, I would choose enthusiastic. He can write unbelievable amount of text. He mostly writes about programming topics. His articles usually aim the beginners. Whatever he gets to know, he puts it down to make the knowledge he gained available to others. He writes clearly most of the time and there can be no complaints about his English - but he is a cheater since he is from the UK...
Melwyn writes:
If I were a coder perhaps I found TAD's articles very useful. Or at least that's what the rumours say. But well, I'm not a coder. :)
Morph writes:
Born with the language of use in diskmags there is no point in telling that he writes good English (oops... I did it again). TAD writes a lot of articles and some are interesting, some are not. They're not really "my cuppa tea" to imitate him, they're... too geeky sometimes, to be really honest. Still, his ideas have motivated me to write something similar twice now, so perhaps I shouldn't complain. A good writer anyway...
Seven writes:
TAD is by far my favorite writer, not because he writes the very best articles but because he writes a lot while keeping high standards. His articles cover a wide range of topics, and are always written with humor and in good English. Sometimes the humor cannot conceal that he is ranting about some subjects, but that's just occasionally. Keep going TAD, but preferably a little bit less than in Hugi 19 (that seemed like 50% your articles), too much is never good.
Tryhuk writes:
He writes same amount of articles as Adok, but I think that they're much better and most of the text I read in Hugi is by TAD. I like most of all his tutorials, but I also liked other articles, for example about BeOS. Great style of writing, intelligent structure, no empty talking. Natural talent and one of the best PC scene writers.
Venior writes:
Scene related articles are most of the time pretty boring. It's the truth, altough no-one wants to admit it. Anyway, TAD often succeeds in writing about scene stuff in an interesting way.
Tryhuk
Columnist of Static Line.

Adok writes:
Vojto just writes music reviews, which, as I said, is one of the few topics that don't really interest me. But I can say he manages to write compact reviews that clearly show his opinion and tell the reader whether a tune is worth downloading. I can't rate how much his opinion correlates with the majority's taste, but rating music is always a subjective thing, I suppose.
D-lee writes:
aah. i HEAR demomusics and musiclabel stuffz, i NEVER reading about it.
Gekko writes:
I always struggle when it comes to describing a music. I envy Tryhuk for being able to do this in such a brilliant English meanwhile correctly using all the technical terms. Another big plus for him is 'The Root' series he managed to organize (interviews with retired oldschool tracker musicians; in the Static Line).
Seven writes:
Same comment as with Gekko: It's hard to get to know someone just from reviews, as these should be objective and usually contain little humor. As a writer, Tryhuk is below the average level, not because of typos or misspellings but because he often drops the "a", "the", "these" etc, which makes the reviews harder to read. He has a deep musical knowledge (something I can only envy), and he writes very regularly, first weekly for DJ, now monthly for Static Line.
Unlock/Vantage
Main editor of Pain.
Adok writes:
An old supporter of C64 diskmags, Unlock has recently brought his writing skills into the PC scene by joining the Pain family and finally taking over maineditorship. Equipped with a sense for original topics and good English, he is a good choice as main editor, as his articles are a fine basis for a diskmag. His articles are mostly not theoretical but based on practical experiences, for example he visited Paris just in order to write about the French demoscene! (At least that's what he said. ;))
Baloo writes:
He has done a good work taking over Pain. He's a really good editor. Allthough I kinda miss Fred sometimes.
D-lee writes:
a nice guy, i also met him at mekka. he is well informed in scene thingies too. enjoy the army Unlock! ;)
Morph writes:
I haven't read very much by Unlock but what I've read has been great - good choice of topics and a very good language, and a style of writing that I really like as well. His articles never bore me and are always interesting, as long as they're not about the Swiss scene, that is... I wish him the best of luck with making Pain even bigger and better than it is now - "and he's worth it". Nice guy working with a nice mag - and among my favorite writers.
Seven writes:
Not much to say about him, the English he uses is good but the subjects don't really grip me. I've problems remembering specific articles from him.
Tryhuk writes:
Almost all articles I read in Pain0500 were by him. With good chosen topic and reasonable length he writes interesting stuff that I like to read. Underrated writer.
Venior/Access Denied
Main editor of Scenial.
Adok writes:
As the Scenial mained, it's his job to keep the mag filled with funny and slightly elitist articles, although he can also be friendly and serious. In fact some of his texts look as if he tried to be funny, so I suspect him of actually having a rather serious nature. Still he manages to make Scenial stand out with his style of most of the other mags. It has both the black humour of fakemags and the text-formatting of serious disk magazines.
D-lee writes:
sorry, i haven't read the scenial for ages. maybe i should...
Morph writes:
Just writing trying-to-be-funny articles it seems, and with me he neither fails nor succeeds. They're okey, nothing more, nothing less. Some parts are funny, some are not. Always good ideas though. Venior seems to be very respected on IRC and such, and I guess he deserves it even if I would say that he's funnier there than in mags. Nice guy with a unique style the scene for sure need more of anyway.
Seven writes:
I've read Scenial 4 some time ago, and it was indeed funnier than Imphobia, but I'm not a fan of the anarchist style. I hope the announced Access Denied comeback is not a joke like Scenial 3, the Belgian scene could really use an active group.
Tryhuk writes:
And again a mag I ignored somehow. Actually Demojournal was a first mag that stole my heart and so I have a BIG debit - I haven't read Scenial. Aaaah.

The Writers