The Principality of Sealand
A Domesticating Prophet of Hugi
As the title suggests, Sealand is a principality. The word principality is derived from the Latin princeps, which means "the first". A principality is a souvereign country, or at least a territority, that is governed by such a princeps: usually that's something like a count, a duke, a prince or a king. What do you feel when you hear the word of country, or territority? I think of beautiful landscapes, mountains, rivers, animals, villages, towns... The word "Sealand" especially reminds me of bays, islands, shores, coasts, riffs (like our H20 riff!) - this principality must definitely be a nice place to live!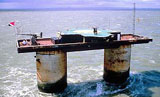 But the truth is out there. And it is quite different. This rusty, dirty, old metallic platform is Sealand! This is supposed to be a country??
Well, in fact it was merely a British military platform built during World War II to defend the coast around London. After the war it was left alone to decay in the cold tides of the North Sea... until one day, in 1967, an English major with the name of Paddy Roy Bates took possession of what was now to become the world's smallest independent territority!
In fact the island was 7 miles away from the coast of Britain, thus in international waters and therefore extra-national. After talking to his "skillful" English lawyers, Mr Bates was sure that this island was his. So he declared it the Principality of Sealand, with himself being Prince and his wife Joan Princess! He now was the supreme ruler of Sealand, and both the Royal Family of Sealand and all other inhabitants who came later had to be absolutely loyal to him.
It is hard to believe, but it's really a true story. Various reporters have already interviewed Prince Roy and his family, several businessmen have settled on the island, and there have even been a couple of malicious attempts to take over control of the principality!
Courts and Coups
The first happened in 1968. Aware of the new state off their coast, units of the British navy entered the territorial waters claimed by Roy of Sealand. The Sealanders reacted with warning shots. Thereupon, Prince Roy, as he then still had British citizenship was summoned to a British court. It is hard to believe, but he won the lawsuit, as the judge decided Sealand was outside British national territority and hence British jurisdiction did not apply. Thus, the British de facto recognized the independence of the Principality of Sealand as the first nation in the world.
Ten years later, a German businessman came over to Sealand with a couple of Dutch guys, pretending that they want to discuss business dealings. While Roy was away in Britain, these evil beings took the opportunity to kidnap his son, Prince Michael, and claimed Sealand for themselves. Roy came back with an army of a few men and restored order. The attackers were held as prisoners of war.
While the putschists were held imprisoned, the governments of Holland and Germany asked Britain to intervene. The British government, however, refused, referring to the earlier court case which showed that they made no claim on Sealand's territority. In this way Germany was forced to send a professional diplomat to Sealand for negotiations regarding their citizen, thus recognizing Sealand's souvereignity. Roy did so in the end, after releasing the Dutch prisoners, although the German had acquired a Sealand passport and hence was his subject, in order not to "bloody the reputation of Sealand".
Fake Passports

The fact that Sealand had its own passports later caused a lot of controversy all over the world when this very German businessman started to sell fake Sealand passports in 1997, proclaiming himself the Minister of Finance of Sealand. Most of his customers were Chinese from Hong Kong who wanted to escape from the country that was about to be handed from the United Kingdom to the communist People's Republic of China. They had to pay 1,000 US$ per passport. In total 150,000 fake passports have been spread around the world, which is 500 times more than the number of valid passports.
Of course, like any souvereign nation, Sealand not only has its own passports, but also money, stamps and even wedding certificates.
A New Era?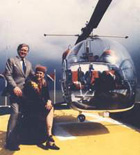 Due to bad health, Prince Roy has been forced to return to England, together with his family. They, however, did not leave their country before signing a contract with a company called HavenCo. HavenCo, a company composed of a couple of computer nerds from various North American and European countries, now are the new owners of Sealand. They plan to offer special Internet services for large companies here: a large bandwidth from 64 kb up to 1 MB per second, high security due to advanced cryptographic method and freedom of speech due to lack of censorship in this souvereign principality.
We, the Hugi Royal Family, wish the new owners of Sealand good luck and the Royal Family of Sealand a long and glorious life. May they be kept in the memory of history for a long time!